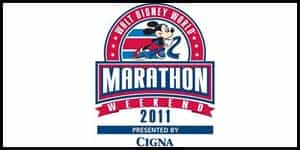 Podcast: Play in new window | Download
Subscribe: Apple Podcasts | RSS
Mouse Chat Disney podcast Subscribe now on iTunes.
There are several Marathon's at Walt Disney World each year. There are even 5k runs and events for kids and even little baby dashes that Disney does. This week we talk with Jennifer who has completed one of the Disney half marathons.
Also we have been coxed into actually running a Disney marathon. Well maybe not the marathon, but the 5k "Wine and Dine" run in October of this year.
So we are putting together a Mouse Chat team. If you would like to run / walk / carry us, please email us at Comments@MouseChat.net and we will add you to the team.
When the 5k on Oct. 1, 2011 opens up for registration we will talk about it on Mouse Chat and you can also get information here on Disney's site:
Wine and Dine Disney Marathon 2011 Info
More details will follow.
Please join us by listening to our show at MouseChat.net or by downloading Mouse Chat from
iTunes.
If you like our show, please let your friends know.
You can email questions and comments to the show at: Comments@MouseChat.net
You can also attach an audio question to your email so we can play them on the show.