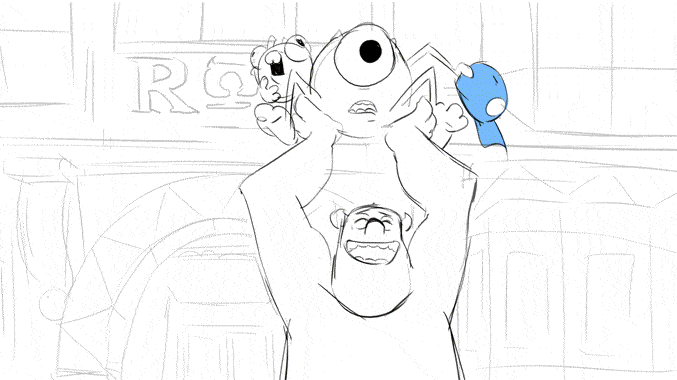 Disney Insider Animated GIF Offers Exclusive Progression of the Making of Monsters University
In the latest exclusive from Disney Insider, Disney•Pixar fans have a chance to get a behind the scenes look at the making of Monsters University. Using an animated GIF, Disney Insider is giving fans an inside look at Pixar's six-step progressive animation process, showing one scene from the film as it is transformed from an initial sketch into the final frame that will appear on the big screen. Head to Disney Insider to check it out now!
Ever since college-bound Mike Wazowski (voice of Billy Crystal) was a little monster, he has dreamed of becoming a Scarer—and he knows better than anyone that the best Scarers come from Monsters University (MU). But during his first semester at MU, Mike's plans are derailed when he crosses paths with hotshot James P. Sullivan, "Sulley" (voice of John Goodman), a natural-born Scarer.  The pair's out-of-control competitive spirit gets them both kicked out of the University's elite Scare Program. To make matters worse, they realize they will have to work together, along with an odd bunch of misfit monsters, if they ever hope to make things right. Screaming with laughter and oozing with heart, Disney•Pixar's "Monsters University" is directed by Dan Scanlon ("Cars," "Mater and the Ghostlight," "Tracy"), produced by Kori Rae ("Up," "The Incredibles," "Monsters, Inc.") and features music from future Rock and Roll Hall of Fame inductee and award-winning composer Randy Newman ("Monsters, Inc.," "Toy Story 3").
Check out disney.com/MonstersU, like us at facebook.com/PixarMonstersUniversity, and follow us on twitter.com/disneypixar. Rated G by the MPAA, the film opens in U.S. theaters on June 21, 2013, and will be shown in 3D in select theaters.