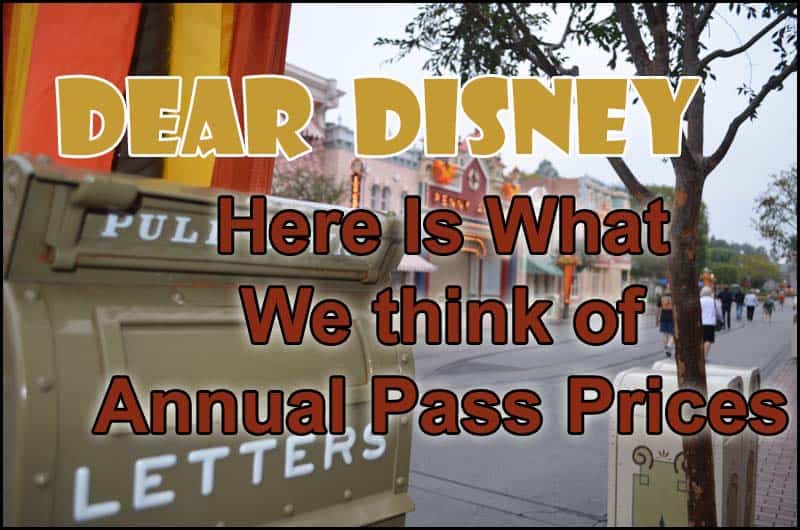 Disney World & Disneyland Annual Passes Prices Go Up

Prices are going up at Walt Disney World and Disneyland for Annual Passes.  When the price of milk goes up, nobody cares, but when Disney increases prices, it's time to bring on major debates.
Disney Annual Pass Prices:
| | | | | |
| --- | --- | --- | --- | --- |
| Pass Type | Guest 10+ | Guest 3-9 | DVC Member 10+ | DVC Member 3-9 |
| Platinum Annual Pass | $797.69 | $797.69 | $691.19 | $691.19 |
| Platinum Annual Pass Renewal | $676.28 | $676.28 | $584.69 | $584.69 |
| Platinum Plus Annual Pass | $882.89 | $882.89 | $776.39 | $776.39 |
| Platinum Plus Annual Pass Renewal | $750.83 | $750.83 | $659.24 | $659.24 |
Listen to our show on Disney Annual Passes and Tables in Wonderland. Click the Play button below or subscribe to us on iTunes.
Podcast: Play in new window | Download
Subscribe: Apple Podcasts | RSS
Disney Annual Pass Increase Price Justifications:
Disney is a business with increasing costs.  The cost of gas, insurance, food, salaries, etc are always rising and Disney has to add these costs into the price of a Disney vacation to stay in business and report a profit to share holders.
Annual Pass Holders may not purchase extras at the Parks and might not stay at Disney resorts.  It seems that Disney is focused on bringing in families to both US parks that spend possibly more in the parks and stay at the Disney Resort.
An increase in AP prices could lighten the crowd levels at the already over crowded parks in the US.  The demand for these two US parks seems to be at an all time high and just like any supply and demand equation, Disney is trying to manage the levels.
There are countless other entertainment options, movies, parks, sporting events, concerts, etc. that people can enjoy.  Those events and attractions sometimes cost less and sometimes cost more than the equivalent Disney experience.  The prices for these entertainment experiences are really controlled by what people, you and me, will pay.  We pay what we think it's worth.  We might think a Six Flags Annual Pass is worth $180 but I don't think people are going to pay $800 for a Six Flags Annual Pass.  People pay for the entertainment value they receive.  If $797.69 for a Walt Disney World Annual Pass causes Disney World to be empty with empty tables in the restaurants, rooms at the Disney hotels vacant, and stores, rides, or hotels having to close, then Disney will adjust the price, or Disney will offer extras, other specials, or other incentives to the clients they want to attract.
Arguments for why Disney Annual Passes should not go up:
Disney should be a place that every person and family can go to any day of the year.
Disney should embrace the fan community and these prices make it hard to impossible for fans to go to Disney anymore.
The parks are in need of major repairs, rides are closing, the monorails are old at WDW, bus take too long, and everything is already expensive.  I will not pay more when everything is in such poor condition.
Walt would be shaking in his grave.
The price is not worth the entertainment value I am receiving and there are other options I am now going to use with my entertainment money on.
Tables in Wonderland Prices go up
To cover the purchase price of your Disney Tables in Wonderland Card you now need to spend $750 in one year at Walt Disney World in food.  That is the break even point.
Tables in Wonderland TIP: One Quick Service Disney Dining Plan Credit can be traded in for three Disney Snack Credits at ONE Epcot International Food and Wine Festival booth.  So you can get Three items at one Epcot kiosk (No Alcohol) for one Disney Quick Service Credit.  Make sure you do the math and get three expensive items if you can to get the best value out of your Disney Dining Plan Quick Service credits.
Should you buy a Tables In Wonderland Card?  The math is simple.  If you are going to spend OVER $750 in one year at Table Service Dining at Walt Disney World.  Then YES it will save you money.  The discount with Tables in Wonderland is 20% at tabel service locations and that INCLUDED Alcohol.  There are a few restaurants that do not take the Tables in Wonderalnd card and there are some black out dates.  So check the list.
Tables In Wonderland Price
$175 for Florida Residents
$150 for Annual / Seasonal Passholders and Disney Vacation Club Members
Add a second membership for your spouse or partner for only $50 more!
To purchase a Tables in Wonderland membership, visit Guest Relations, located at all four Theme Parks and Disney Springs.
You must be 21 years old or older to purchase.
How to Purchase:
If you are a Disney Vacation Club Member, visit any Guest Relations location at a Walt Disney World® Theme Park or Disney Springs™ to purchase your Tables in Wonderland membership. Please present your Photo ID and your DVC Membership Card.
If you are a Florida Resident or Annual / Seasonal Passholder, visit any Guest Relations location at a Walt Disney World® Theme Park or Disney Springs™ to purchase your Tables in Wonderland membership. Florida Residents and Annual / Seasonal Passholders may also purchase over the phone. Please allow 3-4 weeks for delivery when purchasing by phone.
General Block-out dates for Tables in Wonderland are Mother's Day, Easter Sunday, Independence Day, Thanksgiving Day, Christmas Eve, Christmas Day, New Year's Eve and New Year's Day. Tables in Wonderland is valid for one year from date of purchase.
*Additional Block-out dates: These select locations are subject to the following block-out dates, 1900 Park Fare, Chef Mickey's, 'Ohana (Dinner Only), Cinderella's Royal Table, LeChefs de France, Akershus Royal Banquet Hall, and Le Cellier Steakhouse: November 22-28, 2015 and December 20-26, 2015; March 6-27, 2016; May 29- June 18, 2016; November 13-27, 2016; December 19-25, 2016
Disney Tables in Wonderland Dining Locations:
Disney's All-Star Movies Resort
World Premiere
Food Court
Disney's All-Star Music Resort
Disney's All-Star Sports Resort
Disney's Animal Kingdom
Lodge
Boma – Flavors
of Africa
Cape Town Lounge and Wine Bar

Jiko – The Cooking Place

Sanaa

Victoria Falls
Disney's Art of Animation Resort
Disney's Beach Club Resort
Beaches & Cream
Soda Shop (excludes
take-out shop)

Cape May Café

Martha's Vineyard Lounge
Disney's BoardWalk Resort
Belle Vue Lounge (excludes breakfast)

Big River Grille
& Brewing Works

ESPN® Club

Flying Fish Café

Trattoria al Forno
Disney's Caribbean Beach Resort
Shutters at Old Point Royale
Disney's Contemporary Resort
California Grill

Chef Mickey's*

Outer Rim

The Wave … of American Flavors
Disney's Coronado Springs Resort
Disney's Fort Wilderness
Resort & Campground
Crockett's Tavern

Hoop-Dee-Doo Musical Revue (late show only)

Trail's End Restaurant (Excludes take out shop)

Mickey's Backyard BBQ (New as of July 31st 2014)
Disney's Grand Floridian
Resort & Spa
1900 Park Fare

*

Citricos

Grand Floridian Café

Mizner's Lounge

Narcoossee's
Disney's Old Key West Resort
Olivia's Café

Gurgling Suitcase
Disney's Polynesian Resort
'Ohana

*

Kona Cafe

Spirit of Aloha Dinner Show (late show only)

Tambu Lounge
Disney's Pop Century Resort
Everything Pop Shopping and Dining (excludes merchandise from shop)
Disney's Port Orleans Resort
– French Quarter
Sassagoula Floatworks
and Food Factory

Scat Cat's Club
Disney's Port Orleans Resort – Riverside
Boatwright's Dining Hall

River Roost
Disney's Saratoga Springs Resort
The Artist's Palette

The Turf Club Bar and Grill

The Turf Club Lounge
Disney's Vero Beach Resort
The Green Cabin Room

Shutters

Sonya's
Disney's Wilderness Lodge
Artist Point

Territory Lounge

Whispering Canyon Cafe
Walt Disney World Swan & Dolphin Resort
Garden Grove

Il Mulino New York Trattoria

Kimonos

Shula's Steak House

Todd English's bluezoo
Disney's Yacht Club Resort
Ale and Compass Lounge

Captain's Grille

Crew's Cup Lounge

Yachtsman Steakhouse
Magic Kingdom® Park
Be Our Guest Restaurant (Dinner Only)

Cinderella's Royal Table

*

Liberty Tree Tavern

The Crystal Palace

The Plaza Restaurant

Tony's Town
Square Restaurant
Epcot®
Akershus Royal
Banquet Hall*

Biergarten Restaurant

Coral Reef Restaurant

Le Cellier Steakhouse*

Les Chefs de France (Lunch Only)

Nine Dragons Restaurant

Restaurant Marrakesh

Rose & Crown Pub & Dining Room

San Angel Inn Restaurante

Spice Road Table(New!)

The Garden Grill Restaurant

Tokyo Dining

Tutto Italia Ristorante

Via Napoli

Ristorante e Pizzeria
Disney's Hollywood Studios™
50's Prime Time Cafe

Hollywood & Vine

Mama Melrose's
Ristorante Italiano
Sci-Fi Dine-In
Theater
The Hollywood
Brown Derby

Tune-In Lounge
Animal Kingdom®
Flame Tree Barbecue

Pizzafari

Restaurantosaurus

Tusker House Restaurant
Disney Springs™
– The Landing
Fulton's Crab House

Morimoto Asia (New!)

Paradiso 37, Taste of the Americas

Portobello

Raglan Road" Irish Pub
and Restaurant
Disney Springs™
– West Side
House Of Blues®
(Excludes Sunday Brunch) †

Planet Hollywood®

Splitsville™ (Excludes merchandise and bowling)

Wolfgang Puck® Cafe
ESPN Wide World
of Sports®
ESPN Wide World
of Sports Grill
---
How to contact us at Mouse Chat:
You can email questions and comments to the show at: Comments@MouseChat.net
Media and Press can also contact us at Comments@MouseChat.net
If you like our show, please let your friends know about us.
Please join us by listening to our show at MouseChat.net or by downloading and subscribing to Mouse Chat on
iTunes. If you subscribe to our Disney Podcast on iTunes you can schedule it to update your player so you will never miss a show.