Best Disney World themed ride queues
These are the Disney World Attractions that will keep you entertained while you wait.
On this weeks Mouse Chat Disney Podcast we talk about the best Walt Disney World queues that are sure to keep you entertained while you wait in line.  Steve, Sharpie, and Chris are here and we are happy to tell you which rides and attractions are sure to keep you entertained.
There are several Disney queue types at the parks.  I have broken these down into Interactive and Themed queues.
Disney Interactive Queues
These are the additions to the Disney theme parks.  These queues will entertain you and your kids while you wait and walk towards the ride loading area.  If you get a Disney Fastpass you will skip most if not all of the interactive queue and because of this you might want to experience the ride again on a future trip in the standby queue.
Disney Themed Queues
Disney is all about story telling and Disney Imagineers start with the queue to get you immersed in the story that is about to unfold.  These queues start with paintings, artifacts, props and even the landscaping tells a story.  No detail is left out in the story.
Listen to the full Mouse Chat Disney Podcast about Disney Queues here or on iTunes:
Magic Kingdom Queues
The Haunted Mansion – Interactive Queue
This was one of the first interactive queues Disney did.  Disney added an interactive grave yard and it looks amazing.  It blends nicely with the tombstones that have always been right outside the mansion doors with the creative sayings engraved on them.  This interactive queue also moves fairly quickly and keeps kids and adults entertained.  If you are a Disney Fan there are even clues and codes to figure out.  The books on the bookcase each have symbols on them the unlock something of course.
Big Thunder Mountain – Interactive Queue
One of the newest interactive queues at the Magic Kingdom is at Big Thunder mountain railway.  This attraction really needed this update and it's fantastic.  The interactive mining elements are well themed and fun to play with.  I especially like the picture-graphs.  I'm not 100% sure that is what they are called, but you spin a large wheel to see the images animate.  There are also some funny canaries in cages that you need to interact with to see the outcome.
Winnie the Pooh – Interactive Queue
This is another of Disney's first interactive queues and it see's a lot of traffic from little kids.  Disney learned a great deal and took what they learned to improve the elements in future interactive queues like at Seven Dwarfs Mine Train.  The queue at Pooh has a play area, garden and interactive honey elements. This queue really takes a beating and holds up from all the little ones.  I'm a little gem a phobic in this queue with everyone rubbing everything, but you can be the judge.
Seven Dwarfs Mine Train – Interactive Queue
Disney took themeing and interactive queues to a new level here at seven dwarfs mine train.  This mid-level coaster has an hour long wait or more pretty much everyday and the queue keeps everyone entertained.  From spinning gems, to water works, the elements give you and your kids something to do while you wait.
Journey of the Little Mermaid – Interactive Queue
This attraction has wonderful landscaping and caves and waterfalls.  There is a little crab that needs some help finding some items.  The interactive crab is interesting and tries to entertain guests but I'm not 100% sure how this game works and the crowds are very loud in the cave areas so it's hard to understand what you need to do.  If someone understands this interactive game please post in the comments to share with everyone.
Dumbo the Flying Elephant – Play while you wait
Disney created a play while you wait queue.  How this works is you get a pager of sorts when you walk in and when you pager goes off you get in a short line to ride Dumbo.  While you wait there is seating for the adults and all sorts of circus playground type equipment under the big top for the kids to play in.
There is WIFI 🙂 for the adults and it is air conditioned in here!  Awesome.
I do find it difficult sometimes to get your kids out of the playground maze of stuff and on the ride because they don't want to leave.  Also the play area is really only open during peak times when there is a longer line for Dumbo.
Space Mountain – Interactive Game Queue
Space Mountain has a long long line and the addition of the interactive games has been helpful.  I traditionally fastpass this attraction and miss the video games where you fly spaceships around with teammates.  But this game does help pass the time for long standby line wait times.
Magic Kingdom Themed Queues
Most Disney queues are themed so it's hard to really comment on every Disney attraction.  The Jungle Cruise, Pirates of the Caribbean, Splash Mountain, and  Peter Pan's Flight I would say are some of the best examples of Disney Magic Kingdom themed ques.
EPCOT Queues
EPCOT Interactive Ques – As of now there are really no interactive queues at EPCOT except for Soarin' Over the World does have a video game that you can play at large video screen stations in part of the queue.
Soarin' Around the World – Interactive Queue
Frozen Ever After – Themed Queue
EPCOT does have a wonderful themed queue in Norway for the Frozen Ever After Attraction.  This queue can have a long wait time but most of the line is inside the air conditioned attraction which does help.  Fans of the Frozen movies will not be disappointed as you tour Arendelle and see some familiar faces.
Test Track – Themed Queue
The Test Track ride allows you to create your own car and then test that cars various performance levels on the ride and even in the interactive game area after the ride.  I placed this in the Theme EPCOT Ride section as the interaction is really just one quick area to make your car.  I'm not really sure people want to make their own car and the tie-in to the attraction ride itself is not spectacular.  Often times people race though the car creation area to get into the ride. I do like the rides TRON feel.
Disney Hollywood Studios
One of my favorite Themed Queues is Muppet Vision 3D.  The gags on the walls in the backstage area are hilarious and the pre-show is pretty darn funny.  I want you to see the pre-show yourself so I have not shared a video here.
Most of the rides at Disney Hollywood Studios have a themed queue.  Star Tours, Toy Story Midway Mania, The Twilight Zone Tower of Terror I think are the best examples of Disney themeing at it's best.
Disney Animal Kingdom
Flight of Passage – Themed Que at Pandora
Pandora – The World of Avatar has some of the best themed queues I have ever seen. There are no games to play or things to spin, but the theme and story telling is awesome!  This queue is over 1,000 steps, we measured it using a FitBit.  There are six massive areas that are themed rooms.  The line holds over six hours of guests.  You can get a Fastpass for Flight of Passage and you will miss the long wait times, but you will also miss pretty much all of the themed queue.
Disney's Animal Kingdom is a little different because some queues have animals you can watch while in line, some are amazing with story telling like Expedition Everest, and some have entire lands that start telling you the story before you even get to an attraction, like Pandora.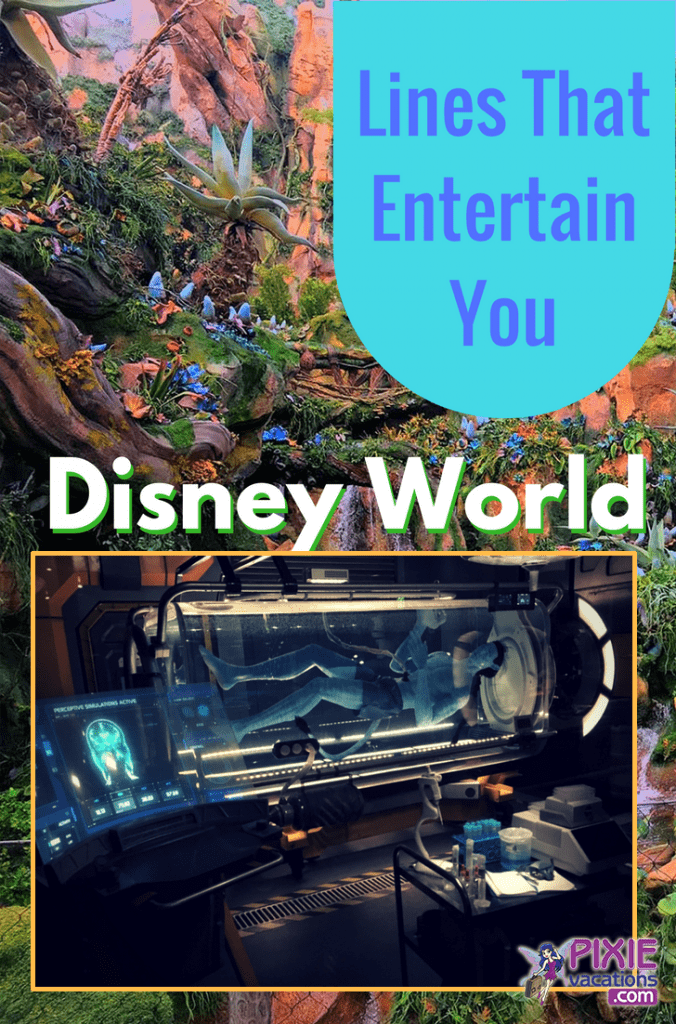 Please Share with fellow Mouse Chatters
Do you have a favorite Walt Disney World queue?  Please share yours in the comments below.
---
Free at Walt Disney World
Get our list of things you can do for free at Walt Disney World.
We have a long list of Disney World freebees. These are tips and free extras that we have gathered from our years of Disney World experience. And the list also Free and we will rush it to your in box! Please click the button below to get your list of Free things to get and do at Walt Disney World.
---
Join us on Facebook, Twitter, YouTube, and Instagram.
Our Mouse Chat Facebook
Follow Our Mouse Chat Instagram
Mouse Chat Twitter
Watch Videos on our Mouse Chat YouTube Channel
We would love to hear from you. Is there something you want to know about Mouse Chat? Please leave a comment.
Please join us by listening to our show at MouseChat.net or by downloading and subscribing to Mouse Chat on
iTunes. If you subscribe to our Disney Podcast on iTunes you can schedule it to update your player so you will never miss a show.