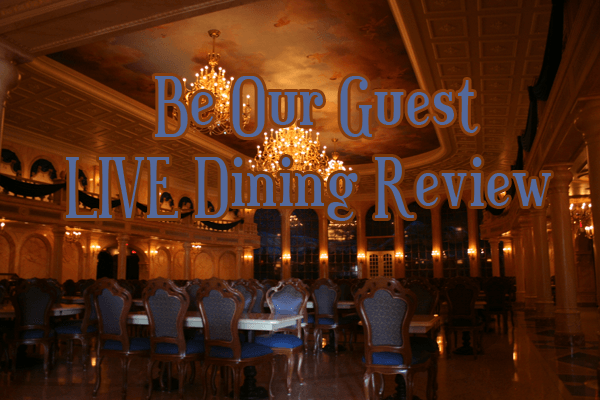 Podcast: Play in new window | Download
Subscribe: Apple Podcasts | RSS
Mouse Chat Disney podcast – A Disney Radio Show by Disney Fans for Fans
We are coming to you this week LIVE from the Be Our Guest Restaurant at the Magic Kingdom.
Chris and Bob got opening night reservations for the Be Our Guest Restaurant at the Magic Kingdom.
Chris actually flew to Disney World just to dine on opening night.  Donna, and Leslie and her family also attended so we have a wide variety of dining opinions from the main menu and also the children's menu.
I don't want to spoil the Be Our Guest Restaurant dining review, but I do want to let everyone know this opening night was full price and open to the public.  So everyone paid about $38 for their main course, about $39 for a bottle of wine, plus appetizers and dessert.  So with that Disney is considering the restaurant open and ready for everyone's enjoyment and for reviews.
Yes even Bob says by mistake to send comments and questions to Mouse Chat .com, so scratch that and send them to MouseChat.NET
Here is how to contact us here at Mouse Chat:
How to contact us at Mouse Chat:
You can email questions and comments to the show at: Comments@MouseChat.net
Media and Press can also contact us at Comments@MouseChat.net
If you like our show, please let your friends know about us.
Please join us by listening to our show at MouseChat.net or by downloading and subscribing to Mouse Chat on
iTunes. If you subscribe to our Disney Podcast on iTunes you can schedule it to update your player so you will never miss a show.