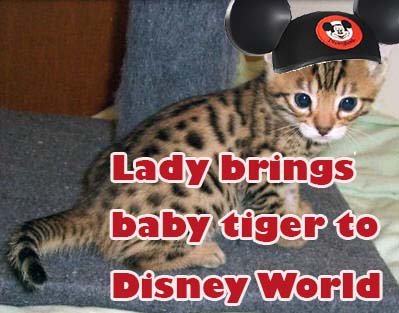 Mouse Chat Disney Radio –
Lady Denied Entry into the Magic Kingdom with her baby Bengal Tiger

Sure lady, why not bring a baby Bengal Tiger to Walt Disney World as a service animal.
Well that's not exactly what happened.
Podcast: Play in new window | Download
Subscribe: Apple Podcasts | RSS
Here is the story:
The unidentified woman tried to bring a baby Bengal tiger into the theme park, but Cast Members at the entrance denied her entry. After a bit or arguing, the Central Florida Zoo was called to retrieve the baby Bengal tiger until the end of the woman's vacation.

According to a source close to the situation who needed to remain anonymous, the woman became extremely irate and actually started claiming that Disney was making up the "no tigers allowed" rule on the spot.

Upon first being told that the baby tiger was not allowed in Magic Kingdom, the female guest, who is said to have been visiting from Dubai, became extremely angry. She was speaking with Disney Guest Relations and at first would not accept the fact that she couldn't bring the tiger into the park.

After a long time period of speaking about the tiger and reassuring her that the animal would be well treated and taken care of during her time in Walt Disney World, the woman did agree to let the animal caretakers from the Central Florida Zoo care for it.

Disney would not officially comment on the situation when reached this evening. A number of Cast Members at Magic Kingdom and in Walt Disney World Guest Relations have confirmed to Inquisitr that the event took place on Monday.

While Cast Members at Disney did originally say that it was a "baby Bengal tiger," the Central Florida Zoo let it be known that it was actually a "baby Bengal cat" which was being cared for by the guest looking to enter Magic Kingdom.
---
How to contact us at Mouse Chat:
You can email questions and comments to the show at: Comments@MouseChat.net
Media and Press can also contact us at Comments@MouseChat.net
If you like our show, please let your friends know about us.
Please join us by listening to our show at MouseChat.net or by downloading and subscribing to Mouse Chat on
iTunes. If you subscribe to our Disney Podcast on iTunes you can schedule it to update your player so you will never miss a show.