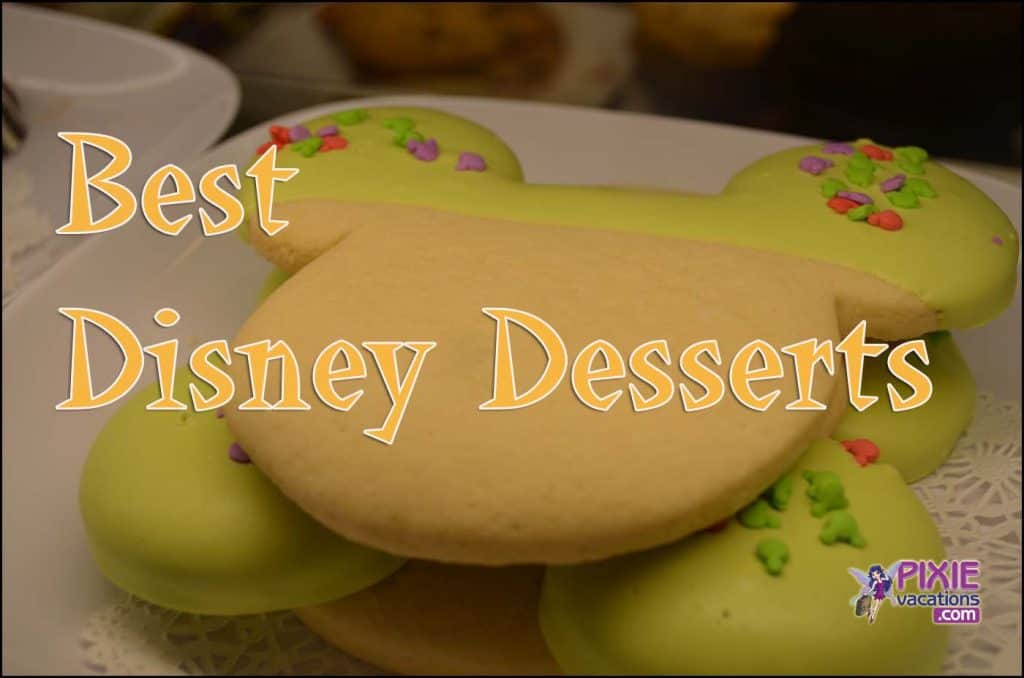 Disney World Best Desserts
With over 47 square miles there are lots of dessert choices at Walt Disney World.  We cover our top Disney World dessert picks.

Best Dessert Picks at Disney World:
#1 Yak n Yeti at Disney Animal Kingdom Park pineapple dessert cake.  For only $4.59 this is one of the best desserts
#2 Mizner's Lounge – Order the warm banana tart and order a drink too.  The atmosphere here at Disney's Grand Floridian Resort can't be beat and you can order dessert off the Citricos menu.
#3 Disney's Beach Club Resort – The kitchen sink at Beaches N Cream.  Here is our daughter with a kitchen sink dessert.
#4 Animal Kingdom Lodge – Zebra Domes are very unique and have espresso in them and they are amazing.  You need to eat these as soon as you get them to keep other people away and also they they don't get mussy.
#5 California Grill has a chocolate pudding cake that is so good and makes our best Disney dessert list.
Our Disney World dessert list keeps on going so please listen to Mouse Chat to hear the complete list of Disney World desserts
---
Get our complete list of Disney World Hacks
We have a long list of Disney World Hacks that will help save you time and money. Our list is free and we are happy to email it to you.
Get the Top Disney World Hacks – Tips and Tricks List
---
Join us on Facebook, Twitter, YouTube, and Instagram.
Mouse Chat Facebook
Mouse Chat Instagram
Mouse Chat Twitter
Mouse Chat YouTube
We would love to hear from you. Is there something you want to know about Mouse Chat? Please leave a comment.
Please join us by listening to our show at MouseChat.net or by downloading and subscribing to Mouse Chat on
iTunes. If you subscribe to our Disney Podcast on iTunes you can schedule it to update your player so you will never miss a show.
We also have Mouse Chat Radio if you would like to listen to our Internet Radio station. We stream our current and last three episodes on Mouse Chat Radio.
Have limited Data? You can listen to Mouse Chat at Mouse Chat Radio. You can listen to Mouse Chat Radio on ZenoRadio.
Anyone can listen by calling: (701) 719-2539
Mouse Chat Radio is also broadcasting 24/7 at all of your favorite internet stations (iTunes Radio, TuneIn, etc.)