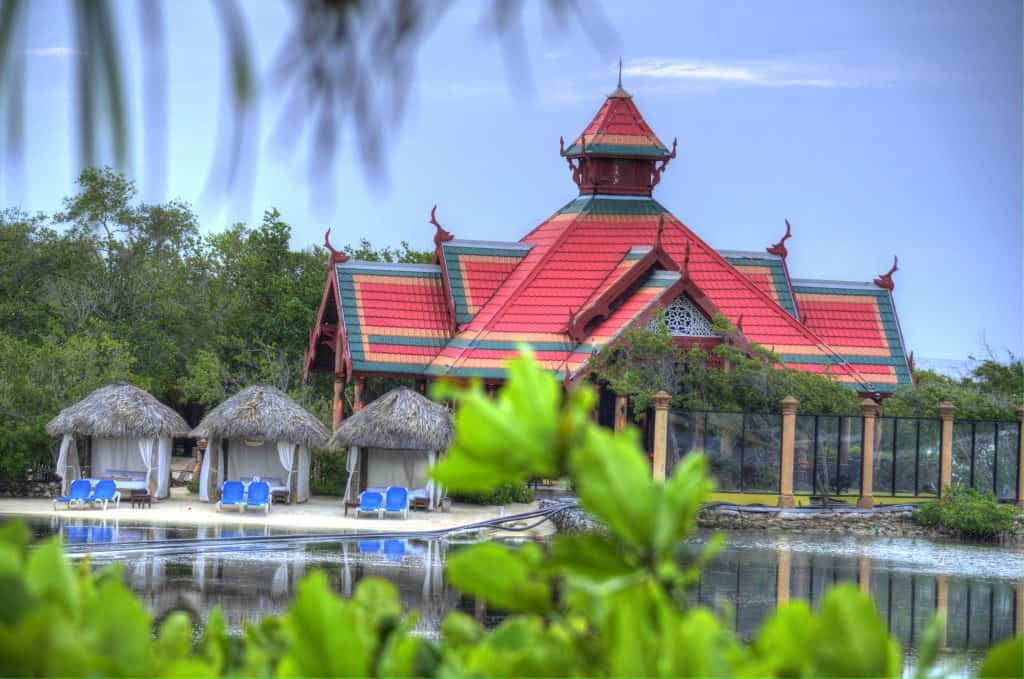 Sandals Resorts Review
Mouse Chat is in Jamaica Mon and we are at Sandals
Mouse Chat loves Disney but they let us into Jamaica at Sandals and Beaches Resorts for a full week.  We stayed and played at 10 Sandals and Beaches Resorts in Jamaica and Lauren and Lisa also went to St. Lucia and Barbados.
So if you are looking for a Caribbean All Inclusive resort for a honeymoon, wedding or just an all-inclusive resort vacation, this is the mouse chat podcast for you.  Please listen to our Sandals Resorts Review podcast below, it has a full hour of travel tips, and all-inclusive vacation advice for the Sandals Resorts in Jamaica.
We will of course stay Disney, Orlando, Universal Studios, focused on Mouse Chat so please listen to our other Podcasts for our normal Disney and Family vacation news.
Club MoBay Review
When flying into Jamaica you can arrive the traditional way or get VIP treatment with Club MoBay.  I was leery about paying for this service as I travel internationally all the time and have been in airport lounges in Australia, Paris, NY, etc.  I was presently surprised by Club MoBay.  Here is my Club Mobay review.
Jamaica TIP:  Club MoBay is your Fastpass into and out of Jamaica.  It's worth the price!
When you arrive in Jamaica, we came into Montego Bay, the immigration process is lengthy and very time consuming.  Also the customs process can have long lines.  But our experience was excellent because we had signed up for Club MoBay.  When you come off of your flight our Club MoBay representative was there with a sign waiting for us.  She greeted us and welcomed us to Jamaica and we were off to Imaginations.
What's really nice about Club MoBay is that they have a VIP express line for immagrations.  This is a separate line that had just two couples in line ahead of us.  The standard immigration line into Jamaica was over an hour long and can go up to several hours long.  We were past immigration in a matter of minutes using Club MoBay on the day we came in.
Also our Club MoBay lady helped us get our bags and then pushed them to customs where again we had our own VIP Club MoBay line to by-pass the normal customs line in Jamaica.
We then were taken to the private Club MoBay lounge which is a nice way to relax, check your emails on the free WIFI, have a drink and some sliders.  Everything is free and included in your Club MoBay arrival service.  We all enjoyed an early lunch and some drinks and caught up on emails and Facebook while waiting for our Sandals shuttle to arrive.
The return home service using Club Mobay is just as nice and I also think work paying for.  The lounge at the terminal at Montego Bay was the nicest lounge I have been in and I have been in some really nice airport lounges.  Drinks, coffee, food, waiters, entertainment, etc is all included.  It's basically all-inclusive and I loved that.
How to book Club Mobay:
You can book Club Mobay for your arrival or arrival and departure.  We liked both arrival and departure but if you want to save some money I would defiantly do it for arrival into Jamaica.  There is also a Club MoBay in Kingston which also gets rave reviews.
To book Club Mobay for your trip to Jamaica please click here – Booking Club Mobay.  Also please feel free to contact a Pixie at Pixie Honeymoons, they have used the service personally and can book Club Mobay with your all-inclusive vacation package or any vacation you are planning to Jamaica.
Listen to our full Mouse Chat podcast here for our full Sandals Resort Review.
Podcast: Play in new window | Download
Subscribe: Apple Podcasts | RSS
Sandals All-Inclusive Resorts Review
After arriving in Jamaica we toured all the Sandals Resorts and Beaches Resorts.  For this podcast we cover the Sandals All Inclusive resorts in Montego Bay in Jamaica.
We have been to all the Sandals resorts in Jamaica and will do more Caribbean all inclusive Sandals podcasts with our tips and advice.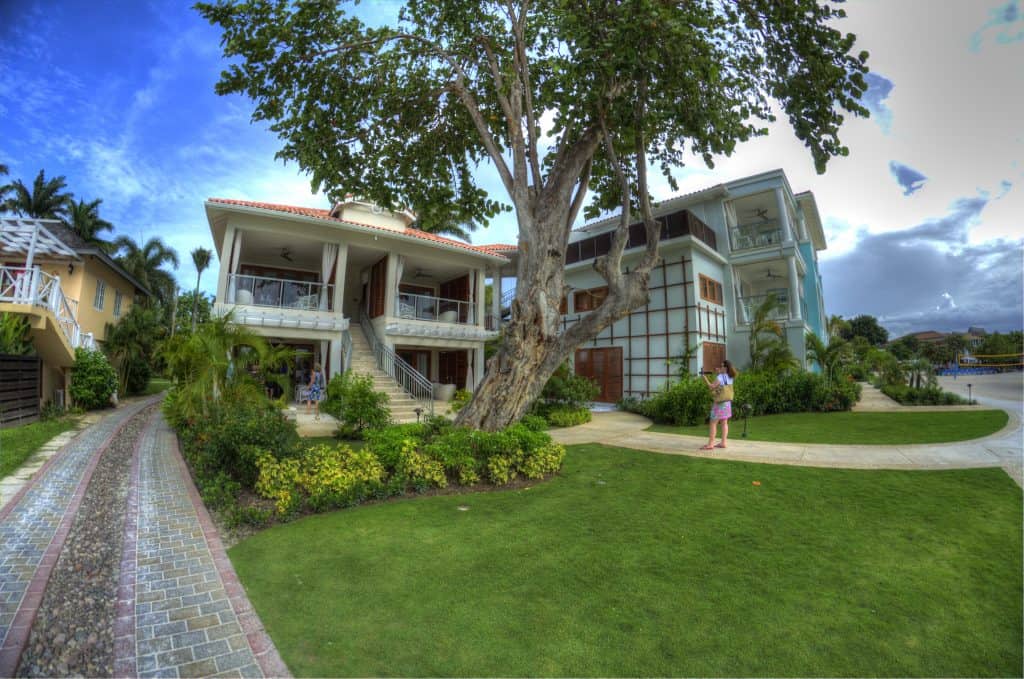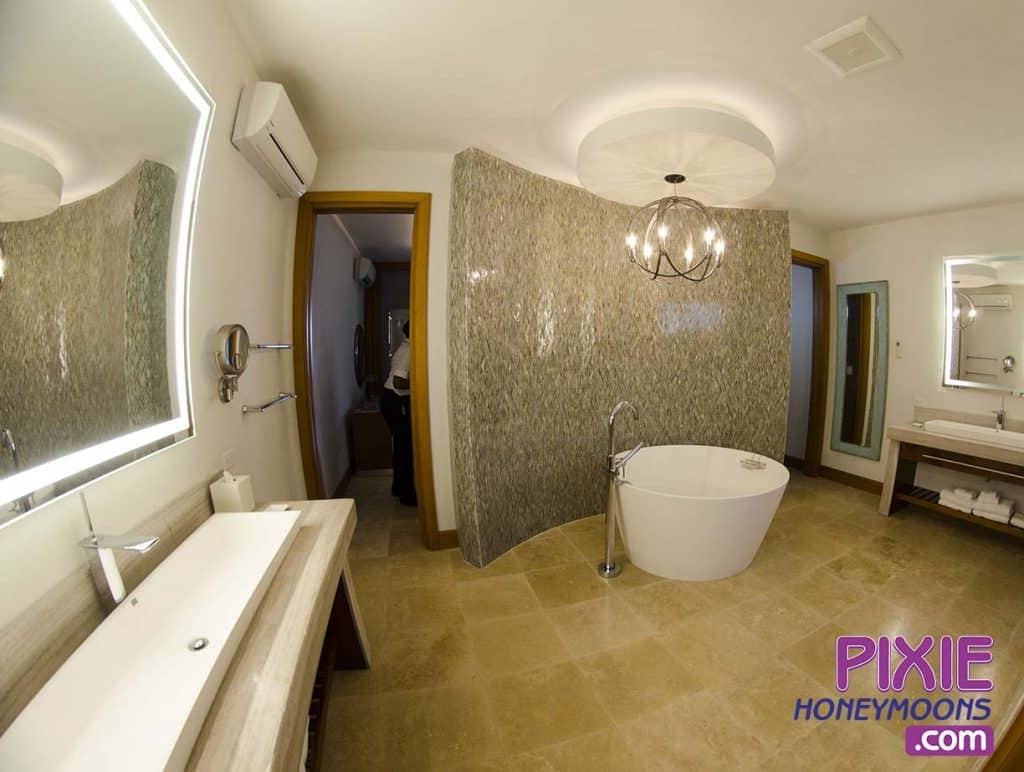 Sandals Montego Bay is literally steps from the airport and this makes it perfect for a short weekend get-a-way or for those that don't want to spend an hour or more traveling by shuttle to your all-inclusive resort from the airport.  Sandals Montego Bay has a beautiful beach, and the all inclusive suites and room are to die for.  These rooms are not your average hotel room.  The Sandals Resort rooms and suites are elegant, moderm, and have a tropical Caribbean feel.  I mean just look at this bathroom at Sandals Montego Bay.
From Pixie Honeymoons:
Caribbean Wedding Tip:
Do you want a tropical Caribbean Wedding?  Sandals Montego Bay has a wedding chapel right on the grounds.
Sandals Resort Budget Saving Tip:
Club Sandals enhanced concierge experience is a nice upgrade for your all inclusive vacation.  Also this Sandals resort has some of the most affordable Butler Elite exclusive Beachfront Villas.
Sandals Royal Caribbean All-Inclusive Resort
This is our room at Sandals Royal Caribbean.  Just look at the view.  Our room is ON the beach and there is a tranquility soaking tub for two on the patio.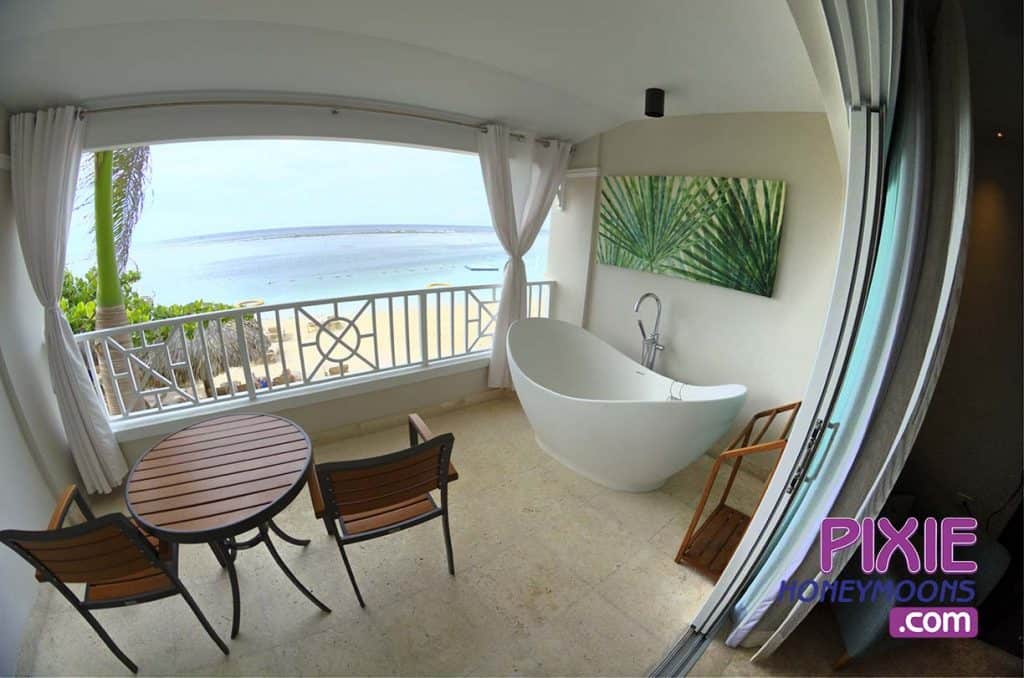 Sandals Royal Caribbean Resort Tips from Pixie Honeymoons:
Sandals Royal Caribbean Insider Tip:
When you stay at Sandals Royal Caribbean you "Stay at one and Play at three".  This means you get to enjoy everything all three Sandals Montego Bay resorts have to offer.  There is a free shuttle between all the resorts.  That means you have access to 20 gourmet restaurants within 10 minutes.
I also love the private island at this resort.  Yes there is a private island that you take the dragon boat to at Sandals Royal Caribbean.  The private island also has bungalows that are over the water.  They are Amazing!  Also on the island is a beach area, bar, pool and an authentic Thai restaurant.  The Thai was delicious and the setting is very romantic.
To book an all-inclusive vacation, honeymoon, or wedding, we recommend Pixie Honeymoons.  You can read all-inclusive resort reviews, look at resort photo galleries, and work with a Pixie at Pixie Honeymoons to help you pick the perfect all-inclusive resort.  Pixie Honeymoons services are free and they are experts in All-Inclusive vacations.
Follow us and meet other Mouse Chatters
Join us on Facebook, Twitter and Instagram.
Mouse Chat Facebook
Mouse Chat Instagram
Mouse Chat Twitter
We would love to hear from you. Is there something you want to know about Mouse Chat? Please leave a comment.
Please join us by listening to our show at MouseChat.net or by downloading and subscribing to Mouse Chat on
iTunes. If you subscribe to our Disney Podcast on iTunes you can schedule it to update your player so you will never miss a show.