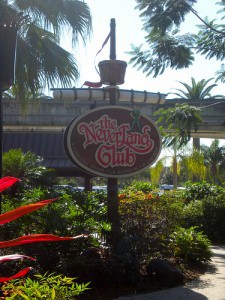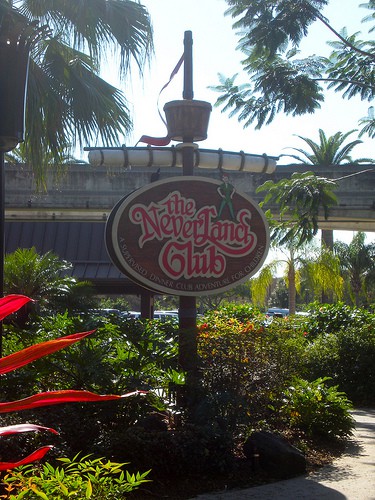 If it's your first trip to Disney World, you might be surprised to discover that there are a number of great restaurants and outings for adults.  In fact, Disney World is one of the most popular honeymoon destinations in the world and many more adults visit without children every year, so you can be sure that there's plenty for parents to do for a few kid-free hours.  The problem, of course, is finding childcare you're comfortable enough with so that you can enjoy yourself.  If you're traveling with your extended family, you may have the luxury of asking a trusted adult to watch the kids for a few hours, but if you're like most people that might not be an option.  Fortunately, there are childcare options that will give you some grown-up time in the World.
Disney provides on-site kids' clubs at several of the deluxe resorts:  The Cub's Den at the Wilderness Lodge,  Simba's Cubhouse at Animal Kingdom Lodge, The Mouseketeer Club at the Grand Floridian, The Sandcastle Club at the Yacht and Beach Club, and The Never Land Club at the Polynesian.  You can drop off children ages 3 to 12 between the hours of 4:00 and midnight (some clubs open at 4:30).  Specially themed rooms, activities, crafts, games and meals are provided.  Children must be potty trained.  There's a two hour minimum; cost is $11.50 per hour. You do not need to be a Disney resort guest but reservations are recommended.
I think this option works best if you're having a quick night out rather than a long evening, say two or three hours out for a grown up meal.  It also works better for kids who are able to stay up a bit later or who are a bit older than the minimum age. After  all, no one wants to take home a cranky kid at the end of the night.  The bonus for you is that it's safe, convenient, and most kids love going.  The cast members who work there are good at finding out about your child's interests and making sure that everyone has fun; don't worry about your shy kid being left out.  In fact, the one thing I hear over and over about the kids' clubs is that they don't want to leave!
If you have younger children, if you need longer care, or if you need care during the hours when the Kids' Clubs aren't open, you might try in-room babysitting.  Say you want to visit a spa or  you're visiting the World for a convention and need childcare during the day. Even if you're running in a marathon and need someone to come to your room in the early hours of the morning.  In room sitters are good solution.  This is also especially nice for couples who want a longer evening out. My husband and I usually have dinner at a more grown-up restaurant and then head to the parks to enjoy the rides they don't care for riding.   The huge bonus is that when we come back to our resort, they're snuggled in their beds asleep.  It's a great middle-of-the trip break for us and them.
In-room sitting may also be a better solution from a financial standpoint.    The cost of an in-room sitter runs about $18 an hour for three children.  You'd pay $34.50 an hour for three  in the kid's clubs.  In-room sitters will come to either your Disney resort or off-site room. The sitters I've used from Kids Nite Out, a popular choice, all know the resorts well.  Most services will allow you to specify the type of sitter you'd like, say for example a "grandmotherly type" or a "younger male college-age sitter," so that you can find a good match for your kids. There are also bi-lingual sitters available, as well as sitters who are experienced in the care of with children with special needs.
Disney vacations are a wonderful family experience, but don't forget mom and dad. Next time, consider having an evening out during your trip.  It's a nice break from the fast pace of the parks and a wonderful way to recharge for the rest of your vacation.
For more information and to make reservations with a Disney Kids' Club, call 407-WDW-DINE.  For popular, trusted in-room sitting services, check out Kids Nite Out and Fairy Godmothers (no website, call 407-275-7326 ). If your sitter is going to be in your room for more than a few hours, consider providing some snacks or a meal.  In-room sitters can accept tips.