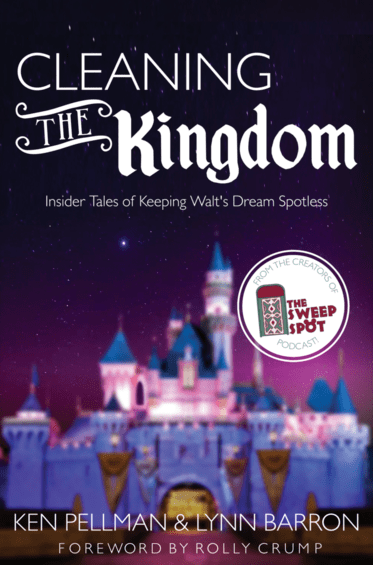 Lynn Barron gives us the dirt, on Disneyland
Lynn worked at the Disneyland custodial department for ten years and shares his fun and spooky stories with us.

Lynn worked at Disneyland in custodial for over ten years.  The freedom allowed him to meet guests from all over the world and create magical moments for families.  Disney custodial was enjoyable because you got to work so many different areas, Lynn says.  At Disneyland Attractions you just ask how many, over and over and don't get to spend time with the guests.
Lynn's boss got to meet Walt Disney himself.  The story is pretty short, but it makes it that much more entertaining.  Lynn also had a few brushes with fame as he met celebrities sometimes at Disneyland while just doing his job.
You have to listen to our full show to hear the haunted mansion story that Lynn tells about adding more than 999 happy haunts.
There is also an awesome Disneyland ghost story.
Listen to our full Mouse Chat show here for our interview with Lynn Barron .
Podcast: Play in new window | Download
Subscribe: Apple Podcasts | RSS
You can read all the great stories in Lynn's book that he co-wrote: Cleaning The Kingdom: Insider Tales of Keeping Walt's Dream Spotless
Lynn also has a podcast The Sweep Spot that you can listen to for all the latest Disneyland "dirt"
Mouse Chat Meet Up at EPCOT
It's that time!!! Time for the Annual Mouse Chat Disney World Meet Up. 🙂 We will be meeting in EPCOT Saturday, Dec. 3 at 11 AM in France. Here are the details and free event tickets. Please sign up and let your friends know. Last Year someone won a car! Not at our Mouse Chat meet up but I heard someone won a car in some sweepstakes. http://mousechatdisney2016.eventzilla.net
Follow us and meet other Mouse Chatters
Join us on Facebook, Twitter and Instagram.
Mouse Chat Facebook
Mouse Chat Instagram
Mouse Chat Twitter
We would love to hear from you. Is there something you want to know about Mouse Chat? Please leave a comment.
Get Free Mouse Chat Swag
We would love to send all Mouse Chatters some Mouse Chat swag but we only have so much to go around. Please post a comment, tip, review, or just join in the conversation below in the Comments section at the bottom of this podcast page. We will pick one comment a week and announce it on Mouse Chat and send you some cool Mouse Chat swag sure to impress your friends.
How to contact us at Mouse Chat:
You can post questions and comments to the show below in the show comments or on our Mouse Chat Facebook page.
Media and Press can also contact us at Comments@MouseChat.net
If you like our show, please let your friends know about us.
Please join us by listening to our show at MouseChat.net or by downloading and subscribing to Mouse Chat on
iTunes. If you subscribe to our Disney Podcast on iTunes you can schedule it to update your player so you will never miss a show.