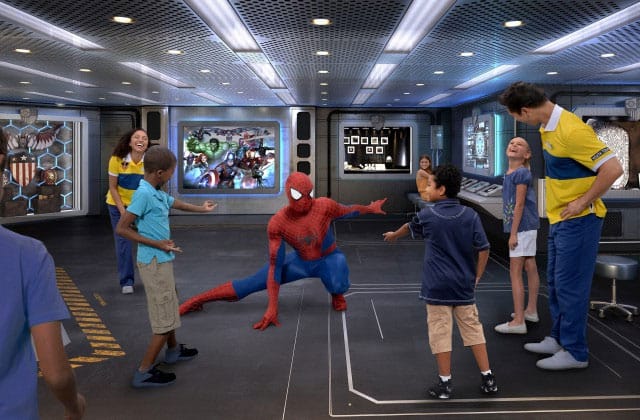 Disney Cruise Line – Disney Magic Review
We love to cruise and Disney Cruise Line is one of our top picks.  The Disney Magic has been recently updated and Lauren went on the Magic.  The five night cruise was magnificent.  The new Tangled restraunt just opened up an it is one of our favorite things on the Disney Magic.  The experience at Tangled is a show, character meal, and non-stop fun from the moment you walk in.
We ate at all the restraunt, including Palo Brunch and Palo Dinner.  We loved the Palo brunch and dinner at Palo is always great.
Tangled the musical is a must see when you are on Disney Cruise Lines Magic.  We also enjoyed the martini tasting at the lounge.  Also a mixology course is a fun choice.
This cruise was also part of the Marvel Day at Sea cruises on Disney Cruise Line and that was the highlight of the cruise.  For the full details on the Marvel Day at Sea please listen to our full Disney Cruise Line podcast here or on iTunes.
Disney Cruise Line Tip #1:  Don't worry if you did not book character meet and greets before boarding the cruise ship.  Walk directly to guest services to see the available time for the Marvel characters.  We had no issues seeing all the Marvel characters we wanted to see.  Also the Marvel characters are walking around on the Marvel Day at Sea.
We highly recommend The Marvel Day at Sea Disney Cruise Line sailing and also the Star Wars Day at Sea cruises.
Please listen to our Mouse Chat Disney Cruise Line podcast here:

---
Free at Walt Disney World
Get our list of things you can do for free at Walt Disney World.
We have a long list of Disney World freebees. These are tips and free extras that we have gathered from our years of Disney World experience. And the list also Free and we will rush it to your in box! Please click the button below to get your list of Free things to get and do at Walt Disney World.
---
Join us on Facebook, Twitter, YouTube, and Instagram.
Join Mouse Chat Facebook
Mouse Chat Instagram
Mouse Chat Twitter
Watch Mouse Chat YouTube
We would love to hear from you. Is there something you want to know about Mouse Chat? Please leave a comment.
Please join us by listening to our show at MouseChat.net or by downloading and subscribing to Mouse Chat on
iTunes. If you subscribe to our Disney Podcast on iTunes you can schedule it to update your player.