Mouse Chat Disney Radio –
Disney Cruise Line – What's New

Disney Cruise Line – Disney Dream goes in to dry dock to get some cool new additions.  Dry Dock is Oct 4-24, 2015.  There is a new Star Wars Themed area for kids 3-12 and also a Disney Infinity themed area. There is also a version of the Jedi Training coming to the Disney Dream.  There is a Disney Infinity area coming to the Disney Dream also with some Disney Cruise Line exclusive content.
Podcast: Play in new window | Download
Subscribe: Apple Podcasts | RSS
Here is the story from Disney Parks Blog:
Headlining the enhancements are two new interactive youth areas, one themed to Star Wars and another to Disney Infinity. We're also adding a whimsical sweet shop serving handmade gelato and the ever-popular Bibbidi Bobbidi Boutique. Here's a look at the new spaces and the fun in store for Disney Dream cruisers …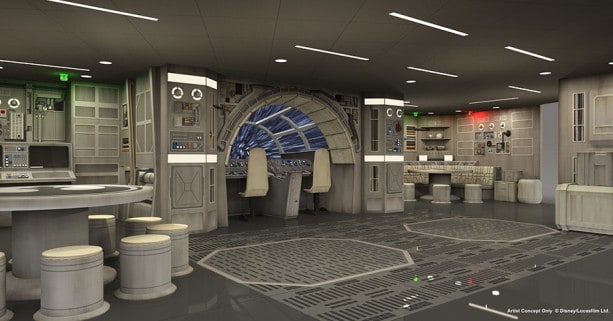 Star Wars: Millennium Falcon
In Disney's Oceaneer Club, kids are in for an out-of-this-galaxy experience in a newly themed play, Star Wars: Millennium Falcon, inspired by the spacecraft from the legendary saga.
Upon entering the spaceship, younglings will join the Rebel Alliance in the epic battle of good versus evil by assisting with the navigation of this powerful space vehicle. Sitting in the cockpit, children can pilot this super-cool spaceship through hyperspace and trigger lightspeed jumps to different locations around the galaxy.
We'll also offer Star Wars-themed crafts, games and activities in this space. Plus, kids can watch episodes from the new Disney XD animated series, "Star Wars Rebels," on a large screen or virtually join the rebellion at gaming stations featuring the series' action-packed adventures.
The excitement continues during a shipboard version of the popular Jedi Training Academy experience that invites young Jedi hopefuls – known as "Padawans" – to learn lightsaber moves from a Jedi Master. They can then use the Force and face off in a final test against the evil Darth Vader.
Disney Infinity Toy Box
Also in the Oceaneer Club, a high-tech interactive space based on the Disney Infinity video game offers more fun for kids.
In the Disney Infinity Toy Box area, children can experience a whole new way of playing together with exciting virtual experiences and immersive activities. Customized, on-screen adventures will bring to life characters and stories from across The Walt Disney Company.
The complete set of Disney Infinity character figures will be on display for creative inspiration and available for gameplay. Kids visiting this special room – found only on the Disney Dream – will be able to unlock exclusive Disney Cruise Line content that they can continue to enjoy when playing Disney Infinity at home.
Special activities will bring the virtual gameplay experience to life in the real world. For example, a life-sized Disney Infinity Base sets the stage where children take the place of character figures for a group gaming experience unlike any other. Lighting up in response to gameplay on a large screen, this interactive floor will allow kids to be immersed in the Toy Box.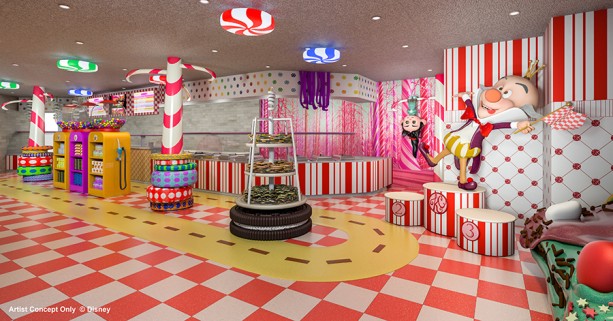 Vanellope's Sweets & Treats
Handmade gelato and ice cream, an assortment of candy, and delectable novelty treats are some of the deliciousness available for purchase at Vanellope's Sweets & Treats. Resembling the whimsical candy land of the Sugar Rush race car game in "Wreck-It Ralph," the sweet shop's décor features nods to the film, including a race track and checkerboard patterned floor, gas pump-style gumball dispensers, Vanellope's race car and King Candy's throne. This specialty store coming to Deck 11 will have two entrances, inside Cabana's restaurant and outside by the pool deck.
Bibbidi Bobbidi Boutique
Bibbidi Bobbidi Boutique, coming to Deck 5 midship, will bring to life the storybook fantasies of young guests with pixie-dusted and piratical makeovers. This very special salon will offer aspiring princesses and knights ages three to 12 the chance to transform into royalty with the help of a fairy godmother-in-training. On pirate party night this boutique becomes The Pirates League where swashbuckling pirates of all ages will have the opportunity to unleash their inner buccaneer.
Satellite Falls
Exclusively for adults, Deck 13 forward will include a new water feature, Satellite Falls, a circular splash pool with benches and a gently falling rain curtain that provides cool comfort. Around this upper deck, adult guests can soak up the sun in loungers or relax in the shade under a canopy.
This wave of enhancements to the Disney Dream debuts on the October 26 four-night voyage from Port Canaveral, following the ship's dry dock October 4-24, 2015 in Freeport, Bahamas. Which new space are you most excited about?
 More Disney Cruise Line News
Palo and Remy provide a world-class dining experience aboard Disney Cruise Line. Over the past few years we've made continual enhancements for our Guests' enjoyment and are committed to further refining the experience in the future.
Effective April 19, 2015 on the Disney Magic; April 20 on the Disney Dream; April 22 on the Disney Wonder and April 25 on the Disney Fantasy, the price of Palo for brunch and dinner will increase from $25 per person to $30 per person. In addition, the price for dinner at Remy will increase from $75 per person to $85 per person and $50 per person to $55 per person for brunch.
Guests making a reservation after the effective date will be charged the new Palo or Remy Dining Option pricing. Guests who have already pre-booked Palo or Remy online will be allowed to dine at the previously booked rate.
---
How to contact us at Mouse Chat:
You can email questions and comments to the show at: Comments@MouseChat.net
Media and Press can also contact us at Comments@MouseChat.net
If you like our show, please let your friends know about us.
Please join us by listening to our show at MouseChat.net or by downloading and subscribing to Mouse Chat on
iTunes. If you subscribe to our Disney Podcast on iTunes you can schedule it to update your player so you will never miss a show.