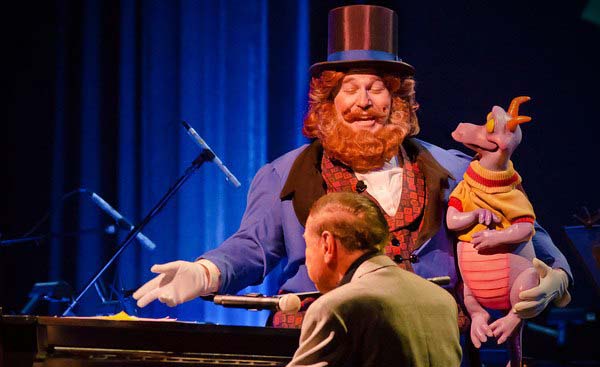 Podcast: Play in new window | Download
Subscribe: Apple Podcasts | RSS
Mouse Chat Disney podcast – A Disney Radio Show by Disney Fans for Fans
Dreamfinder Ron Schneider is here with us –
For those that have been to EPCOT Center you will remember the amazing Imagination pavillion and attraction with Dreamfinder and his purple little winged friend Figment. Well Ron Schneider had the pleasure of being "friends with" Dreamfinder for many year and was the first Dreamfinder.
So of course we could not pass up the opportunity to chat with Ron about his Disney career, his best moments and also his insight on what's next for Disney and themed entertainment. With the purchase of LucasFilms that just happened and so many great new things on the horizon for the Walt Disney Company our conversation with Ron gets a little into Star Wars, Avatar, and even Universal Studios. This is a great time to be a Disney fan and this interview has me very excited about the next 10 years and what great things are sure to come.
Christmas is just around the corner and Ron has a fabulous book out. No he is not paying me to plug his book, Bob already bought a copy and sleeps with it under his pillow each night, so you know it's good. You can buy Ron's book "From Dreamer to Dreamfinder: A Life and Lessons Learned in 40 Years Behind a Name Tag" on Amazon or at your favorite bookstore.

Mouse Chat News:
Mouse Chat is up for BEST Travel Podcast at the 8th Annual Podcast Awards. Yes it's pretty cool! We need your VOTE!
You can vote once a day everyday starting right NOW until Nov. 15.
How to Vote:
Go to the www.PodcastAwards.com
Scroll down to TRAVEL
Select "MouseChat"
SUBMIT your vote.
Let your friends know and vote each day until Nov 15.
Thank You for supporting Disney Podcasts – MouseChat
We hope you enjoy this weeks show, and will see you here again next week on Mouse Chat.
How to contact us at Mouse Chat:
You can email questions and comments to the show at: Comments@MouseChat.net
Media and Press can also contact us at Comments@MouseChat.net
You can call our Mouse Chat hotline and leave us a voice mail: 225-3MOUSE1 – 225-366-8731
Comments and questions left on the Mouse Chat hotline are the property of Mouse Chat and maybe broadcast on the show. But that's why you are leaving them right?
If you like our show, please let your friends know about us.
Please join us by listening to our show at MouseChat.net or by downloading and subscribing to Mouse Chat on
iTunes. If you subscribe to our Disney Podcast on iTunes you can schedule it to update your player so you will never miss a show.