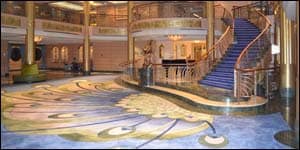 Podcast: Play in new window | Download
Subscribe: Apple Podcasts | RSS
Mouse Chat Disney podcast –
We are on the Disney Fantasy. Disney's brand new Cruise Ship and I have to say it is amazing.
We started our journey at Disney's Coronado Springs resort at Disney World and attended three days of special events. More on that on a future Mouse Chat Podcast.
Bob, Lauren, Chris, Lisa and Steve recorded this show live from the beautiful Disney Fantasy lobby. Peter Pan jumped up on the back of our chair during this live show, right as the batteries died on our portable Mic.
Sorry, this is recorded and uploaded right from the Disney Fantasy.  We are still on the ship.  So you may hear audio issues, and the show drop off at the end when our Mic dies.  The joys of live broadcasts.
We saw the Disney Dream at sea in the middle of the night and both ships did a firework show and then an amazing horn battle, search lights filled the sky from both ships, it was the coolest thing to see.
We will post photos of that along with hundred of photos, videos, exclusive interview with Disney staff and more over the coming weeks.
We have more upcoming shows about the Disney Fantasy coming.
Sorry the internet on the ship is a tad slow when the ship is filled with press.
You can email questions and comments to the show at: Comments@MouseChat.net
If you like our show, please let your friends know.
Please join us by listening to our show at MouseChat.net or by downloading and subscribing to Mouse Chat on
iTunes.