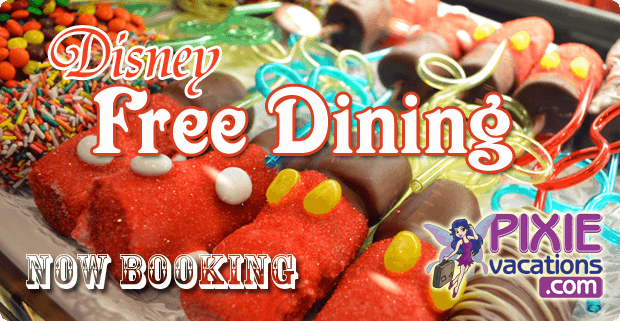 It's Here!  Free Dining for September 2013 has been announced.  If you have been debating planning a Disney World family vacation, Disney free dining is the most popular offer out there, and we are so glad to see it back for 2013.
If you are not familiar with the free dining offer, it's very simple.  You get to Eat for Free 🙂 which is not only great, but a huge money saver.  Free Dining is available for select dates in September.  It comes as a Disney vacation package.  So you get your Disney Resort Room, Disney Park Admission, and then the dining plan is added for each person in your party for free.  Certain restrictions apply and this offer is limited.  If you have not already booked this offer with your travel agent and want to take advantage of free dining, I would call them TODAY.  This offer books up quickly and your preferred Disney resort and room type will go fast.  Also your agent should book your dining reservations for you and those book up fast too.
We would love to help you at Pixie Vacations.  There is no cost and we will sit on hold for hours and book this vacation package for you instead of you having to wait on the phone.  A Pixie from Pixie Vacations will also plan your dining reservations for you as well as give you tips and advice to make sure you have the perfect Disney vacation.
Enjoy Disney, and enjoy the free food with this offer.
Booking Window:  May 9 – July 31, 2013
Travel Window:  September 2-25, 2013
(You can extend up to 14 days as long as you check in by 9/25)
How to book Free Dining:
Contact Pixie Vacations
Email: Info@PixieVacations.com
Phone: 678-815-1584