Steve is unemployed
Steve decides to make a pillow and call it "Your Pillow", not really, but yes he is unemployed.

Steve has left his day job, at least for now, so you can now enjoy even more Disney destination news from Steve and the rest of the Mouse Chatters.  🙂
We are covering the top must dos at the Magic Kingdom.
Must Do Magic Kingdom
1. The Jungle Cruise – The jungle cruise entirely debends on the cast member you get.  But when you have a wonderful skipper this attraction is like no other.  Sharpie loves the Jungle Cruise at the Magic Kingdom and if you can only do this attraction once during your vacation, he recommends a day time cruise.
2. Wishes – The firework show at the Magic Kingdom is a must do.  This show takes place at Cinderellas Castle and is one of the best fireworks shows you will ever see.
3. Enjoy a Dole Whip – To get a taste of the Magic Kingdom stop by Adventure Land and get a Dole Whip.  This tropical treat helps you beat the heat and is very crisp and refreshing.
4.  Haunted Mansion – This classic Disney World ride is a must do.  It's not that scary and makes for a fun family attraction.
5. Pirates of the Caribbean – Another classic Disneyland attraction that is at the Magic Kingdom in a different form is a must see.  I don't normally get a fast pass for this attraction as the wait time is maybe 20-30 minutes most days.
More Must Do's at the Magic Kingdom are on this weeks Mouse Chat Podcast so be sure to listen to help plan your Disney vacation.
Wigwam Socks
Why is this photo in the Mouse Chat show notes?  Listen now.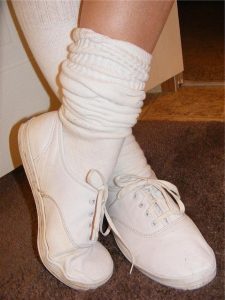 ---
Get our complete list of Disney World Hacks
We have a long list of Disney World Hacks that will help save you time and money. Our list is free and we are happy to email it to you.
Get the Top Disney World Hacks – Tips and Tricks List
---
Join us on Facebook, Twitter, YouTube, and Instagram.
Mouse Chat Facebook
Mouse Chat Instagram
Mouse Chat Twitter
Mouse Chat YouTube
We would love to hear from you. Is there something you want to know about Mouse Chat? Please leave a comment.
Please join us by listening to our show at MouseChat.net or by downloading and subscribing to Mouse Chat on
iTunes. If you subscribe to our Disney Podcast on iTunes you can schedule it to update your player so you will never miss a show.
We also have Mouse Chat Radio if you would like to listen to our Internet Radio station. We stream our current and last three episodes on Mouse Chat Radio.
Have limited Data? You can listen to Mouse Chat at Mouse Chat Radio. You can listen to Mouse Chat Radio on ZenoRadio.
Anyone can listen by calling: (701) 719-2539
Mouse Chat Radio is also broadcasting 24/7 at all of your favorite internet stations (iTunes Radio, TuneIn, etc.)