Mouse Chat Disney Radio –
Disney's Polynesian Resort Expert Tips

Sharpee stays at the update Polynesian Village Resort at Walt Disney World in the Villas.  The rooms at the Polynesian resort are beautiful but the noise from the fairy boats is bothersome if you have a room close to the Disney ticket and transportation center.  The lake views are wonderful, but take the boat noise into consideration when booking the Disney Polynesian Village Resort.
If you are planning a vacation at Disney's Polynesian Village Resort please listen to our Mouse Chat podcast.  We have stayed in the rooms and have some expert tips in this episode that will make your stay that much nicer.
To book Disney's Polynesian Village Resort please contact Pixie Vacations. They will check all the Disney World Polynesian Resort specials and make sure you get the right Disney vacation package for you and your family.
Listen to our Disney to or Polynesian Village Resort TIPS show and Disney Trip Report. Click Play below, or download Mouse Chat on iTunes.
Podcast: Play in new window | Download
Subscribe: Apple Podcasts | RSS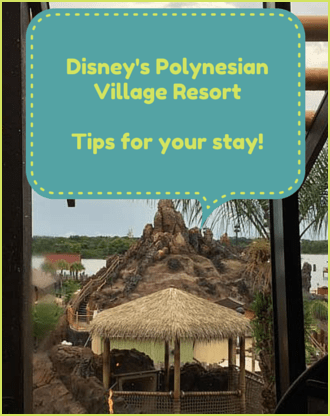 Also in the Walt Disney World Trip Report and Disney News:
Disney FastPass+ – Wait times seem to be going up in the normal ride lines and also in the FastPass+ lines.  We experienced Fastpass+ wait times up to 30 minutes.  Sure that's better than 60 minutes in the regular line, but FastPass+ wait times are now approaching what standard wait time use to be in some cases.
Walt Disney World Quick Service Dining Plan – The Disney Dining Plan worked out well for our Disney World Vacation.  We had on making meals in our room but the transportation time there and back ended up being too long.  So the Quick Service Disney Dining Plan fit our vacation perfectly.
Disney's Grand Floridian SPA Review – Sharpee goes to the Disney's Grand Floridian Spa for a couples massage.  The spa was wonderful.  You really have to listen to the Grand Floridian Spa review on this weeks show.  Sharpee goes into it all.
Disney Kidani Village – Sharpee also stayed at Disney's Kidani Village and a key thing to know if you have never been is that the rooms are a long long ways away from the lobby in most cases.  But the resort is amazing and it's well worth the walk.
Garden Grill at EPCOT – Now will be open for breakfast and lunch.  You can start booking this now for November 8, 2015 and forward vacations.
Disney Cruise Line Character Signature Service No More – In the past you could bring an item to the front desk on Disney Cruise Line and they would have the Disney characters sign it and then return it to your room.  This perk has been discontinued.
---
How to contact us at Mouse Chat:
You can email questions and comments to the show at: Comments@MouseChat.net
Media and Press can also contact us at Comments@MouseChat.net
If you like our show, please let your friends know about us.
Please join us by listening to our show at MouseChat.net or by downloading and subscribing to Mouse Chat on
iTunes. If you subscribe to our Disney Podcast on iTunes you can schedule it to update your player so you will never miss a show.