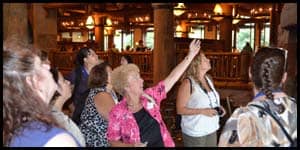 Podcast: Play in new window | Download
Subscribe: Apple Podcasts | RSS
Mouse Chat Disney podcast –
We all headed to Disney World to tour the resorts, parks, dining and even the Disney Dream Cruise Ship.
Bob, Lisa, Lauren, Chris, and Steve, we all met up and had a great time.
This show covers our trip report for our week at Disney World. We had a fantastic time and hopefully that shines though on the podcast.
I think we walked every mile of the Disney Property and even saw cirque du soleil La Nouba.
We went backstage at EPCOT to a private dining room (loft) in Norway so it was very exciting to experience the magical extras at Disney World and on the Disney Dream Cruise Ship.
Here are some photos from of the Mouse Chat gang and our friends.
Next week we have a listener question show, so please send us your Disney questions.
You can email questions and comments to the show at: Comments@MouseChat.net
If you like our show, please let your friends know.
Please join us by listening to our show at MouseChat.net or by downloading and subscribing to Mouse Chat on
iTunes.