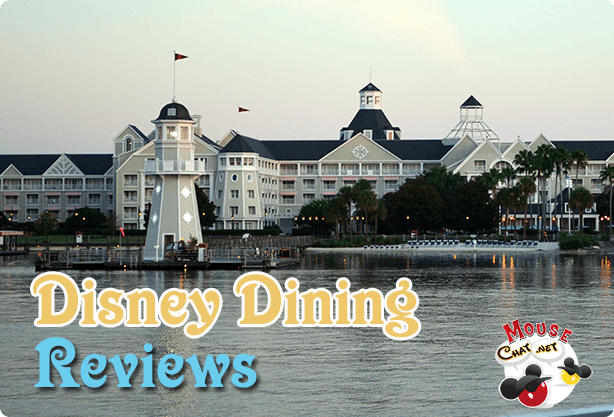 Podcast: Play in new window | Download
Subscribe: RSS
Mouse Chat Disney Radio –
Disney World Restaurants Reviewed –
Boma Restaurant Review
Yachtsmen Steak House Review
Boma Restaurant Review at Animal Kingdom Lodge –
We ate at Boma for dinner.  If you are looking for something different, without Disney Characters, we all loved Boma.  Boma is located at Disney's Animal Kingdom Lodge.
This is a buffet and the variety is amazing.  There is something for everyone.  If you are looking for basic food for a picky eater (kids) you are covered.  If you want to try something new (African dished) this is the place to sample a little of everything.  If you don' t like something, get back up and try something else.  Plus Boma is located at Animal Kingdom Lodge which is an amazing Disney resort.  This resort for dinner is a pleasure to walk around.  Just before your dinner reservation, walk outside to the savanna and see the animals.  There is also an indoor and outdoor fireplace if it's chilly.  The lobby is the perfect place to explore and relax before or after dinner and the gift shop offers some unique African art and toys.
Disney's Yachtsman's Steak House Restaurant Review –
If you are looking for the best steak at Walt Disney World, the Yachtsman Steak House at Disney's Yacht Club Resort is top of the list. We had the best server at Yachtsman's.  She was one of the best servers we have had at Disney World.  The steaks were just right and this was a perfect evening.  For the full Disney Dining Review, listed to our Mouse Chat show.
Disney's le cellier offers lunch and dinner but for the price and for two Disney dining credits, if you are on the Disney Dining Plan, we think you can have a much better meal and experience at Yachtsman's Steak House.
We still think Bull and the Bear is the best steakhouse around Walt Disney World at the Waldorf Astoria.
Citrico's at the Grand Floridian Beach Resort also has great steaks.
Disney Character Dining Review –
We ate several Disney Buffets so our kids could meet the characters.  These are a great way to see the characters and start the day.  This way you can avoid waiting for characters in the parks and you get your breakfast to start the day taken care of too.  If you have kids 9 and under, the Disney Dining Plan is a great deal!  But getting your kids to eat can be difficult with the excitement level.
Listen to Mouse Chat for our review and also feel free to send us an email.  We have tried everyone Character Dining on property and several more than once.
---
How to contact us at Mouse Chat:
You can email questions and comments to the show at: Comments@MouseChat.net
Media and Press can also contact us at Comments@MouseChat.net
If you like our show, please let your friends know about us.
Please join us by listening to our show at MouseChat.net or by downloading and subscribing to Mouse Chat on
iTunes. If you subscribe to our Disney Podcast on iTunes you can schedule it to update your player so you will never miss a show.