Disney World Restaurant Reviews – Disney Springs
New Disney Springs and EPCOT restaurant reviews – Burger Deluxe, Sprinkles, La Hacienda de San Angel

Disney Springs recently opened and we headed over with a large group to try Burger Deluxe and then Sprinkles cupcakes for dessert.  Our trip to Disney Springs was a party of 8 so we could get many different varying opinions.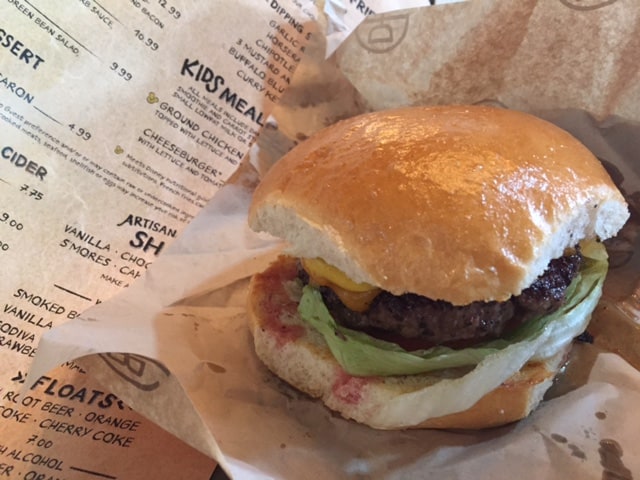 Burger Deluxe at Disney Springs
Disney Springs has a bunch of new dining options and we took our large party there to try and few for this weeks Mouse Chat Disney Dining Reviews.  Burger Deluxe – This is a specialty burger restaurant where you walk up to order at the counter and then pick up your burger when it is ready.
We took our party of 8 here just a few days after Burger Deluxe opened.  The burgers were all ordered as Medium, but came out raw in the middle and blood on the buns.  All except for one that was order well done came out raw in the center.  You could smell the raw meat.  We returned several burger and it took over 25 minutes to get a replacement burger.  After waiting 25 minutes for a burger everyone else was done eating.  Turn around service at Burger Deluxe was terrible.  I have to say that the management was very friendly and Burger Deluxe we think shows promise moving forward.  Hopefully the issues we all experience were opening week growing pains and we look forward to trying Burger Deluxe again once it is established.
The meal per person was about a $14 meal.
Pros:
Friendly staff and management
Our review was opening week, so things might be better now.
Cons:
Burgers came out bloody / raw in the middle
Turn around time to get a replacement burger was slow
The fries are around $5 and $8 for a very small amount of fries, so we would recommend skipping these.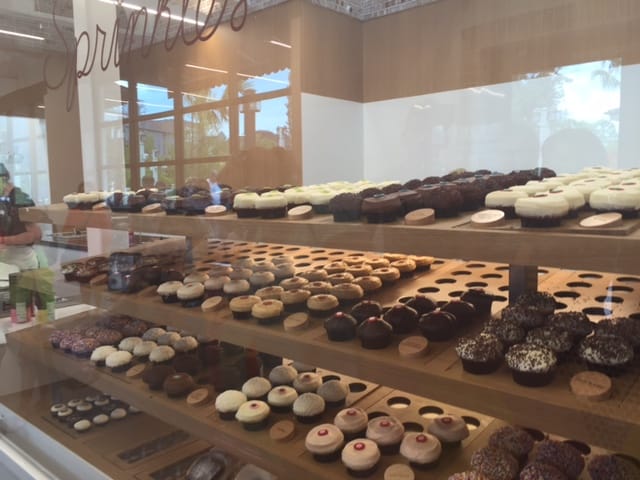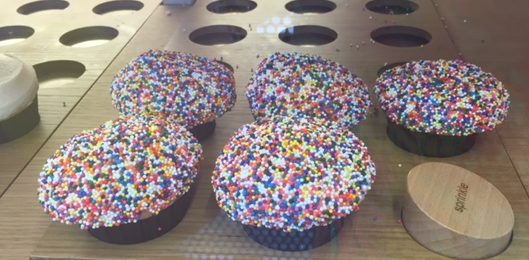 Sprinkles Cupcakes
We tried the Sprinkles cupcake ATM and videoed the experience on our Mouse Chat Periscope channel.  We got a chocolate chocolate cupcake out of the Sprinkles ATM.  The frosting was good but the Sprinkles cupcakes in the ATM and in the Sprinkles store we found to be dry.  But the line for Sprinkles was crazy long.  So people are enjoying them at $6 each.  We would just like them to be moist.
Listen to our full Mouse Chat show here for our Disney World restaurant reviews.
Podcast: Play in new window | Download
Subscribe: Apple Podcasts | RSS
We also went over to EPCOT for dinner and this was one of our top Disney World dining experiences!
Epcot – Mexico – La Hacienda de San Angel
We went to Lauren's Birthday to La Hacienda at EPCOT with a party of 10.  We had the best time.  Villa was our waiter and he was incredible.  The service, food, decor all added up to the perfect storm.  AMAZING!  We even friended Villa on Facebook.  The service was so good it was like a signature dining experience.  This is also a perfect place to watch Illuminations from.  We watched one of the best Illuminations shows from La Hacienda.
To get the details of this dining experience so you can book it also, please take a moment and listen to our Mouse Chat podcast above.
Follow us and meet other Mouse Chatters
Join us on Facebook, Twitter and Instagram.
Mouse Chat Facebook
Mouse Chat Instagram
Mouse Chat Twitter
We would love to hear from you. Is there something you want to know about Mouse Chat? Please leave a comment.
Get Free Mouse Chat Swag
We would love to send all Mouse Chatters some Mouse Chat swag but we only have so much to go around. Please post a comment, tip, review, or just join in the conversation below in the Comments section at the bottom of this podcast page. We will pick one comment a week and announce it on Mouse Chat and send you some cool Mouse Chat swag sure to impress your friends.
How to contact us at Mouse Chat:
You can post questions and comments to the show below in the show comments or on our Mouse Chat Facebook page.
Media and Press can also contact us at Comments@MouseChat.net
If you like our show, please let your friends know about us.
Please join us by listening to our show at MouseChat.net or by downloading and subscribing to Mouse Chat on
iTunes. If you subscribe to our Disney Podcast on iTunes you can schedule it to update your player so you will never miss a show.