Star Wars at Walt Disney World & Disneyland

Star Wars at Disney World – Here's what's open now in 2016
Star Wars Launch Pad is open and if you are a Star Wars Nerd or even just a Star Wars fan you can spend a few hours in here seeing props from the movies and also meeting the Star Wars Characters.
Also the Star Wars 3D simulator ride "Star Tours 2.0" is at Disney Hollywood Studios and has been updated and open for many years.  But if you have not seen it since it was updated you need to ride it again.
Here is what is coming to Walt Disney World for Star Wars in 2016
Star Wars: A Galactic Spectacular will be a new generation of the current Star Wars-inspired fireworks show featuring digital projections and other effects. This epic nightly show, unprecedented in Disney's Hollywood Studios history, will light up the sky with Star Wars-themed fireworks, lasers, light projections and other special effects combined with Star Wars-themed music and iconic characters and scenes from throughout the saga.
Star Wars: A Galaxy Far, Far Away: This new live, stage show celebrates iconic moments from the Star Wars saga with live vignettes featuring popular Star Wars characters, such as Kylo Ren, Chewbacca, Darth Vader and Darth Maul. The show will take place multiple times each day at the Center Stage area near The Great Movie Ride.
Stormtroopers march: At various times each day, the menacing Captain Phasma will lead a squad of First Order stormtroopers as they march in formation from Star Wars Launch Bay to the Center Stage area in an intimidating demonstration of the First Order's indomitable strength.
Star War Land – Listen now to what's coming to Disney Parks
Podcast: Play in new window | Download
Subscribe: RSS
Disney Star Wars Land opening in late 2018?
The Star Wars lands at Disney World and Disneyland have no open dates as of yet.  But if you look at how long it traditionally takes Disney to open a new land.  I don't see anyone stepping into a Disney Star Wars land until late 2018 at the earliest.  I am guess at this date as I take into account the remaining Star Wars movies that are to be released, and also figure that Disney is going to want to make their money back on Avatar Land at Animal Kingdom before taking guests away from that for Star Wars.  Even 2018 seems to soon seeing that Avatar Land will not open until 2017 and Disney will probably want a full 18 months – 2 years to promote that new land at Walt Disney World.
But we do know there are many very cool attractions, dining and shops planned for the Walt Disney World and Disneyland Star Wars lands.  New concept art has been released by Disney and it looks spectacular: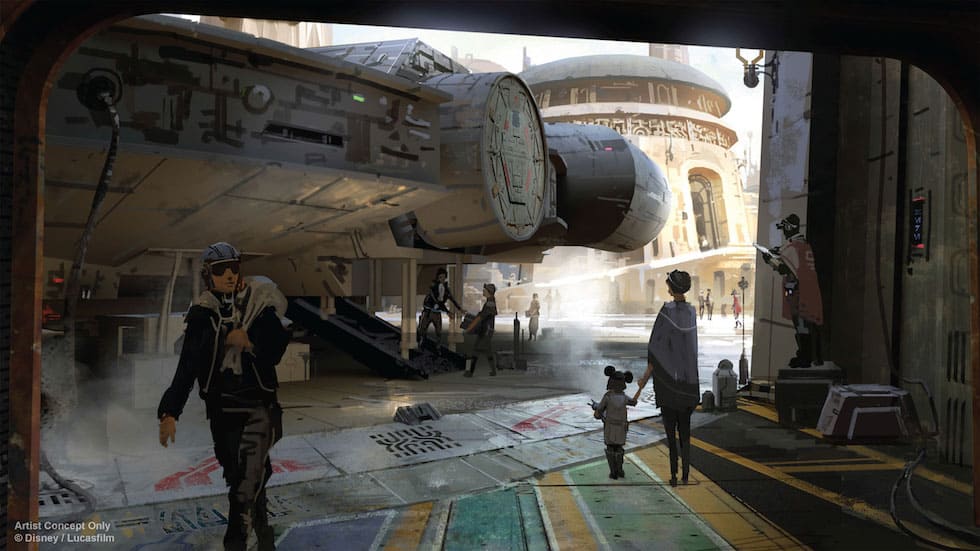 Guests will be able to step aboard The Millennium Falcon and actually pilot the fastest ship in the galaxy, steering the vessel through space, firing the laser cannons, in complete control of the experience.
And with the arrival of the First Order to the planet, visitors will find themselves in the middle of a tense battle between stormtroopers and Resistance fighters.  At 14 acres each, these richly detailed lands promise to immerse you in the Star Wars galaxy as never before, allowing you to create your own adventure.
Star Wars Concept Art Gallery
Get Free Mouse Chat Swag
We would love to send all Mouse Chatters some Mouse Chat swag but we only have so much to go around. Please post a comment, tip, review, or just join in the conversation below in the Comments section at the bottom of this podcast page. We will pick one comment a week and announce it on Mouse Chat and send you some cool Mouse Chat swag sure to impress your friends.
How to contact us at Mouse Chat:
You can email questions and comments to the show at: Comments@MouseChat.net
Media and Press can also contact us at Comments@MouseChat.net
If you like our show, please let your friends know about us.
Please join us by listening to our show at MouseChat.net or by downloading and subscribing to Mouse Chat on
iTunes. If you subscribe to our Disney Podcast on iTunes you can schedule it to update your player so you will never miss a show.