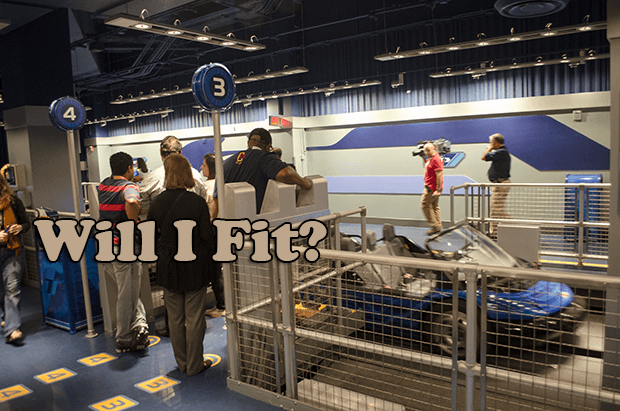 Podcast: Play in new window | Download
Subscribe: Apple Podcasts | RSS
Mouse Chat Disney Radio – A Disney Radio Show by Disney Fans for Fans
Will I fit?  There are some rides that if you are tall or a larger person you may not fit on some rides and attractions at Orlando parks.
We explore things like Richard Petty Driving Experience, Rides and attractions at Walt Disney World and at Universal Studios, as well as Legoland in FL.
Disney really tries to accommodate as many people as they can.  Universal has some rides that you just will not be able to fit on the ride or the safety restraint will not lock and you will not be allowed to ride.
You also need to look at the mix of rides and attractions at these theme parks.  Universal Studios and parks like Six Flags trying to have the latest extreme roller coasters which require safety restraints and tight seats to keep passengers in the ride.
Dark rides and many of the attractions at Disney World and Disneyland are easier for taller or wider people to access.
FYI: The show has an audio clipping issue with Lisa's mic.  I thought about dumping the show, but wanted to keep it because the content is something people need to know before heading to a Florida Theme Park.
Media Contact:
Steve Griswold
Mouse Chat
678-815-1584
Email: Steve@MouseChat.net
Twitter: @MouseChat
Mouse Chat on Facebook
Join in and make new friends, ask and get answers to your Disney Vacation Questions, post Disney Park photos, and just say Hi. Join our Mouse Chat Facebook Page.
---
How to contact us at Mouse Chat:
You can email questions and comments to the show at: Comments@MouseChat.net
Media and Press can also contact us at Comments@MouseChat.net
If you like our show, please let your friends know about us.
Please join us by listening to our show at MouseChat.net or by downloading and subscribing to Mouse Chat on
iTunes. If you subscribe to our Disney Podcast on iTunes you can schedule it to update your player so you will never miss a show.