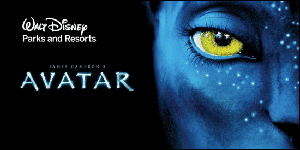 Podcast: Play in new window | Download
Subscribe: Apple Podcasts | RSS
Mouse Chat Disney podcast –
Lisa and Steve are back from Disneyland and we have a Disneyland Trip Report show coming up for you soon, but we wanted to cover the latest Disney News for you first. Avatar, yes Avatar is coming to Disney's Animal Kingdom. Well it is not planned to open until 2016 at Animal Kingdom but plans are in place. Join us as we discuss Avatar at Disney World as well as other Disney News for the week.
Also please join our Mouse Chat Facebook page:
http://www.facebook.com/MouseChat.net
You can email questions and comments to the show at: Comments@MouseChat.net
If you like our show, please let your friends know.
Please join us by listening to our show at MouseChat.net or by downloading and subscribing to Mouse Chat on
iTunes.