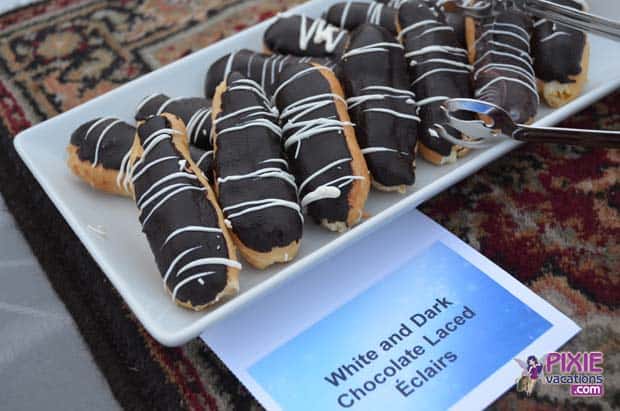 Walt Disney World Dessert Party
There are a bunch of Disney World Dessert Parties that you can add to your Walt Disney World vacation.  We go to each Disney dessert party to give you the scoop on which dessert party is the best.
Disney Magic Kingdom Dessert Party
Let's start with the Magic Kingdom.  The dessert party at the Magic Kingdom has a Tomorrowland Terrace dessert part and a Garden Viewing Dessert Party.  We like the Garden View dessert party best out of these two.  The Tomorrowland Terrance party is covered, which is nice for bad weather, but the fireworks view from the Terrance is not as good as the view from the Garden View area.  Also the Magic Kingdom Garden View dessert party is less expensive than the Tomorrowland Terrace party.
Be sure to listen to our full one hour Disney podcast where we cover every Disney World dessert party and the pros and cons of each.
FerryTale Fireworks Dessert Party
This is a dessert party on the Magic Kingdom Ferry boat on the seven seas lagoon.  The party is $99 per adult.  The latest Disney World nighttime fireworks show has a great deal of other effects like projections.  So I don't feel like you are going to see major parts of the show from a ferry boat.  Your best view is inside the Magic Kingdom.
Disney World Private Group Dessert Party
We have setup Disney World Groups with private Disney Dessert Parties at EPCOT and other Disney parks.  If you have a group of maybe 20+ people and would like a private area to watch the fireworks and have desserts, we can setup a private event for you.  Contact us at Pixie Vacations, 678-815-1584 and we can take care of your Disney group.
EPCOT Frozen Ever After Dessert Party
This dessert party at EPCOT is unique because it comes with alcohol and also a VIP ride on Norway's Frozen Attraction after the park closes.
Disney Hollywood Studios, Special Events, and other dessert parties are all covered on our Mouse Chat podcast, so be sure to listen before planning your Disney World trip.
Please listen to our Mouse Chat Disney Dessert Party Review here:

---
Free at Walt Disney World
Get our list of things you can do for free at Walt Disney World.
We have a long list of Disney World freebees. These are tips and free extras that we have gathered from our years of Disney World experience. And the list also Free and we will rush it to your in box! Please click the button below to get your list of Free things to get and do at Walt Disney World.
---
Join us on Facebook, Twitter, YouTube, and Instagram.
Join Mouse Chat Facebook
Mouse Chat Instagram
Mouse Chat Twitter
Watch Mouse Chat YouTube
We would love to hear from you. Is there something you want to know about Mouse Chat? Please leave a comment.
Please join us by listening to our show at MouseChat.net or by downloading and subscribing to Mouse Chat on
iTunes. If you subscribe to our Disney Podcast on iTunes you can schedule it to update your player.