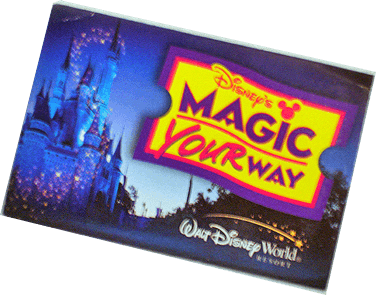 Podcast: Play in new window | Download
Subscribe: Apple Podcasts | RSS
Mouse Chat Disney podcast – A Disney Radio Show by Disney Fans for Fans
There are several options for Disney Theme Park Tickets. We cover your Park Ticket options and your best bet for savings.
Disney World Park Ticket Savings Tips:
1. When you buy your Disney World Park Tickets buy more than a three day ticket with your Disney package. Adding additional days reduces your per day cost significantly.
2. You can add additional days to your park ticket if you have an least one unused day on your ticket during your stay. Just stop by Guest Services
3. Disney Park Hopper Option. This allows you to hop from park to park at Disney World. So you could visit the Magic Kingdom in the morning and then EPCOT for dinner. For Extra Magic Hours this also allows you to spend part of the day at one park and then get your extra magic hours at another park. This is a nice option. If you have little kids you might want to stay in just one park.
4. Buy a ticket for the Special Parties at Disney World like Mickey's Very Merry Christmas Party, or Mickey's Not So Scarey Halloween Party. These are extra cost but well worth it.
5. If you want to save money and have to cut your Disney Budget what option should I remove from my Disney Park Tickets? If you need to cut your Disnay Vacation Package cost you might want to remove the park hopper option from your Disney tickets and keep your Disney moderate resort booking. We think this is a better option than going from a Disney Moderate Resort down to a Disney Value Resort for your vacation.
6. Where should you buy your Disney Park Tickets? You will see places selling Disney Tickets on the side of the road on your way to Disney World. Do not ever buy from one of these locations! You do not want to buy counterfeit tickets. Buy your Disney Tickets from Disney World, or from a Travel Agent.
Here is how to contact us here at Mouse Chat:
How to contact us at Mouse Chat:
You can email questions and comments to the show at: Comments@MouseChat.net
Media and Press can also contact us at Comments@MouseChat.net
If you like our show, please let your friends know about us.
Please join us by listening to our show at MouseChat.net or by downloading and subscribing to Mouse Chat on
iTunes. If you subscribe to our Disney Podcast on iTunes you can schedule it to update your player so you will never miss a show.