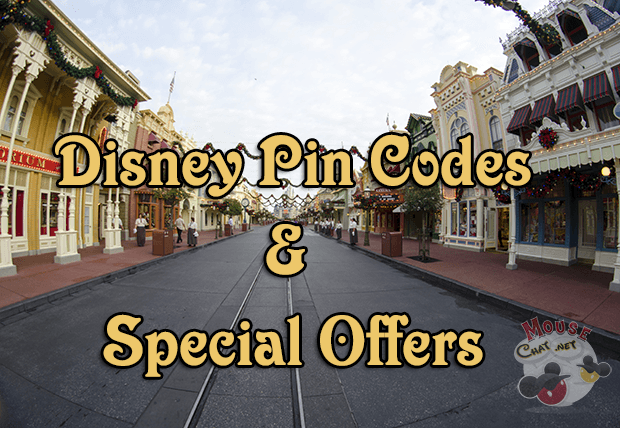 Podcast: Play in new window | Download
Subscribe: RSS
Mouse Chat Disney Radio –
Disney World Pin Codes and special offers

We are always being asked by Disney fans, How do I get a Disney Pin Code?
So we dedicated an entire Mouse Chat show to Disney World Pin Codes, Bounce Back Hotel Offers, and other Special offers you can get for Walt Disney World.
A Disney Pin code is a special offer just for you.  Only the persons name on the pin code can use it.  They must stay in the room to use the pin code.  The pin codes offer discounts on Walt Disney World Resort rooms in most cases.  Each Pin code is different and some might be for Free Dining, or 30% off a deluxe room.  These are great, so if you get one and can use it, book a vacation.
How do I get a Disney Pin Code:
1. Disney marketing sends out pin codes:  It would stand to reason that they target certain markets and demographics with Pin Code offers to get people to travel.
2. You can not sign up to get a pin code but if you are a Disney Fan and sign up for Disney online products like the Travel Planning CD-ROM, MAYBE that could get you on a marketing list in the future.
Disney Pin Codes Rules:
1. Allows you to book your room and two more rooms under the pin code
2. The person with the Disney Pin Code offer MUST be on the Disney hotel reservation!
3. If you get a Disney Pin Code don't be shy, tell your travel agent and they can look up that Disney pin code with Walt Disney World and let you know what it's good for.  You can always contact our sponsor Pixie Vacations about a pin code you received or for help with a bounce back or other Disney vacation offer.4. Pin Codes are limited and have restrictions.
Disney Bounce Back Offers:
1. These are not always offered and can be hard to find.  Look in your check in packet when you check into your Disney resort.
2. Make sure if you book a Disney bounce back offer and then email all the details to your travel agent so they can help you with the reservation.
---
How to contact us at Mouse Chat:
You can email questions and comments to the show at: Comments@MouseChat.net
Media and Press can also contact us at Comments@MouseChat.net
If you like our show, please let your friends know about us.
Please join us by listening to our show at MouseChat.net or by downloading and subscribing to Mouse Chat on
iTunes. If you subscribe to our Disney Podcast on iTunes you can schedule it to update your player so you will never miss a show.