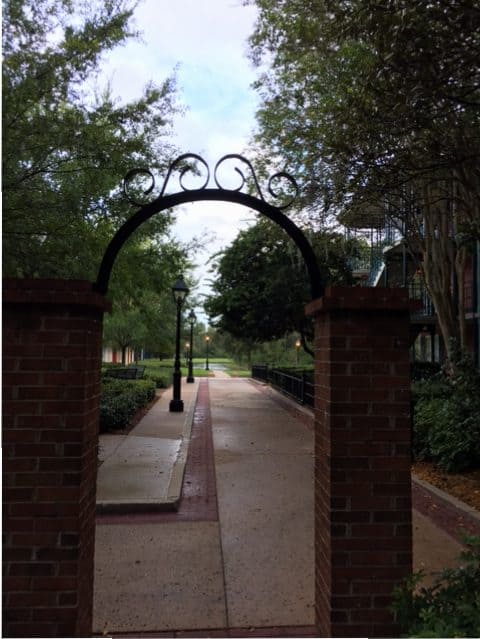 Disney French Quarter Resort & Saratoga Springs Review
We are back from Walt Disney World and we stayed at Disney's French Quarter and also at Disney's Saratoga Springs.

If you are planning a Disney World vacation, please make sure you listen to this Mouse Chat Disney Podcast.  We cover Disney's Port Orleans French Qtr (Disney Moderate Resort) and we also review Disney's Saratogo Springs Resort (Disney Deluxe Villa Resort).
Disney Port Orleans French Quarter Review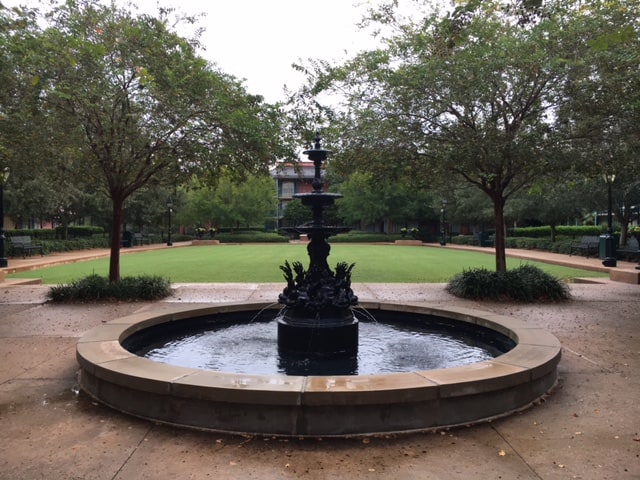 French Quarter is one of our favorite Walt Disney World moderate resorts.  French Quarter is one of the smaller Walt Disney World resorts so it has just one bus stop.  This is nice for going to the Disney parks and coming back home late at night.  At other Disney moderate resorts you might find yourself going from bus stop to bus stop waiting to get to your stop.  The room are a nice size at Disney World moderate resorts and the New Orleans theme at this resort I love.  The walkways are covered with oak trees and fountains and gardens are just moments away as you walk to the main building lobby area.  The pool at Port Orleans French Quarter is beautiful with a dragon slide and a splash area also for the smaller kids.  There is a pool bar and hot tub too for adults.
Please listen to the full Mouse Chat Disney Podcast for our full Disney French Quarter Resort review.
French Quarter can be difficult to book, as the resort books up fast and can be hard to get a discount at.  If you are looking to book Disney's French Quarter resort please contact a Pixie at Pixie Vacations and remember you can request a Mouse Chatter from the show to help you plan your Disney World vacation.
Disney's Saratoga Springs Resort Review
Saratogo Springs is a Disney World Deluxe Villa resort located next to Disney Springs.  The resort is more of a condo layout with buildings spread out over a Disney golf course.  If you are look for rooms with a lot of space, this is a good choice for a on property Disney resort.  Also you can get anything from a studio to a grand villa or even a tree house villa at this resort.  The 1 bedrooms come with a full kitchen, washer and dryer and these are like a small residence.  Saratogo Springs has two large pools and other quiet pools on the spacious grounds.  The large pool has the longest water slide at Walt Disney World.  If you like to work out the gym at Saratogo Springs is almost the size of a commercial gym and there are plenty of places to run or walk outside.  This is also a DVC property but rooms can be booked here at Pixie Vacations with cash too.
Location is key at this resort and also we recommend having a car if you stay at this Disney World Resort.  Bus transportation can be hit or miss at this resort, meaning the buses can be crowded during popular seasons and depending on your bus stop you might be on the bus for awhile.
We give this resort mixed reviews.  Sharpie and Chris both give Saratoga Springs high praise while Lauren did not care for the resort.  So please listen to our Mouse Chat Podcast for each of our personal reviews and pros and cons.
We are meeting up at Walt Disney World December 3. 🙂 We can't wait to see you so please sign up for the Mouse Chat Meet Up here, It's Free.
Follow us and meet other Mouse Chatters
Join us on Facebook, Twitter and Instagram.
Mouse Chat Facebook
Mouse Chat Instagram
Mouse Chat Twitter
We would love to hear from you. Is there something you want to know about Mouse Chat? Please leave a comment.
Please join us by listening to our show at MouseChat.net or by downloading and subscribing to Mouse Chat on
iTunes. If you subscribe to our Disney Podcast on iTunes you can schedule it to update your player so you will never miss a show.