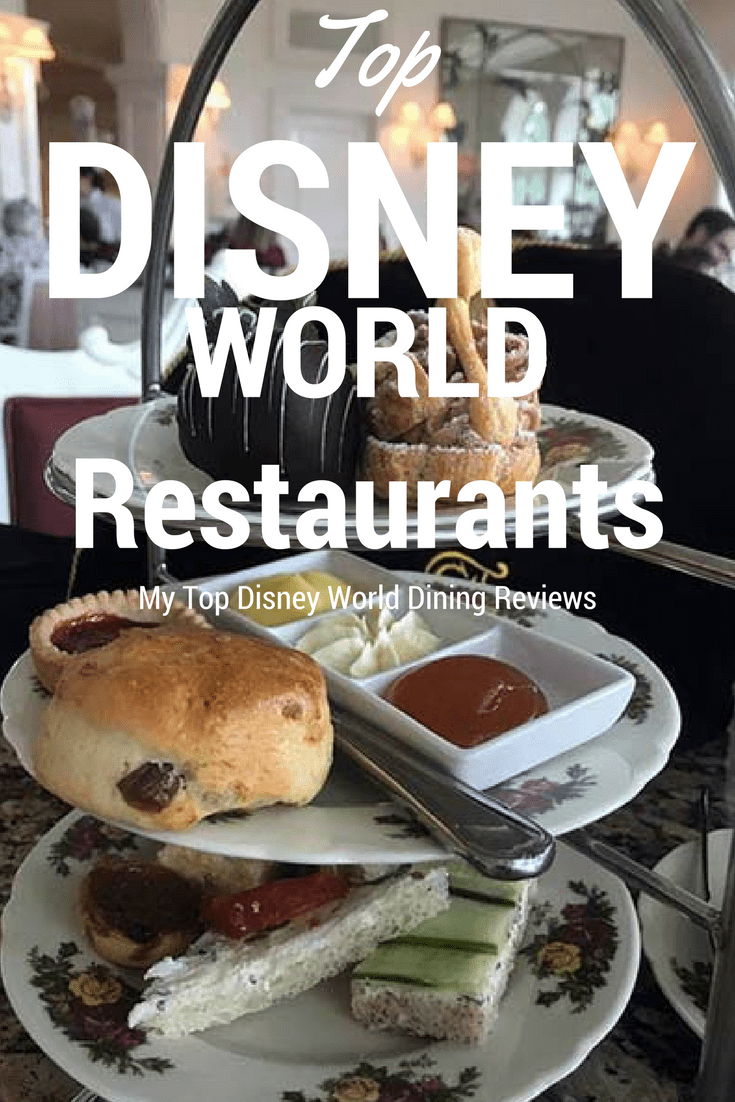 Disney World Top Restaurants Reviewed
We are back from Walt Disney World and had several groups traveling around the Disney restaurants at the parks and Disney resorts so we could bring you our showcase of top Disney World restaurants.

First we dined at Cítricos at Disney's Grand Floridian Resort and Spa.
Citricos Disney Grand Floridian Restaurant Review
Service and overall Disney restaurant atmosphere
It's been a while since we have sent a group to dine at Citricos at Disney's Grand Floridian Beach Resort and we have always loved this Disney restaurant.
The service was spectacular and we have a nice table in this upscale Grand Floridian restaurant.  Larry was our waiter and was wonderful and funny.  The service at this Disney signature restraunt has always been fantastic.  If you are looking for a Disney restaurant for maybe a Disney date night, or just a romantic meal for two without the kids, Citricos is one of our top picks.  Everyone at dinner was dressed up and out for a nice evening meal.  Being at Disney's Grand Floridian Resort we did think that more people were dressed up than at other Disney World restaurants, which was nice to see.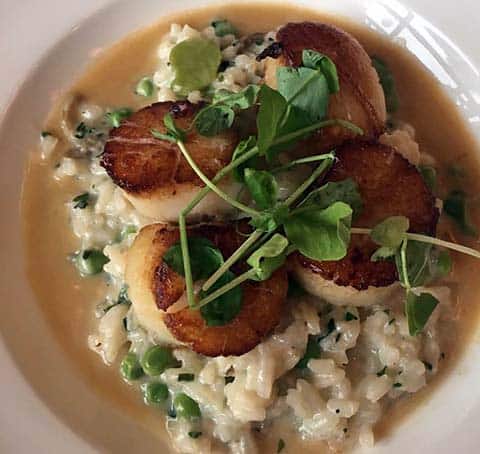 Citricos food review
Everyone enjoyed their appetizers and salads.  Please listen to our Mouse Chat podcast for our full review of the meals.
Our Top Dining Pick for Citricos is the Scallop Risotto
This has Butternut Squash, Black Truffles, Butternut Squash Purée.
We also really enjoyed the Tuna. This is Oak-grilled Yellowfin Tuna and it comes with Fingerling Potatoes, Fennel, Haricot Verts, Artichokes, Olive Tapenade.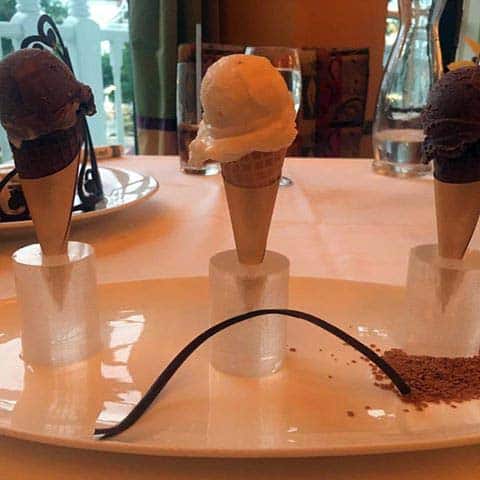 For dessert we had the Warm Chocolate-Banana Torte with Vanilla Ice Cream and Handcrafted Belgian Couverture Chocolate Crown, which was nice but we liked the Tasting of Gelato featuring Italian Vanilla Bean, Mocha Espresso, and Double Chocolate better.
Hidden Gem at Disney's Grand Floridian for Dining, the Grand Floridan Cafe
We really enjoy the Grand Floridian Cafe and actually ate there many times over a few week period.  We all had breakfast, lunch and dinner at the Grand Floridian Cafe and all three are wonderful.  What we like about the Grand Floridian Cafe is that it's a hidden Disney gem.  The service is always spectacular, it's at Disney's Grand Floridan Resort which is a joy to visit, and the prices are very reasonable for a Disney restaurant.  Also there is usually no wait or it is easy to book a dining reservation here.  All that adds up to one of our favorite Disney restaurants.  When you listen to our Disney restraunt review podcast we cover breakfast, lunch and dinner and what we enjoyed at each meal so be sure to listen to our full dining review show.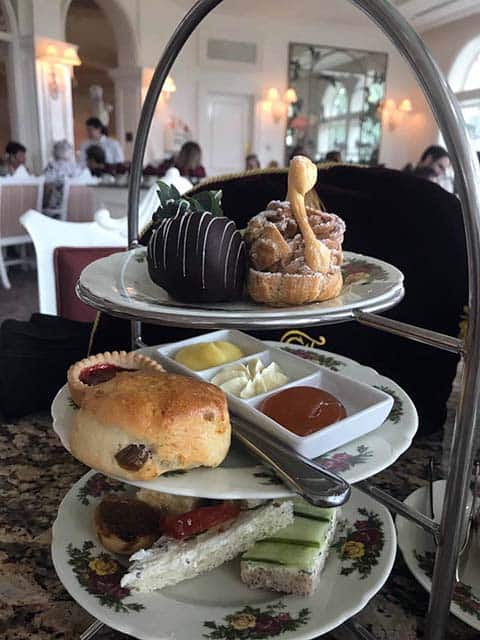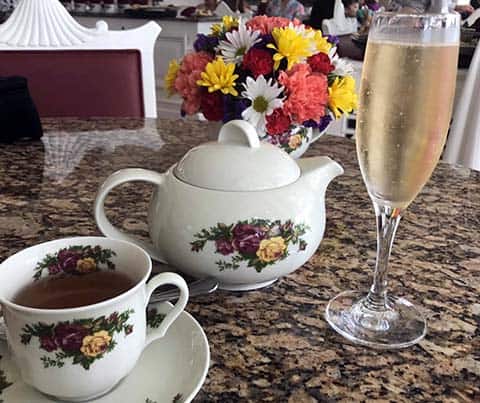 The Garden View Tea Room at Disney's Grand Floridian
Lauren went with a friend to the Garden View Tea Room at the Grand Floridian Resort and Spa.  You get to pick the type of tea, cordials, dessert and cheese.  It's a fun different and unique experience.
Tiffin's at Disney's Animal Kingdom we ate here four times, yes four!
Tiffin's is a newer Disney World restaurant at Disney's Animal Kingdom and it's not theme park food.  This upscale addition to Animal Kingdom is unique and offers fun dishes like the appetizer we had, the lobster popcorn Thai curry soup.  The soup is the Lobster-Popcorn Thai Curry Soup – Lime-Basil Emulsion, Popped Sorghum.
We also loved the Selection of Artisanal Cheeses at Tiffins – Cardamom Marcona Almonds, Manjar Blanco, Cape Gooseberry.  We also tried the salad – Apple-Walnut Salad – Bib Lettuce, Heirloom Apples, Candied Walnuts, Apple Cider Vinaigrette.  Octopus is not usually our favorite thing but we loved that appetizer also.
Pandora, the World of Avatar, Rivers of Light and Tiffins all make Animal Kingdom a must do Disney World park on your next Disney World Vacation.
Our other Disney World Restaurant Reviews
Please listen to our Disney Dining review podcast.  We have over an hour of Disney World restaurant reviews.
Spice Road Review – We also ate at Spice Road at Epcot for dinner.
50's Prime Time at Disney Hollywood Studios.
Mama Melrose at Disney Hollywood Studios – Our only dining review that was not spectacular.
Hoop–Dee–Doo Musical Revue – We went to the Disney World Dinner show at Ft Wilderness and have a full review.
---
Free at Walt Disney World
Get our list of things you can do for free at Walt Disney World.
We have a long list of Disney World freebees. These are tips and free extras that we have gathered from our years of Disney World experience. And the list also Free and we will rush it to your in box! Please click the button below to get your list of Free things to get and do at Walt Disney World.
---
Join us on Facebook, Twitter, YouTube, and Instagram.
Join Mouse Chat Facebook
Mouse Chat Instagram
Mouse Chat Twitter
Watch Mouse Chat YouTube
We would love to hear from you. Is there something you want to know about Mouse Chat? Please leave a comment.
Please join us by listening to our show at MouseChat.net or by downloading and subscribing to Mouse Chat on
iTunes. If you subscribe to our Disney Podcast on iTunes you can schedule it to update your player so you will never miss a show.