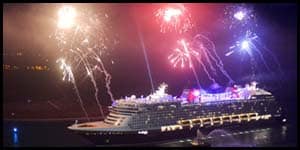 Podcast: Play in new window | Download
Subscribe: Apple Podcasts | RSS
Mouse Chat Disney podcast
This weeks show is packed full of exciting news at Disney World.
The Disney Dream christening. Wow what an event. There is also some new DVC news that you do not want to miss and the new Disney World Fantasyland plans are released by Disney.  We cover these plus loads more that is happening at the parks around Disney World.
We would like to welcome Bob to the show.  Bob is a local and lives very close to Disney World so he will be taking everyone on future trips to the parks as he reports on the latest happenings.  This week Bob shares "Let the Memories Begin" new 2011 celebration that showcases guest photos on the castle.
We also discuss what you can take advantage of on your first and last days at Disney World so you get the most out of those days.
Please join us by listening to our show at MouseChat.net or by downloading Mouse Chat from
iTunes.
If you like our show, please let your friends know.
You can email questions and comments to the show at: Comments@MouseChat.net
You can also attach an audio question to your email so we can play them on the show.
If we read or play your question on the show you will be entered into our monthly giveaway. 🙂