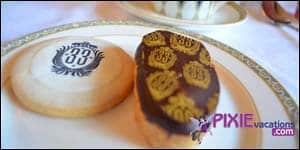 Podcast: Play in new window | Download
Subscribe: Apple Podcasts | RSS
Mouse Chat Disney podcast –
Disney Club 33 Dinner and Sunday Brunch review
We are back from Disneyland with our Disneyland Trip Report.
Also in this episode we cover Club 33, the exclusive restaurant at Disneyland.
Gwen Stefani was sitting next to us laughing at Brooke as she decided to craw out of her chair put her napkin on the floor to take a nap. It was nice to visit the club for brunch which is more casual than dinner.
We took loads of Club 33 photos.

How do I get into Club 33?
You have to be a member to get into Club 33. There are about 500 members and a waiting list that runs about 7-10 years to join the club. But members can invite their friends to the club. So if you know a Club 33 member they can get you a reservation at Club 33. Sorry I am not a Club 33 member and can not get you in but if you do have a chance to dine at Club 33 it is a once in a life time experience.
Our experience was the our Sunday Brunch was much better than our dinner at Club 33, but this of course we could have had just an off night for dinner.
Also please join our Mouse Chat Facebook page:
http://www.facebook.com/MouseChat.net
You can email questions and comments to the show at: Comments@MouseChat.net
If you like our show, please let your friends know.
Please join us by listening to our show at MouseChat.net or by downloading and subscribing to Mouse Chat on
iTunes.