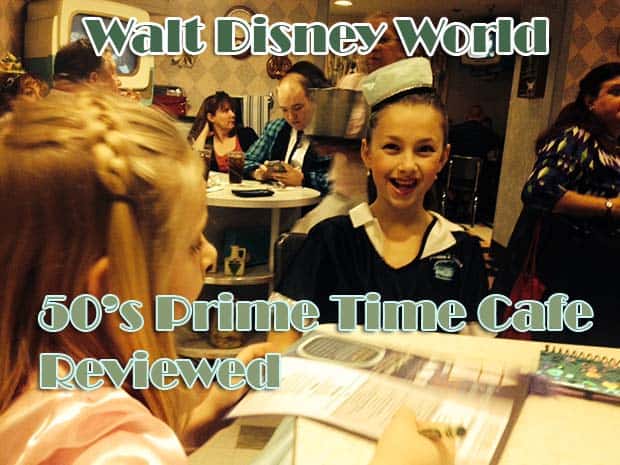 Podcast: Play in new window | Download
Subscribe: Apple Podcasts | RSS
Mouse Chat Disney Review –
50's Prime Time Cafe Detailed Review
Our Detailed Review of 50's Prime Time Cafe

50's Prime Time Cafe is at Disney Hollywood Studios.  So it requires park admission to dine here.  The cafe of course is decorated to look like a home from the 1950's and the waiters and waitresses are also sort of actors and actresses that play the part of your brothers and sisters at the dining table.  You are also looking at traditional home-style meals, like meat loaf and vegetables.  So overall this makes for a fun and unique experience.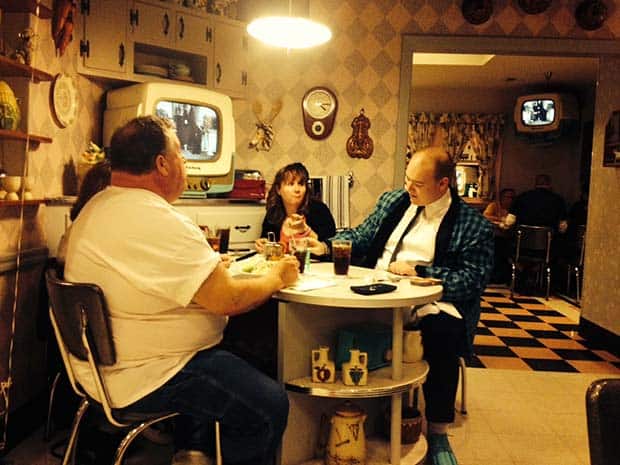 Restaurant Concept Rating:  9 – This is a 9 out of a scale from one to ten.  The restaurant themeing, decor, wait area, bar all look amazing.  You are transported to a 1950's home with wall art, old black and white TV's, Disney did an amazing job.  Now if you are looking for a fancy steak place, of course this is not it.  If you want a fun family experience, or are celebrating a Birthday, this restaurant is designed to create a fun memorable experience.
50's Prime Time Service Rating: 1 – I gave 50's Prime Time the lowest possible score for service.  Actually the service was the worst I think I have ever had anywhere.
The service was so bad that I was scared to complain and just wanted the dinner to end so we could leave.  And this is how all 20 people in our party felt.  That's not how a meal for 20 people to celebrate a Birthday should feel at a price tag of over $600.00.  Plus of course everyone in our party had to pay park admission to Disney Hollywood Studios and for our family of four we actually came to the Park just for the 50's Prime Time Meal and the park closed during our dinner.  So for the four of us that's another $400 just to walk into 50's Prime Time Cafe.
So why does Disney's 50 Prime Time Cafe get the worst service rating ever?  Our server.  Our server was rude, upset, unprofessional, and nasty at times.  At first it appeared to be part of the 50's Prime Time "Act".  The overall act at 50's is to make someone sit in a  corner for not eating their vegetables, have fun with the clients, etc.  But no this was not our experience at all, our waiter was so pissed off that everyone felt uncomfortable.  Everything was rushed, none of our tables were ever cleared off.  Every plate from the time we started until dessert was left on every persons place.  Drinks were randomly filled.  Stuff was crammed everywhere.  When he tipped over the tray of milkshakes he lost it and shouted out loud a few choice words and left the room.  Another waitress came to help and he snapped at her.  One person in our party changed her dessert selection and of course the first choice was brought instead of the corrected dessert choice.  Of course it was never corrected on the bill and trying to divide the bills later was another painful exercise.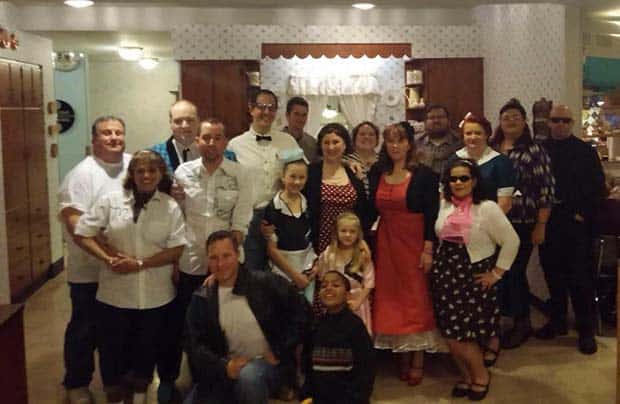 Then to top it off all 20 of us are dressed in 50's clothing to try and make this a special occasion for a friends 60th birthday.  Wow what a disaster.  Even more amazing was that a manager never came over to any of our three tables to talk with us.  And several of the wait staff at 50's Prime Time knew what a disaster it was.  Even if a manager had walked by they should have seen every plate sitting on our tables for the entire experience and that might have been a good clue that something was wrong.  Should one of us walked over to a manger and complained.  YES we should have!  But we all just wanted it to end and to make the best of a bad situation for our friends 60th celebration.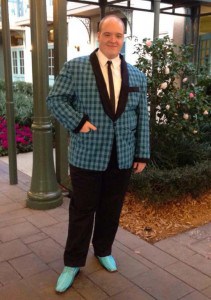 50's Prime Time Food Rating: 7 – I gave 50's Prime Time Cafe a 7 for the food out of ten.  It's difficult because some food we ordered was not what was received and for fear of being yelled at by our waiter we just ate what was placed in front of us. That said the food is what you would expect at a cafe and a rating of 7 is great.  Meatloaf, Vegetables, Pot Roast, Left Over and Fried Chicken all got high reviews. Prime Time has good food at a good Disney price point.  You feel like you are getting what you paid for when it comes to the food at 50's.  I will ask those in our party to post their experience and what their food reviews below in the comments section.  That way you can get some ideas what the popular dining choices are at 50's Prime Time Cafe for your trip.
Should I go to 50's Prime Time Cafe? 
Overall Rating:
50's Prime Time Decor and Theme: 9 out of ten stars
50's Prime Time Cafe Service: 1 out of Ten Stars
50's Prime Time Food: 7 out of ten stars
For my overall rating of 50's Prime Time Cafe I have to say it's definitely worth going.  What? You just gave the service a rating of ONE!  Yes, but we watched all the other servers in the restaurant and they were fantastic.  A few even came over to our tables and spent some time with us.  If I had a reservation and got the same waiter that we had before I would walk out.  I understand people have bad days, we all do, but nobody should have that type of service.  Be sure to listen to our Mouse Chat 50's Prime Time Dining review here at the top of this page or on iTunes for all the details.
So don't cancel your 50's Prime Time Disney Dining Reservation.  One bad experience does not mean you should never go there.  50's Prime time has all the makings for an amazing family vacation experience and the staff that I watched around the rest of the restaurant was amazing.
We would love to hear your 50's Prime Time Cafe Dining Experience.  Please post your comments below to share with others.
---
How to contact us at Mouse Chat:
You can email questions and comments to the show at: Comments@MouseChat.net
Media and Press can also contact us at Comments@MouseChat.net
If you like our show, please let your friends know about us.
Please join us by listening to our show at MouseChat.net or by downloading and subscribing to Mouse Chat on
iTunes. If you subscribe to our Disney Podcast on iTunes you can schedule it to update your player so you will never miss a show.