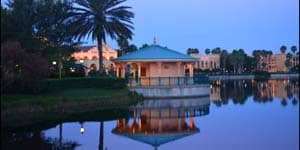 Podcast: Play in new window | Download
Subscribe: RSS
Mouse Chat Disney podcast –
Disney's Coronado Springs Resort –
We all went down to Disney World and stayed at Disney's Coronado Springs Resort for several days.
The landscaping, lake, and vistas from walking around the resort are beautiful. Walking over the bridge each morning to the main lobby was a peaceful walk, but if you are not into walking, or taking the internal bus system, it can be a hike. But I found the walk just what I needed to start my morning. I would just make sure I was prepared with an umbrella or poncho if I was at the resort or in the parks during a raining part of the year.
On this weeks show we discuss what we liked about the resort and some areas that could use improvement. We ate at the new buffet at the Pepper Market and also at the quick service area that is located by the gift shop. We attended several conferences in the Coronado Sprngs Convention Center too.
Unfortunately we did not have time to enjoy many of the extras this resort offers like the amazing pool, the gym or relax in Rick's Lounge.
[nggallery id=1]
You can email questions and comments to the show at: Comments@MouseChat.net
If you like our show, please let your friends know.
Please join us by listening to our show at MouseChat.net or by downloading and subscribing to Mouse Chat on
iTunes.