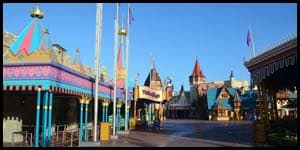 Podcast: Play in new window | Download
Subscribe: Apple Podcasts | RSS
Mouse Chat Disney podcast –
Disney's Fantasyland has opened the Storybook Circus Area. This is the area of the new Fantasyland that has Dumbo.
Chris, Bob, and Lauren all went for a ride on Dumbo and explored this new exciting area of the park. I have to say the attention to detail is fantastic and this only builds the excitement level for the rest of the Disney Fantasyland expansion that is underway just over the wall.
We also played Sorcerers of the Magic Kingdom, the card game at the Magic Kingdom and on our show cover the basics of how the game works. The playing cards seem very popular and already we saw diehard fans of the game walking around with binders full of playing cards.
You can email questions and comments to the show at: Comments@MouseChat.net
If you like our show, please let your friends know.
Please join us by listening to our show at MouseChat.net or by downloading and subscribing to Mouse Chat on
iTunes.