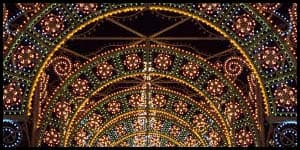 Podcast: Play in new window | Download
Subscribe: Apple Podcasts | RSS
Mouse Chat Disney podcast – Christmas decorations at Disney World
We went behind the scenes, well "back stage" at Disney World to explore a little know warehouse. If you drive past the Contemporary Hotel and past Space Mountain you are taken behind the magic and this is the place Disney nerds love.
Off to the right is the Monorail barn, a right turn at the stop sign passes you by the cast member entrance to the Magic Kingdom and then past Disney's power plant. Then just to your right is a complex of warehouses. These warehouse hold the stuff us Disney nerds dream off.
Lauren and Steve went on a special tour of the large warehouse where it is Christmas 365 days a year.
Will the Nightmare before Christmas holiday overlay be coming to Disney World?
Will the EPCOT Lights of Winter ever come back?
Will the Yeti at Animal Kingdom be replaced by an icon tree?
Yeah we asked the difficult questions.
Listen to our Special edition Mouse Chat podcast for Christmas in May.
You can email questions and comments to the show at: Comments@MouseChat.net
Media and Press can also contact us at Comments@MouseChat.net
If you like our show, please let your friends know about us.
Please join us by listening to our show at MouseChat.net or by downloading and subscribing to Mouse Chat on
iTunes. If you subscribe to our Disney Podcast on iTunes you can schedule it to update your player so you will never miss a show.