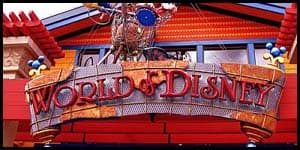 Podcast: Play in new window | Download
Subscribe: Apple Podcasts | RSS
Mouse Chat Disney podcast –
There is so much to see and do at Downtown Disney. Here are the top five picks for your Downtown Disney day. Also Bob goes to Gay Days an reports back on what it's about and what it is not. Diane joins us from all why over at Disneyland in California and goes to the opening of the Little Mermaid dark ride at Disney's California Adventure to give you some highlights.
If you hear a little one, that is probably Brooke who is 20 months old. Steve was still at Disneyland Paris so sorry for the delay getting this weeks show posted.
Please continue to send in any Disney questions. We have a Disney listener question show coming up soon.
You can email questions and comments to the show at: Comments@MouseChat.net
If you like our show, please let your friends know.
Please join us by listening to our show at MouseChat.net or by downloading and subscribing to Mouse Chat on
iTunes.