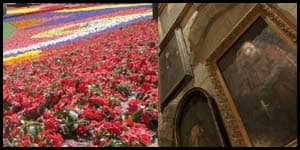 Podcast: Play in new window | Download
Subscribe: Apple Podcasts | RSS
Mouse Chat Disney podcast Subscribe now on iTunes.
Please join us by listening to our show at MouseChat.net or by downloading Mouse Chat from
iTunes.
We have a jammed packed show this week. We start this weeks show at Epcot's Flower and Garden Festival. Bob gives a review of this years festival and what not to miss. We then head over the Universal Studios. We had to. They have the Wizarding World of Harry Potter and we wanted to share that with everyone on the show. Bob took a tour at Universal Studios Orlando and gives his Harry Potter review.
If you like our show, please let your friends know.
You can email questions and comments to the show at: Comments@MouseChat.net
You can also attach an audio question to your email so we can play them on the show.