Mouse Chat Disney Radio –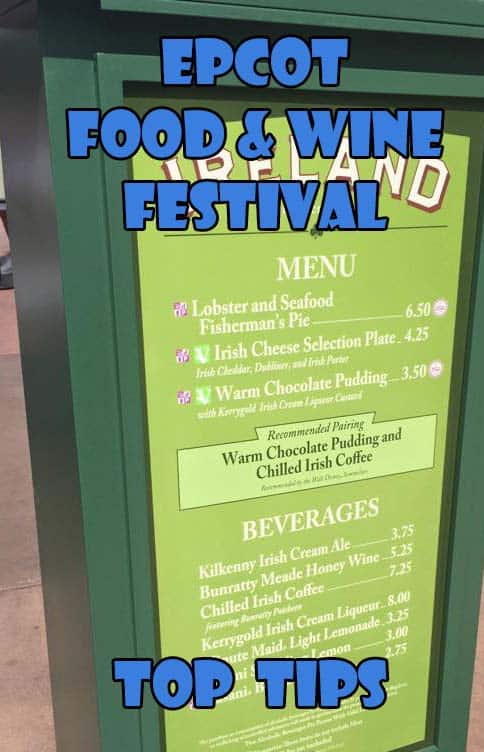 Epcot International Food and Wine Festival 2015 Review

One of our favorite events is going on!  The International Food and Wine Festival at Epcot.  We are back with a review and tips just for you.
Chris was the first guest at the Florida Fresh food kiosk.  I know, pretty exciting to get the first serving of yard bird at the Food & Wine Festival.  The Epcot food and wine festival is a fantastic event and one we look forward to year after year.  This year we again want to share our TOP 5 Food and Wine Festival Picks with you.
TOP 5 Eatz and Drinks at Disney World's Food and Wine Festival:
Mexico – Tacos de camarón: Battered shrimp, pico de gallo, pickled onions, and chipotle mayonnaise
Brazil – Crispy pork belly with black beans and tomato
China – Happy Peach Drink
Ireland – Warm chocolate pudding with Kerrygold Irish Cream Liqueur Custard
Farm Fresh – Two Henrys Elderberry Hard Cider
Best Food and Wine Festival VALUE:
Florida Farm Fresh – Griddled "yard bird" with braised greens – $4.50
Epcot International Food and Wine Tips:
1. If you are traveling with children, go to Epcot's Food and Wine festival during lunch time.  The people get a little more rowdy in the evening and the lines get longer.
2. Get the Disney Dining Plan and use your Disney Snack Credits to get your food appitizers at the food and wine festival.
3. Buy the Disney gift card / lanyard at Epcot and put $100 on it or so and then just use the card to pay from food kiosk to food kiosk as you walk around World Showcase at Epcot.
4. Enjoy The Food and Wine festival with friends.  The event is about enjoying the day as you sample food and wine all around World Showcase.  Don't count the dollars you are spending or you will go nuts.  This festival is not about a good dining value.
Listen to our show to plan your Disney Food and Wine Strategy. Click the Play button below or subscribe to us on iTunes.
Podcast: Play in new window | Download
Subscribe: Apple Podcasts | RSS
What was your favorite dish and drink at this years Epcot Food and Wine Festival?  Please share your favorite Disney Food and Wine Treats with us by posting  a comment.
---
How to contact us at Mouse Chat:
You can email questions and comments to the show at: Comments@MouseChat.net
Media and Press can also contact us at Comments@MouseChat.net
If you like our show, please let your friends know about us.
Please join us by listening to our show at MouseChat.net or by downloading and subscribing to Mouse Chat on
iTunes. If you subscribe to our Disney Podcast on iTunes you can schedule it to update your player so you will never miss a show.