Every Disney Park in the World is closed. Disneyland in California and Walt Disney World in Orlando Florida announced they are closing and will reopen March 31st 2020. Also Disney Cruise Line will stop sailing.

Disney always puts safety first and there were no Corona Virus cases at Disneyland, Disney World, or on Disney Cruise Line, but Disney as well as the rest of us are doing everything we can to help stop the spread of the corona virus.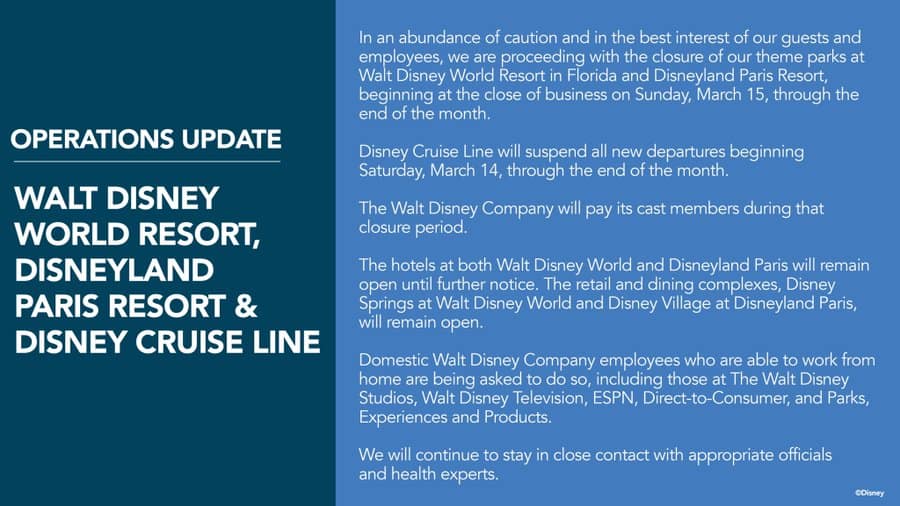 I know as a Disney fan I am always looking forward to my next trip to the most Magical Place on Earth. You can move your Disney Vacation and Disney Cruise Line booking to a future date without penalty.

Please call a Pixie at Pixie Vacations and we can help you as always.
We are happy to help – 678-815-1584 – Pixie Vacations

P lease listen to our Mouse Chat podcast here:
Join us on Facebook, Twitter, YouTube, and Instagram.
Mouse Chat Twitter Watch Mouse Chat YouTube
We would love to hear from you. Is there something you want to know about Mouse Chat? Please leave a comment.
Please join us by listening to our show at MouseChat.net or by downloading and subscribing to Mouse Chat on iTunes. If you subscribe to our Disney Podcast on iTunes you can schedule it to update your player.