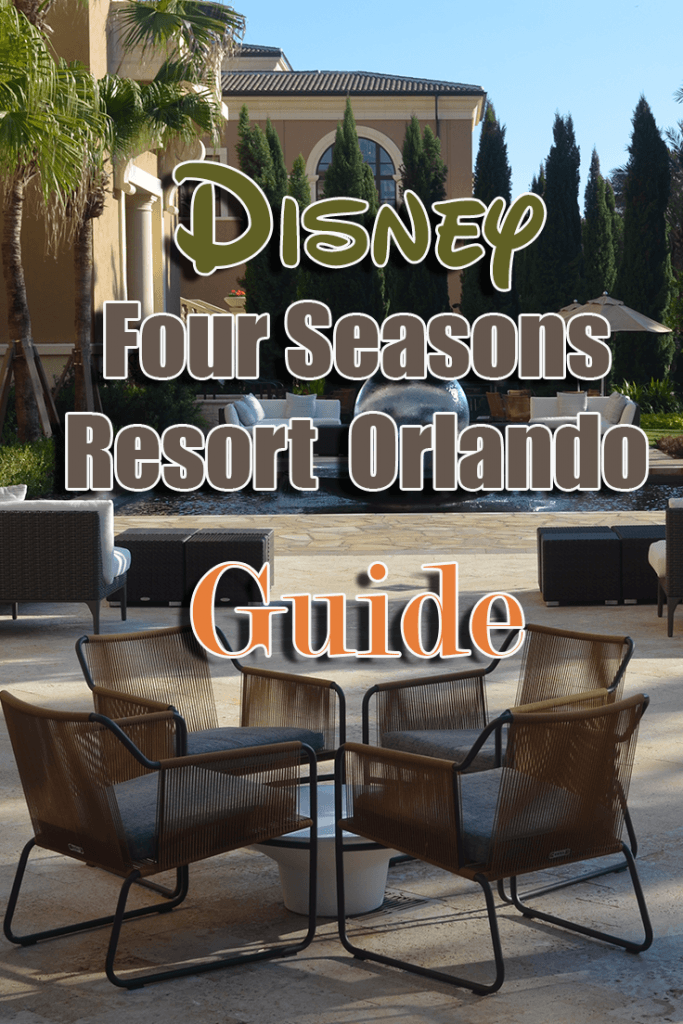 Four Seasons Resort Walt Disney World Review
We are spending the night at the Four Seasons Resort here at Walt Disney World in Orlando Florida.
If you are planning on staying at a luxury resort at Walt Disney World, please listen to our Four Seasons Review Podcast above.
We actually did the review from our Four Seasons Room on the 15th floor so be sure to take 30 minutes and listen to the review before planning your Disney World Vacation or group event.
You can hear our full Four Seasons Orlando Resort Review here on Mouse Chat
Podcast: Play in new window | Download
Subscribe: Apple Podcasts | RSS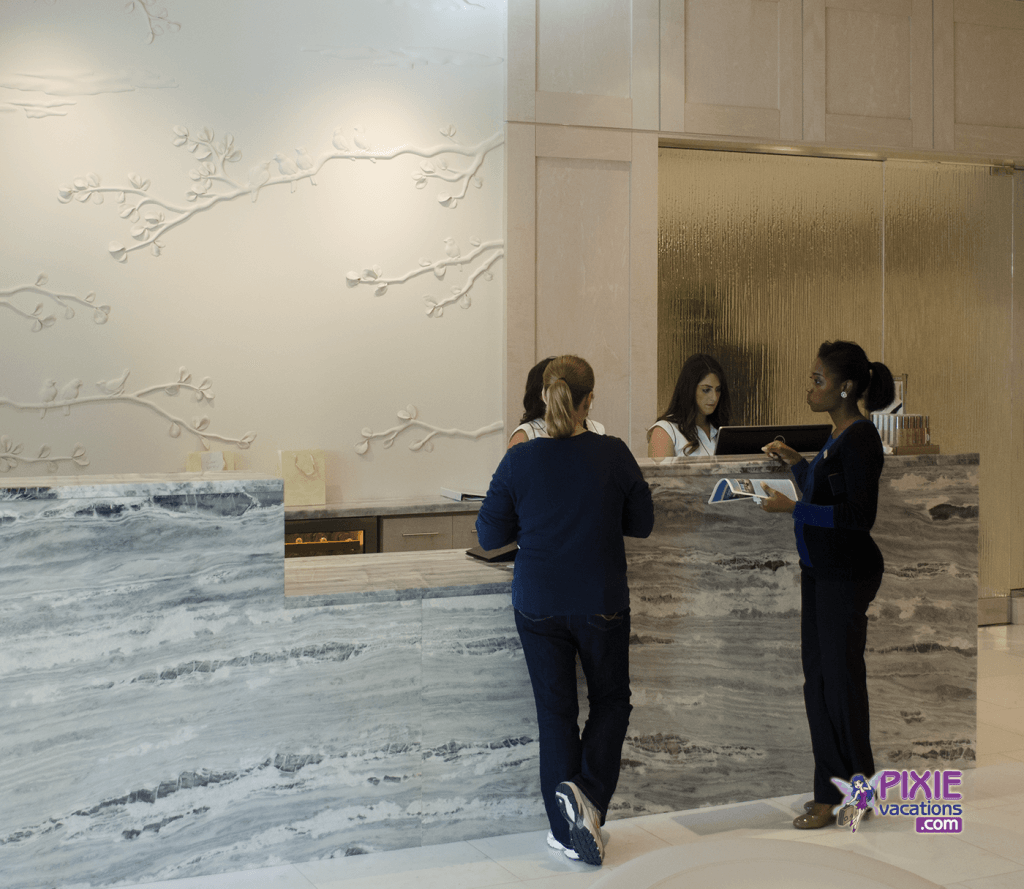 What we loved at the Four Seasons Resort in Orlando

The Four Seasons Staff – First I have to say the staff at the Four Season resort in
Orlando was amazing!  From the second we pulled into the Four Seasons the staff was there and always went above and beyond.  They greeted our car, cleaned the left over road trip trash and cups out of the car, helped us unpack and escorted us to the front desk.  The front desk staff was also so accommodating.  We decided on a room with two beds.  Those rooms have two double beds, but this allowed Chris to have her own real bed.  But when we saw the room and the two double beds they looks so small that we could not imagine two of us sleeping on one of them.  We called the front desk and instantly were taken to a new room.  At every turn the staff was beyond wonderful. I have stayed at some very nice resorts in New York, Sydney, Paris and all over the world and the staff at the Four Seasons has to be the best I have ever encountered.  Every situation from check in to dining changes was taken care of instantly and professionally.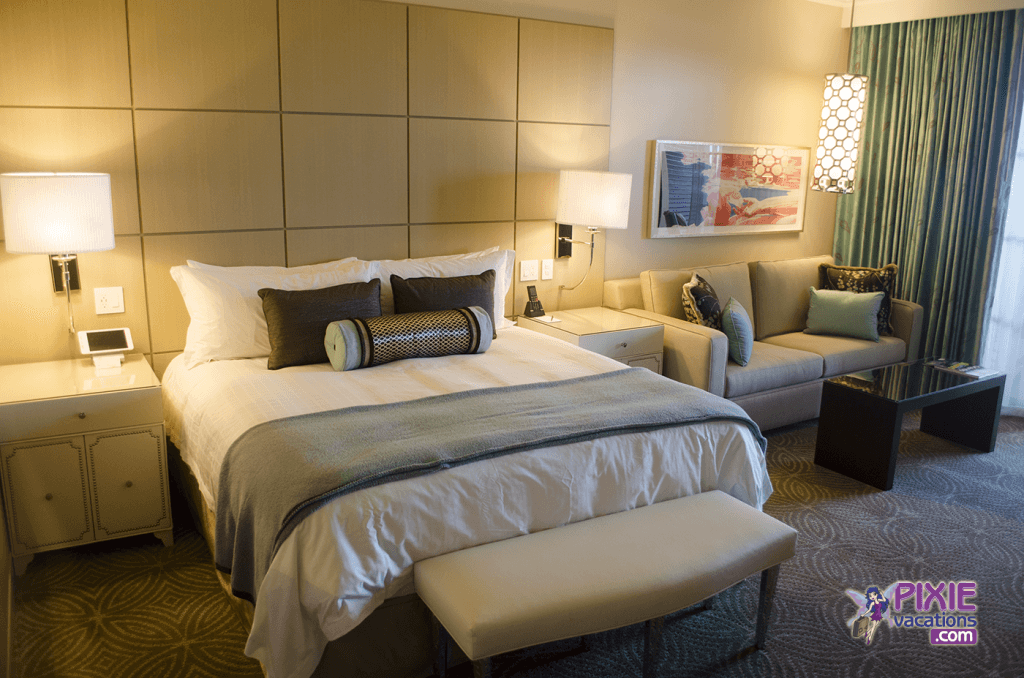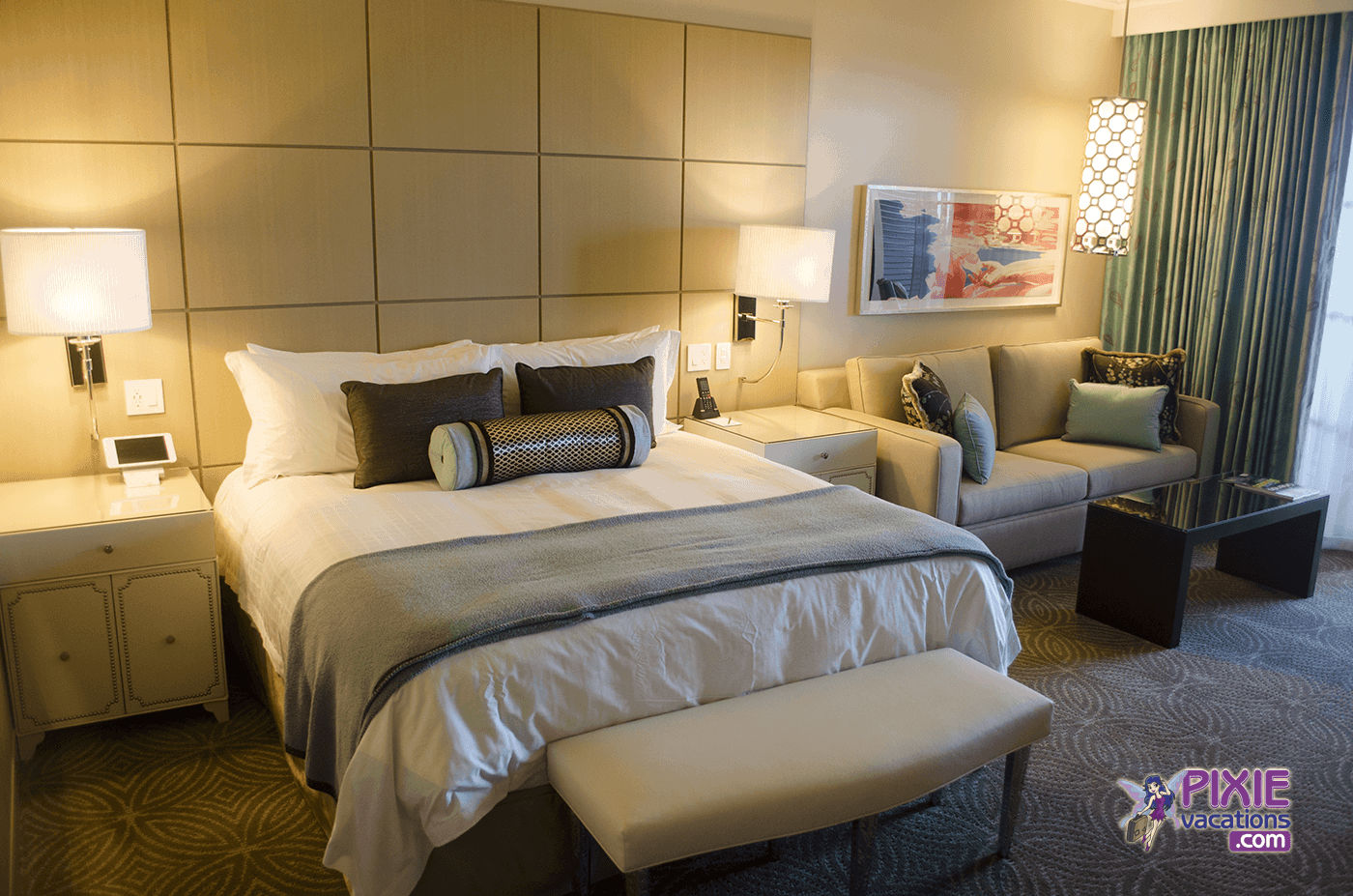 The Rooms at the Four Seasons Orlando – Stunning, expansive, and luxurious.  These rooms are beautiful and have all the nice little extra touches.  A custom minibar menu that can be filled to order, a Bose Stereo that connects to your mobile device, a touch screen next to your bed to order room service or anything you need.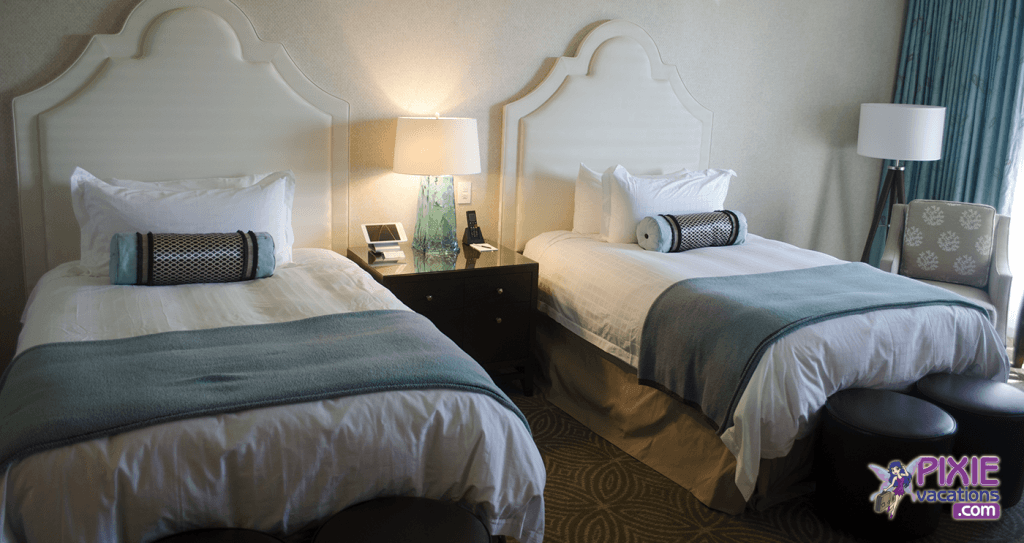 The bathroom has a TV in the mirror, a separate shower and tub and two sinks.  Chris did not like the bathroom sliding pocket doors because they never close all the way.  The patio was MASSIVE and you either have a theme park view or a Disney Springs view.  If you are facing the theme parks you can see the magic Kingdom and EPCOT and even watch the fireworks at night.  Yes the fireworks are far away, but it's fun to watch them from your patio or from Capa on the outdoor patio on the top floor.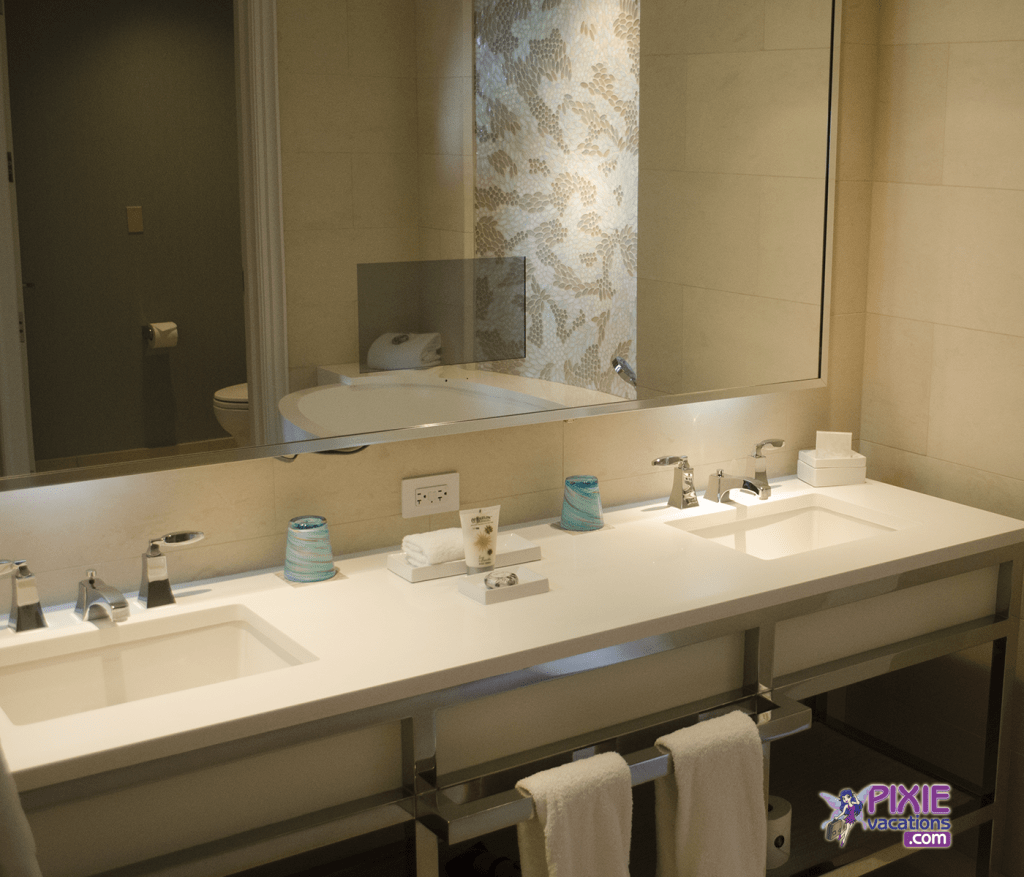 The Four Seasons Orlando Pools – The pools and grounds at the Four Season Orlando are top notch.   They are so nice that I can't imagine going to this resort and wanting to leave to go to Walt Disney World.  I would feel like I am not taking advantage of everything the Four Seasons has to offer and it's much more than a place to just rest my head after a day at the Magic Kingdom.  There is an adult only (21+) pool area with soft lounge chairs and cabanas right next to the outdoor bar and dining area.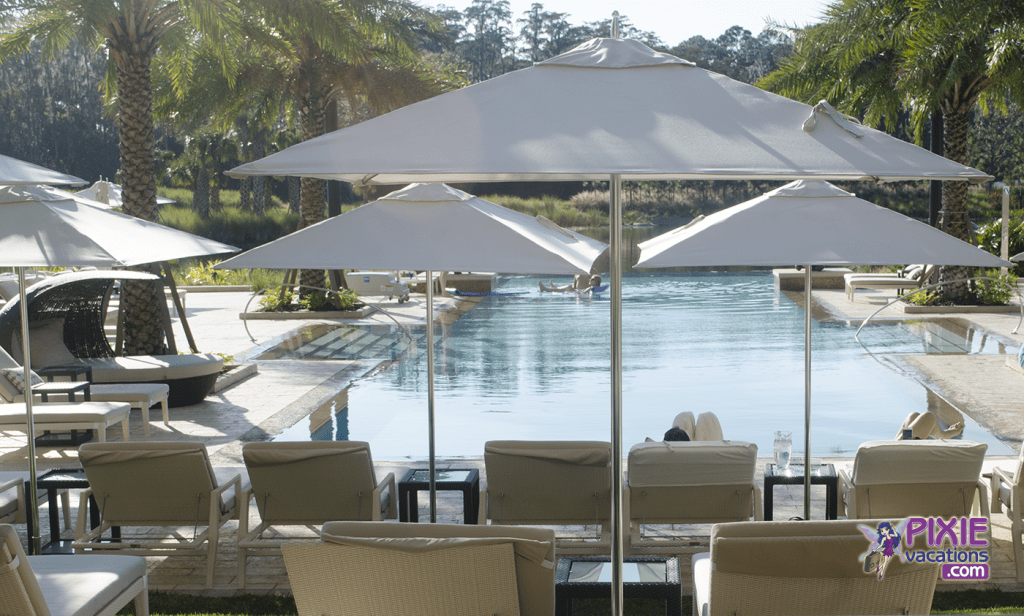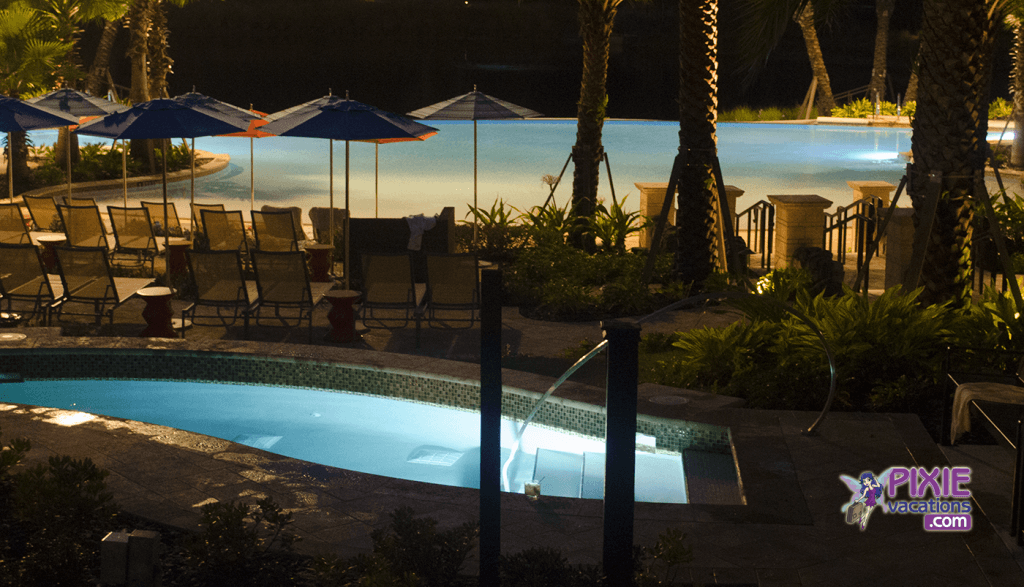 There is also another infinity edge main pool with loads of seating in a tropical setting.  The kids area has a lazy river that I really really wanted to try but never had time to get my bathing suit on before it got cold out.  There is also a kids splash area and kid activity center.  Oh and two massive water slides and rock climbing wall.  There is also kid activities going on from 10-6 each day and that is all included.  So you can drop them off and pick them back up at 6 PM if you like.  NICE!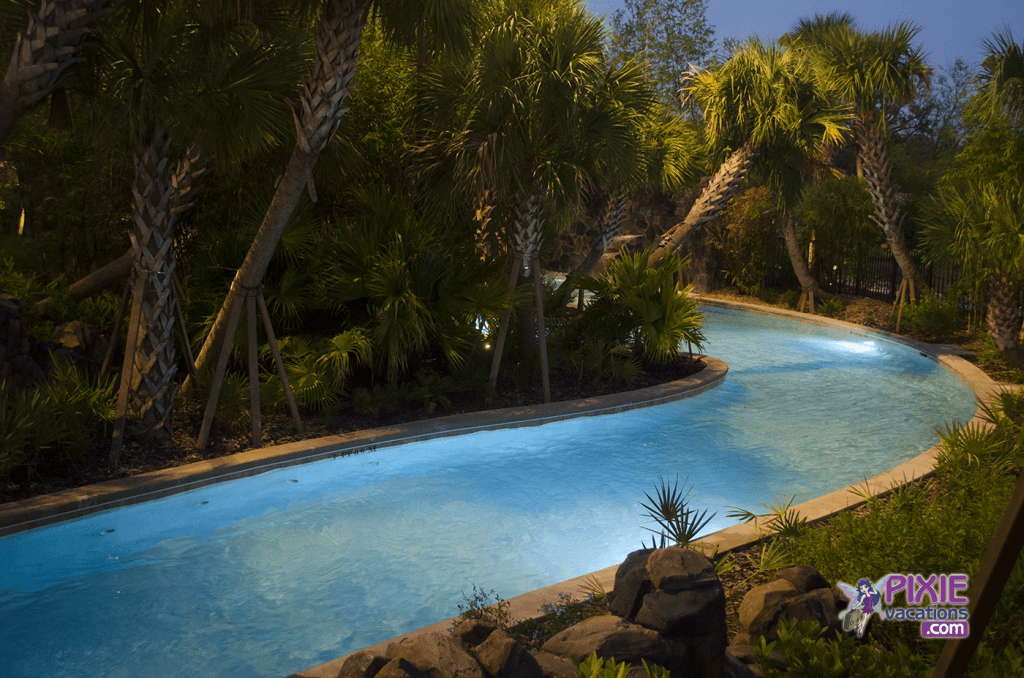 What you need to be aware of before booking your room at the Orlando Four Seasons Hotel
The Bed Configurations – The rooms with two beds have two double beds.  These are really small and seems like an odd choice for such a luxury resort.  Two queens would have been ideal.
The rooms with the King beds also have sleeper sofas that has a Queen size pull out bed.  The pull out bed has a pillow top but is not very comfortable.  We tested the pull out and it was not comfortable at all per Chris' back.
Capa Review– This Spanish inspired dining experience on the top floor of the Four Seasons needs some work.  Capa is a modern Matadors bachelor pad dream.  With red caps and bull motif throughout.  First, it's loud, very loud.  We were sat in a back room that has cement walls, a cement ceiling, and cement floors with hard wood tables and no table cloths.  The room was practically empty but had three kids using it as a play pen while a handful of their parents sipped the last bit of their wine.  It was so loud I asked to be moved which I never have done before in my life.  The main dining room is better but still very difficult to have a conversation with anyone at your table.  So let's get to the food.  It was very average and over priced.  We had three different steaks.  The cuts are very thin on the rib eye steak for such a high priced steak.  You also pay $4 to add a sauce to your steak.  Ok $4 is not much but it literally is about 2-3oz of sauce.  Want a soda for your kid or just for something different?  Sodas come in the small bottles (maybe 8 ozs) and are $6 each.  So your kid can run up your bill really fast if they order a refill.  Dessert was lacking creativity and taste, but came in at $12 for four small churros.  For three of us our total came to $314.00 with tip.  I had one beer and one person had tap water while the other had a diet coke.  Three steaks, one side of mashed potatoes that was barley enough for one person and two small tapas sized appetizers.  If you want a great meal go to any restaurant at the Grand Floridian Resort and Spa or the Bull and the Bear.   Skip Capa.
Limited Dining Options for Lunch – The only restaurant open for lunch is by the pool and we did encounter some guests that were looking for more during our stay.  The Four Seasons Orlando is land locked if you are without a car and finding a wider variety of dining for lunch is difficult unless you go to Disney or take a cab.
Transportation to the Disney Parks – We spoke to some guests at the Four Seasons and one of their number one complaints was the transportation to and from the Walt Disney Parks. The Four Seasons has a shuttle bus that leave every 60 minutes.  So if you miss it you are waiting a full hour for the next one.  This kind of stinks when someone at Disney's Pop Century Resort paying $89 a night can grab a bus every 20 minutes to and from their resort and a guest at the Four Seasons Resort is standing outside for possibly an hour.  One guest just ended up taking taxis everywhere when we asked about their Four Seasons transportation experience.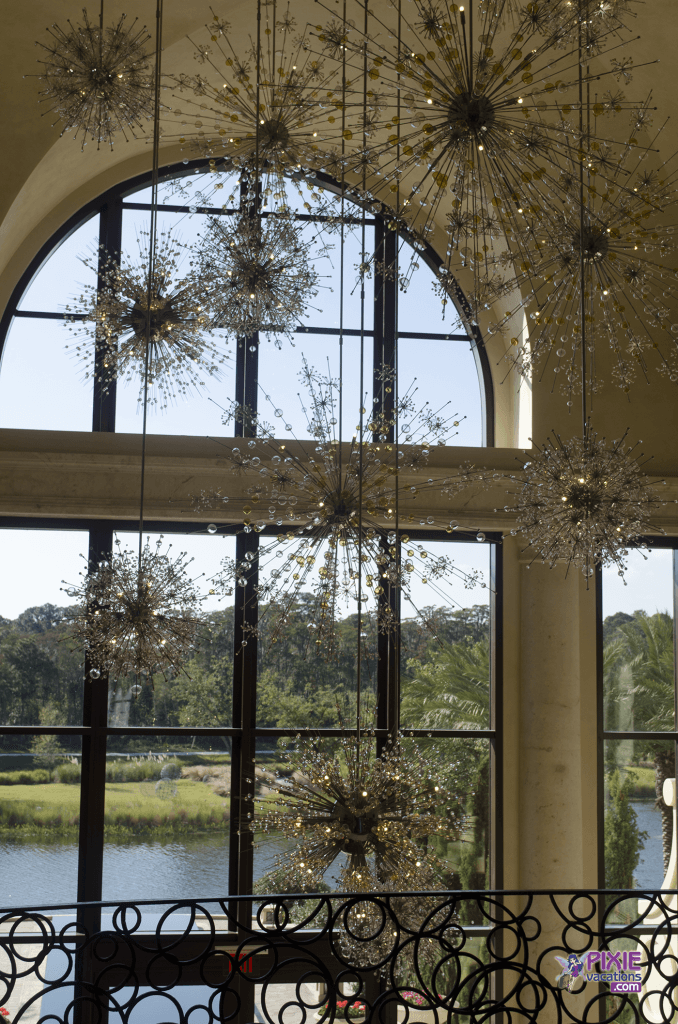 Stunning Lobby – As I walked into the lobby with my Styrofoam cup from Sonny's BBQ and gazed upon the million dollar chandelier it's hard to put into words how beautiful this hotel is.  But for me it's a Four Seasons that does not take me to a unique place.  I could be in Sydney, Paris or NY and there is nothing that tells a story to me.  When I walk into Disney's Grand Floridian Resort I am transported back to the Victorian age, or Disney's Wilderness Lodge I can escape into the great national parks lodges.  At the Four Seasons Orlando you are surrounded by luxury but I am not surrounded by a story.  Is that bad?  No, but for me I like to escape the everyday reality of life when I go to to Walt Disney World.
 Four Seasons Orlando Resort Overall Rating
If you are looking for a luxurious resort in Orlando for a Wedding, Honeymoon,  Luxury group convention, or a Getaway from the kids, the Four Seasons Resort Orlando is the place to go.  It does not get any better than the Four Seasons Orlando.
If you are looking for a family trip to Walt Disney World, I would consider what you want out of your Disney family vacation and look at other Disney Deluxe and Disney Deluxe Villas to make an informed decision.  Is being minutes away from the Magic Kingdom on the monorail important to you?  Would you take advantage of Extra Magic Hours to get into the parks before regular guests?  Are Fastpasses important to you to help avoid the lines and make advance Disney Ride reservations 60 days out instead of 30 days out?  If you answered Yes, you should look at all the options available to you.  Will Disney's service level be the same as the Four Seasons?  No.  But it will be good.
Again the Four Seasons Orlando resort is stunning, has the best service I have every experienced and has beautiful rooms.  But look at why you are going to Orlando and what you want to do during your stay.
How to book the Four Seasons Orlando Resort
We recommend our friends at Pixie Vacations when you book any Orlando area resort and this goes of course for the Four Seasons too.
Please contact them at 678-815-1584 or on their website at www.PixieVacations.com to book your Four Seasons Orlando resort reservation.
Four Seasons Orlando Florida Photo Gallery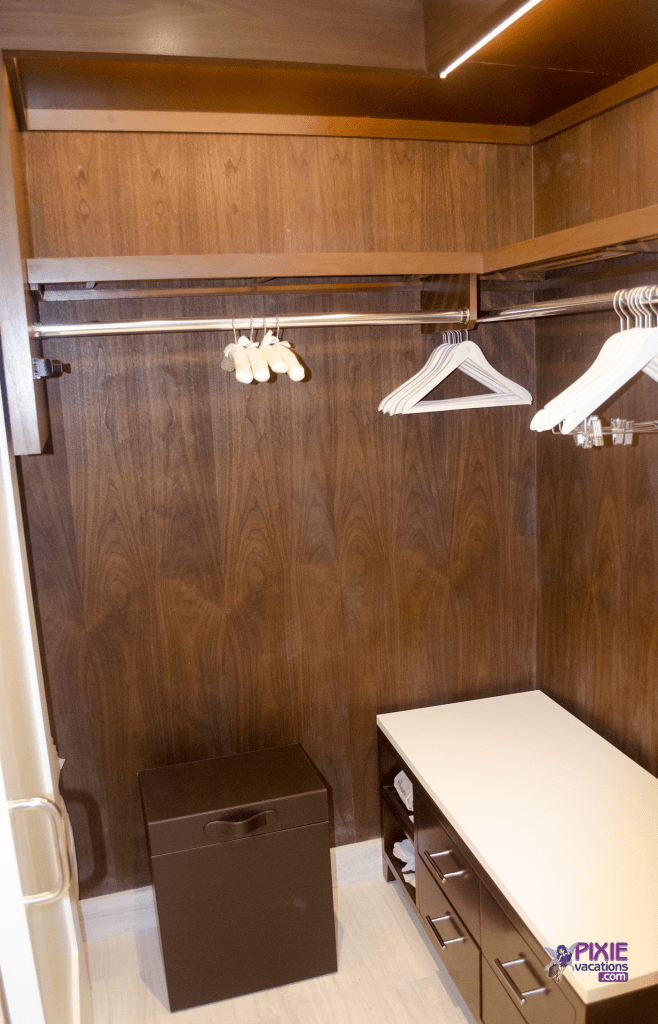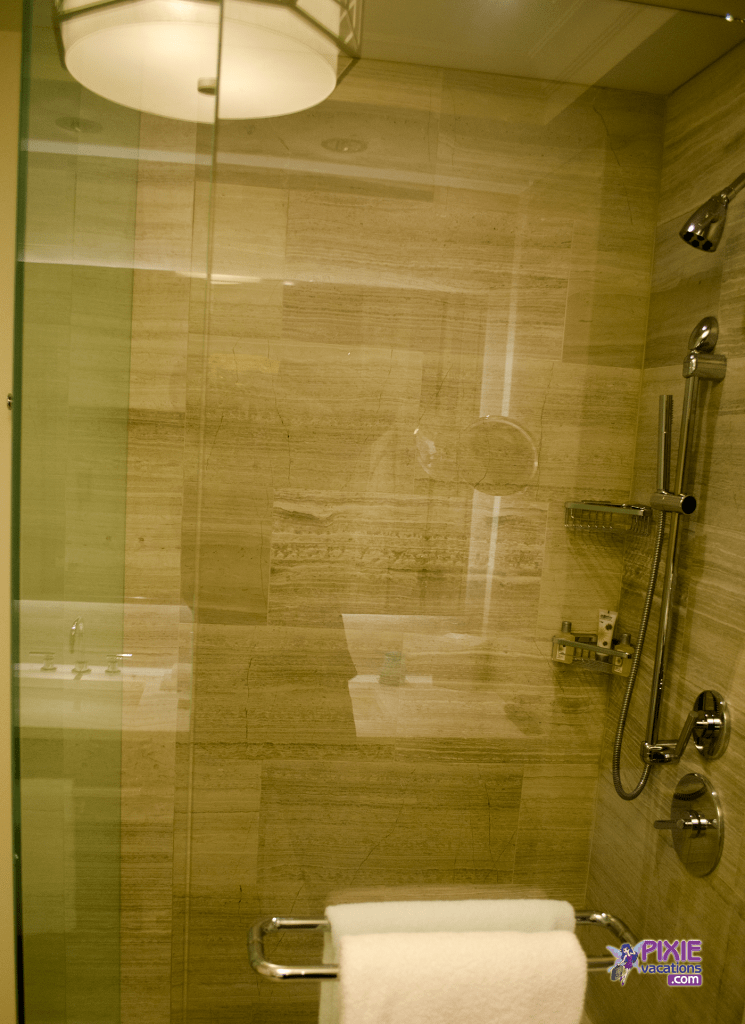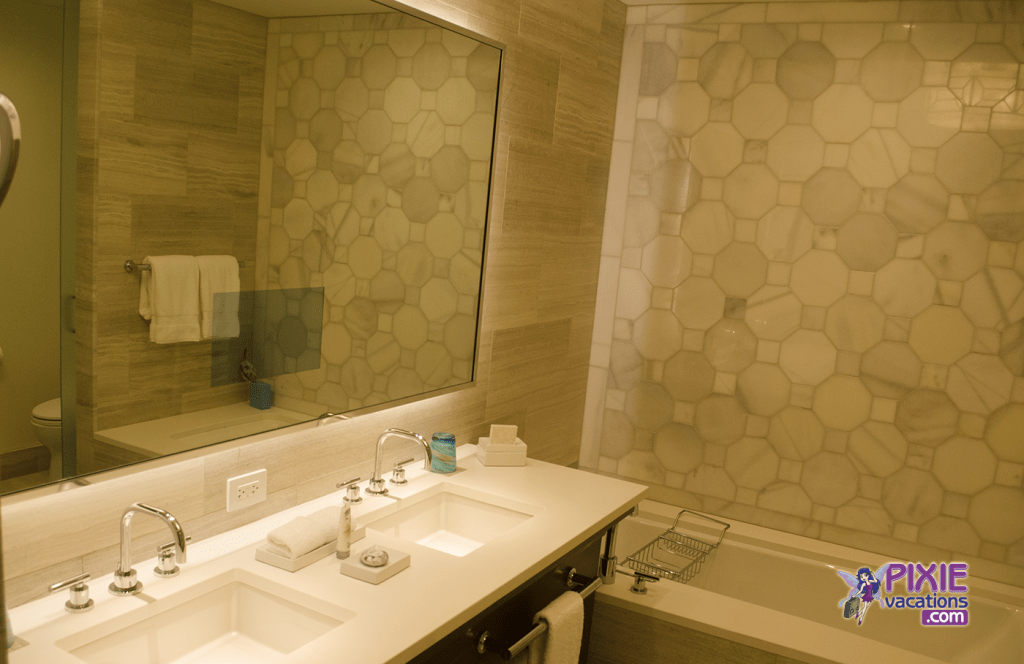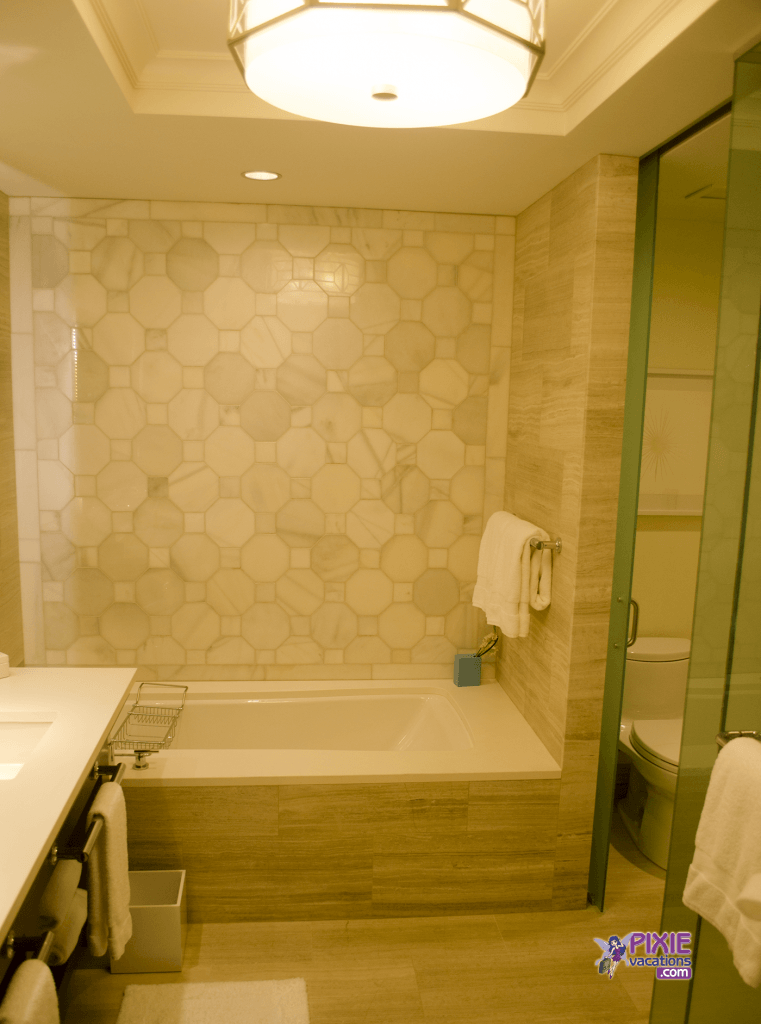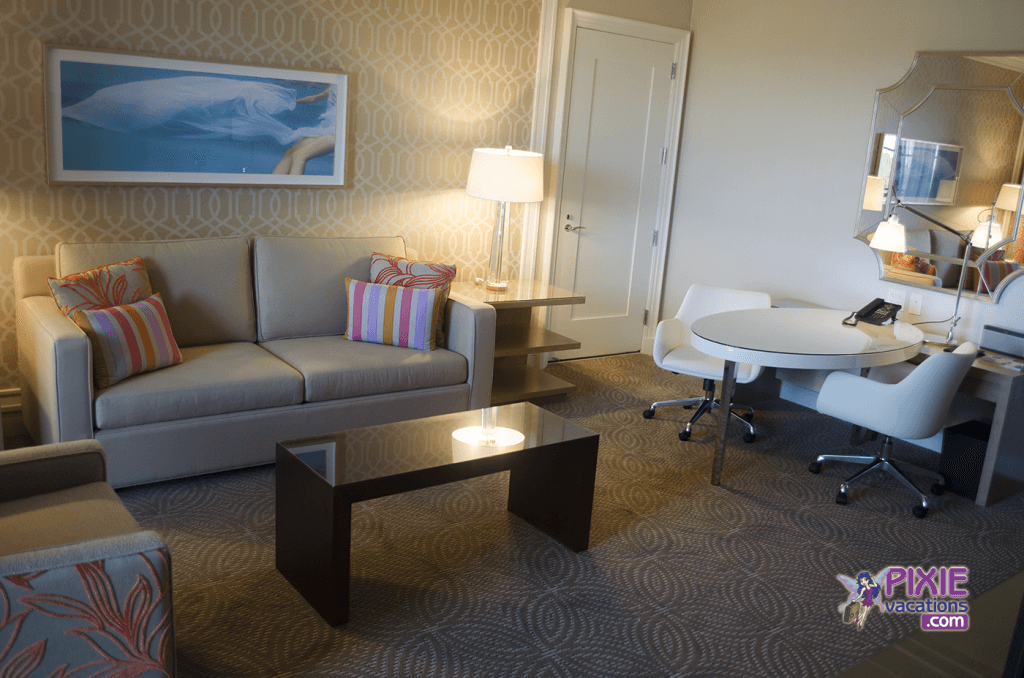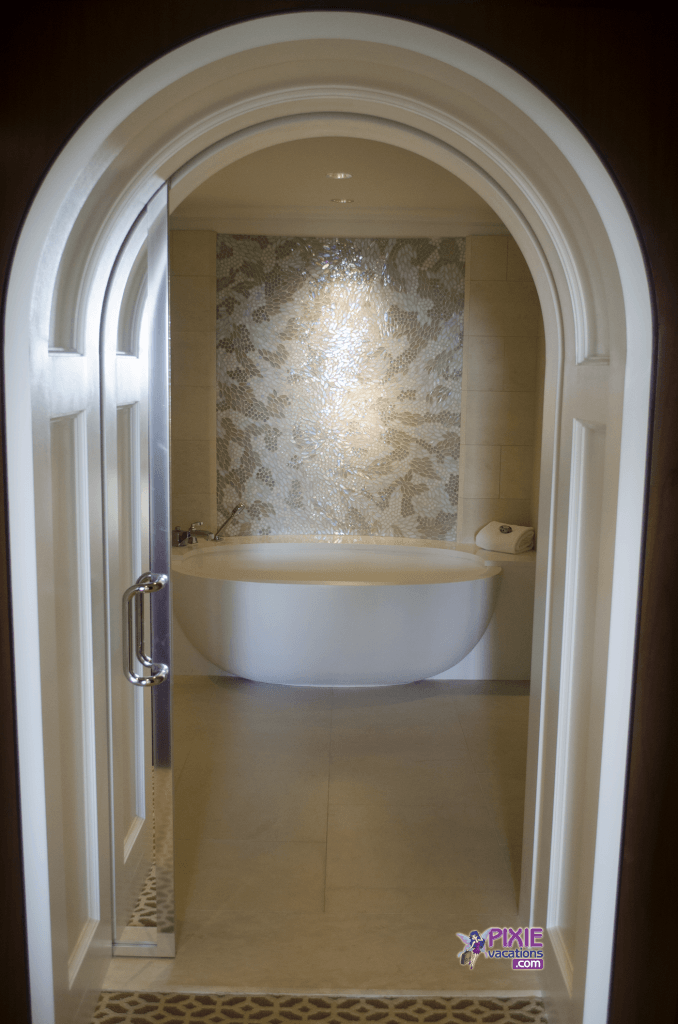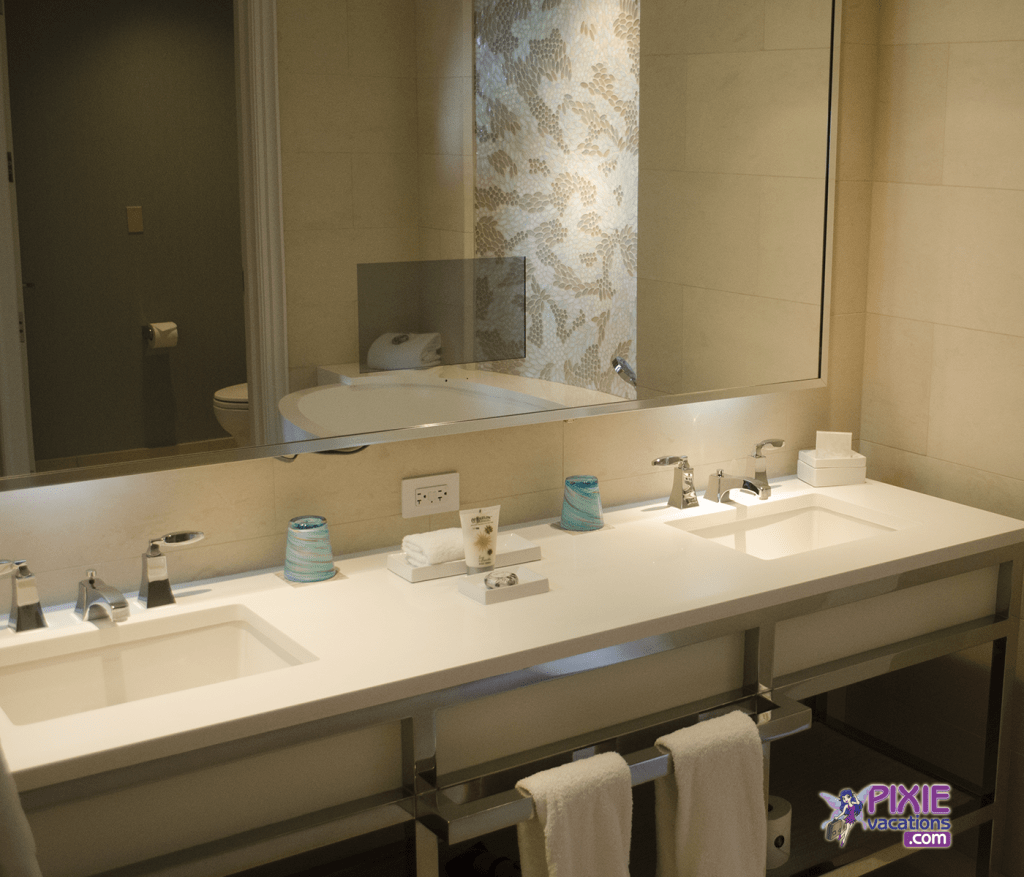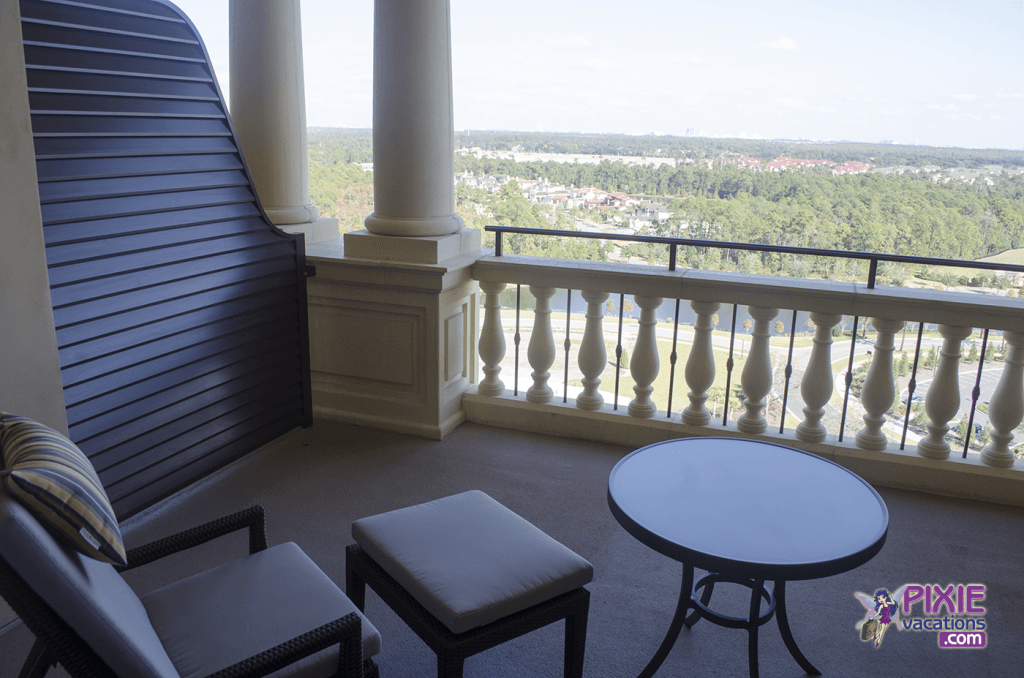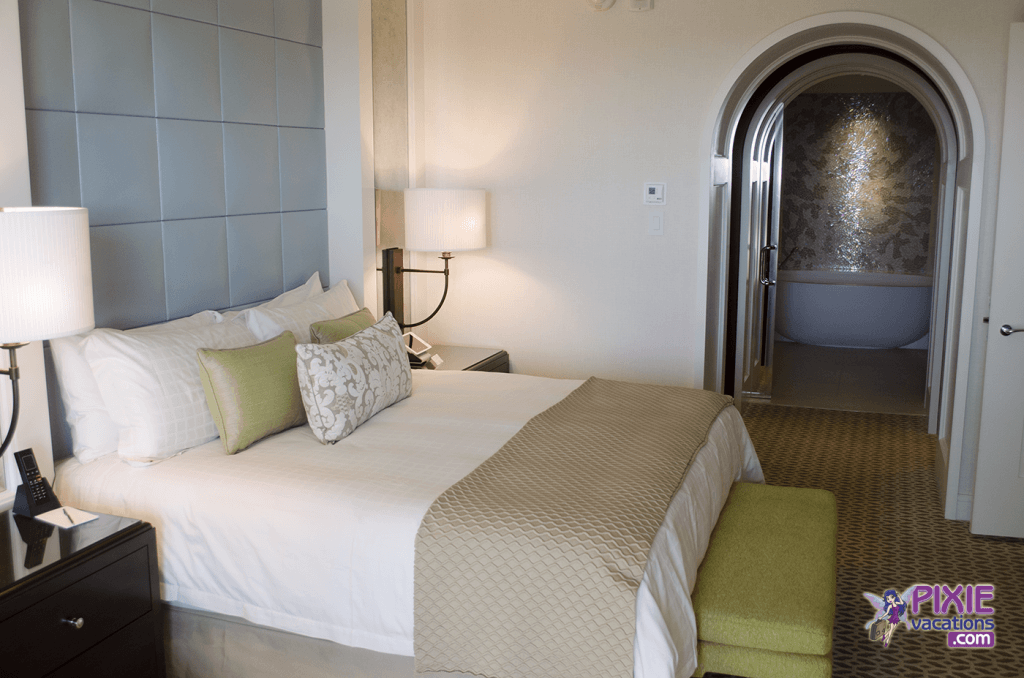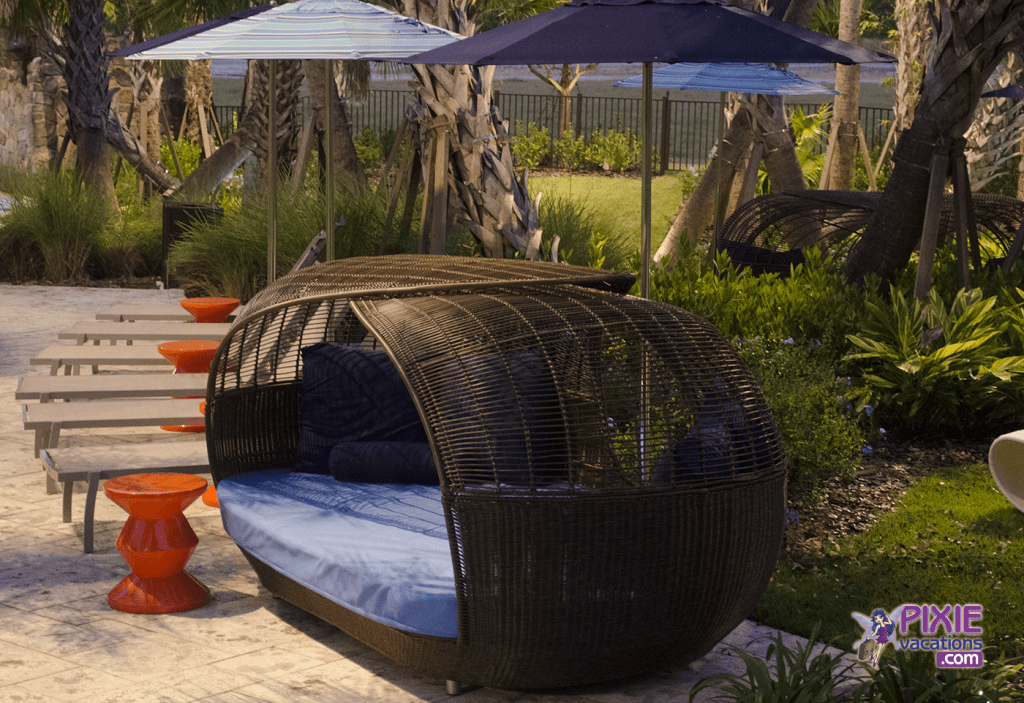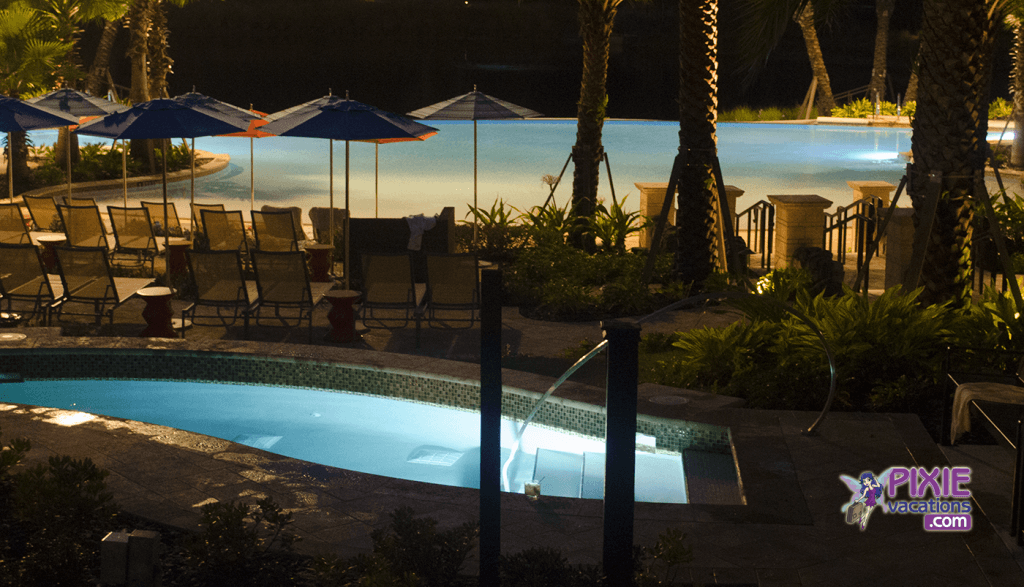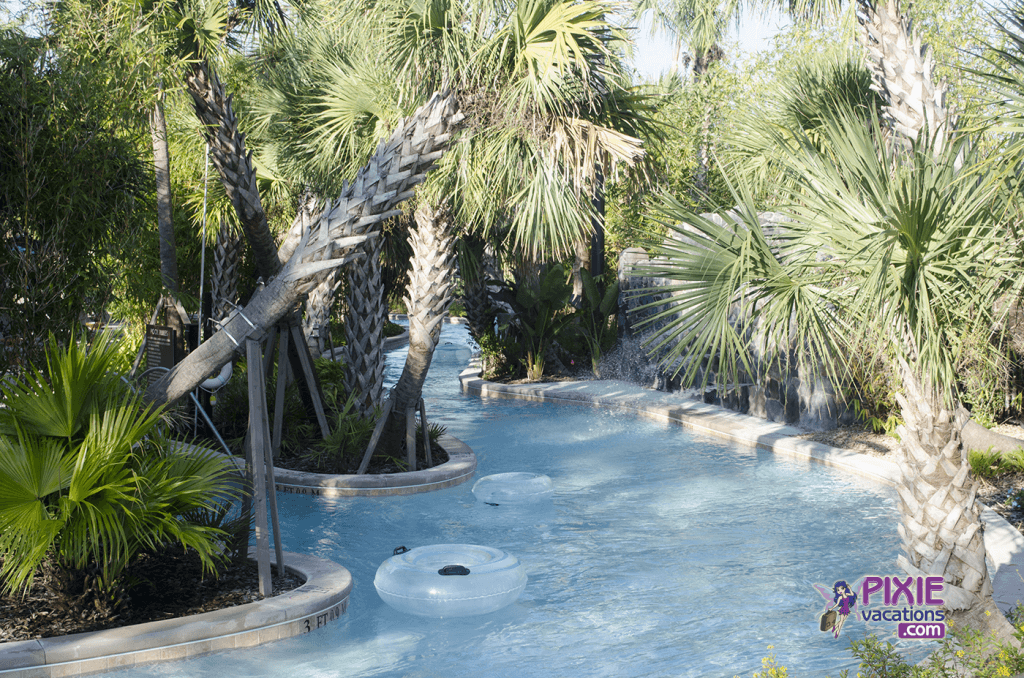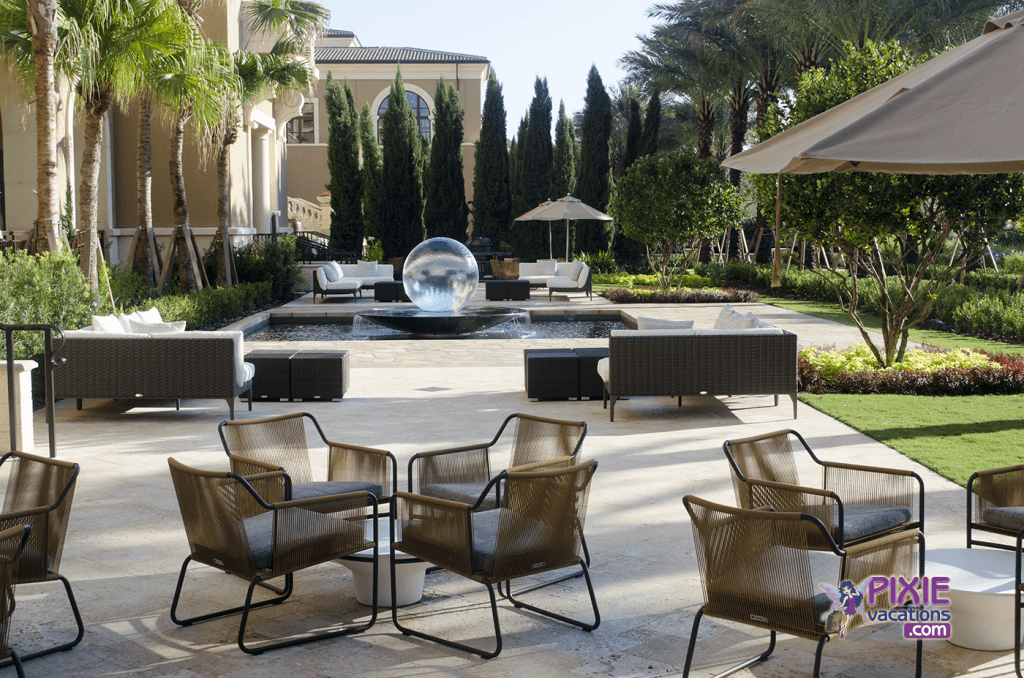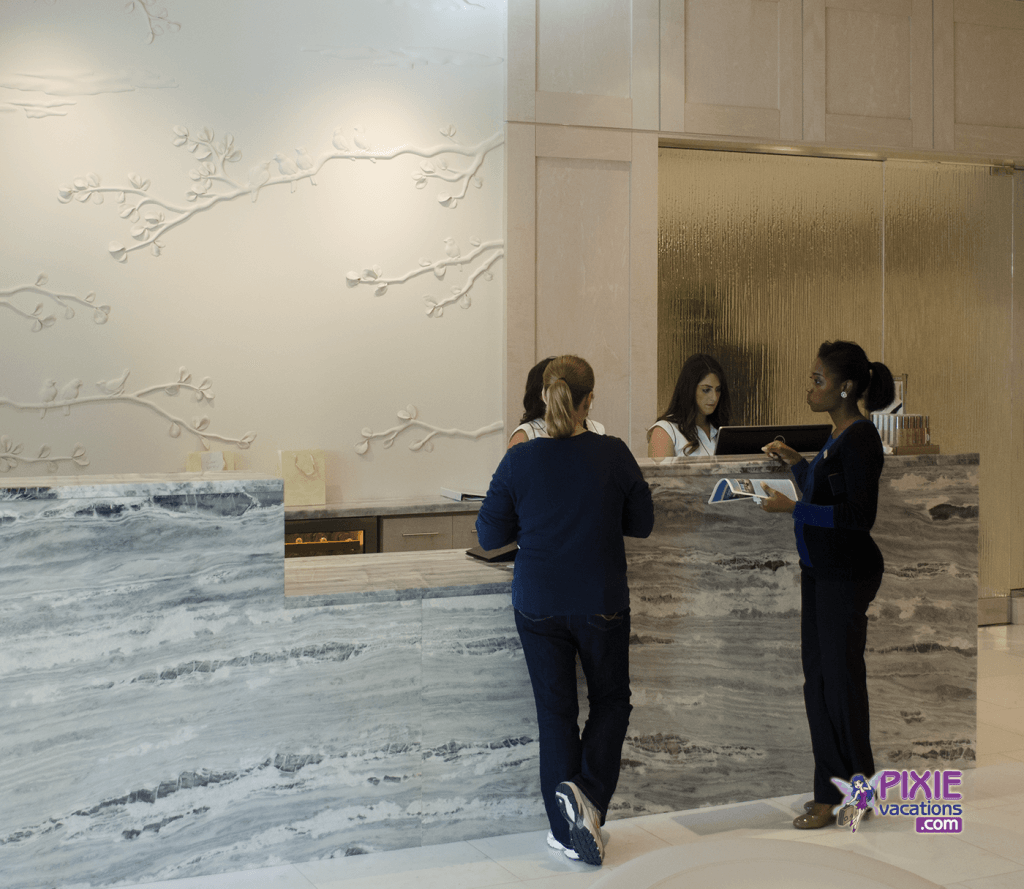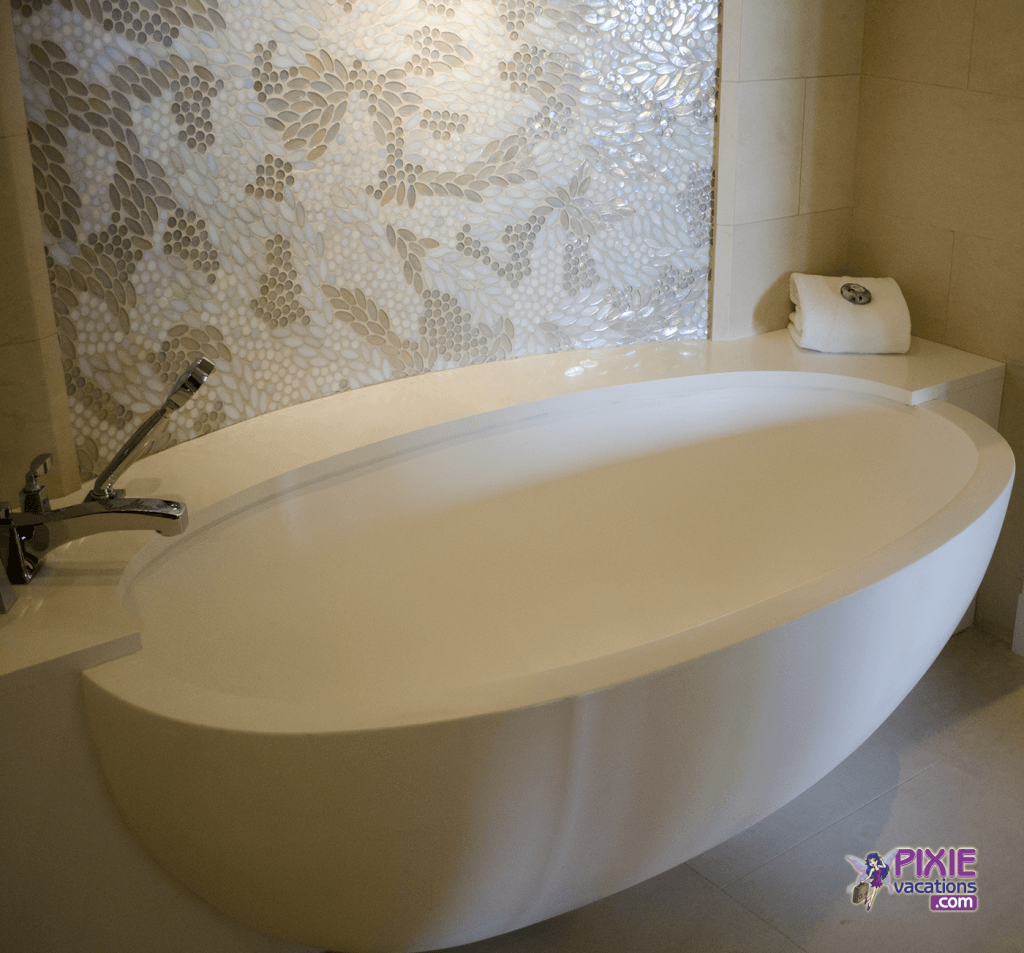 Photo Credit: Pixie Vacations
You can read more about the Four Seasons Orlando at http://www.fourseasons.com/orlando/
---
How to contact us at Mouse Chat:
You can email questions and comments to the show at: Comments@MouseChat.net
Media and Press can also contact us at Comments@MouseChat.net
If you like our show, please let your friends know about us.
Please join us by listening to our show at MouseChat.net or by downloading and subscribing to Mouse Chat on
iTunes. If you subscribe to our Disney Podcast on iTunes you can schedule it to update your player so you will never miss a show.