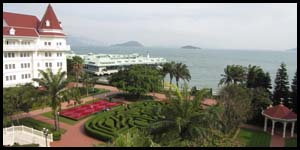 Podcast: Play in new window | Download
Subscribe: Apple Podcasts | RSS
Mouse Chat Disney podcast –
Elizabeth Caran is back from her trip to Hong Kong Disneyland.
Elizabeth started her trip by taking the train to the Disneyland resort. The train looks like a fun way to start your vacation. It is an actual themed Disney train (see the photos). This is really nice vs. other overseas Disney parks like Disneyland Paris where you take the RER for 45 mins to Disneyland. The RER to Disneyland Paris is your typical dirty commuter train and it drops you at an also not so clean station right at the entrance to Disneyland Paris. The Disneyland Hong Kong train looks like it is brand new.
There are two Disney resorts at Disneyland Hong Kong. Elizabeth stayed at the Disneyland Hotel which looks like a smaller replica of the Grand Floridian Hotel at Walt Disney World.
But when you look out your window you do not see a lagoon and the castle, you have what I would consider an even more amazing view of the ocean and islands in the distance.
Hong Kong Disneyland has a new land called Toy Story Land which is very simular to Toy Story Land at the Walt Disney Studios at Disneyland Paris.  It is a great area if you have little ones with the rides tailored to them.
The park does look wonderful.  It is very clean and like a smaller version of Disneyland in CA but currently with less rides and attractions but the park has only been open for 7 years.
Hong Kong Disneyland does have two more attractions in the works and we discuss those on the show.
Well let me stop talking and let you listen to the show and enjoy the Hong Kong Disneyland photos.
[nggallery id=3]
Photos by: Elizabeth Caran
You can email questions and comments to the show at: Comments@MouseChat.net
If you like our show, please let your friends know.
Please join us by listening to our show at MouseChat.net or by downloading and subscribing to Mouse Chat on
iTunes.