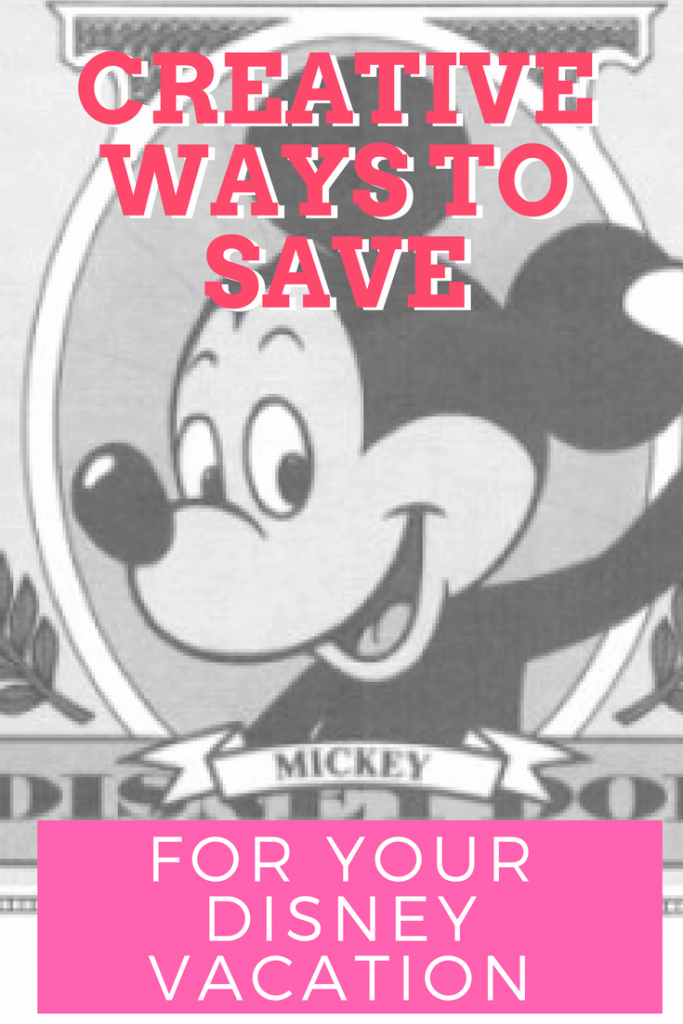 Creative Ways to Save for your Disney Vacation
From our free Mouse Chat group we have been discussing creative ways to save for your Disney vacation.
We have an entire Facebook Group of Disney Money Saving ideas for your vacation.  Please join or Mouse Chat Facebook Group.  Our Facebook group is free, we don't make you donate something every month to share Disney money saving ideas with others.  You need your hard earned cash to go to Disney World.
Please listen to our full Mouse Chat Disney Podcast for a full list of creative ways to save for a Disney vacation.
Creative ways to save money for your Disney vacation
I have put together just five creative ways to save money for a Disney Vacation here but our Facebook Mouse Chat Group and our Mouse Chat Disney Podcast is loaded with creative ideas.
First let's look at credit cards.
Get a travel credit card and pay it off each month. 
Some credit cards offer sign up bonuses, airport lounge access, hotel stays, and points.  Chase has some nice travel credit cards, Hyatt, and also the Disney Visa Card.  Or get a cash back credit card and use the money for your future vacation.  The key is to pay off yoru credit card each month.  If you have to carry a balance this is just going to eat away at your Disney vacation fund.
Using Disney Gift Cards at Target can save you 5%.
When using this vacation savings tip for your vacation package it can add up.  We have loads of people that buy Disney gift cards at Target as a way to tuck away money for their Disney Vacation.  They call us at Pixie Vacations to book their vacation and we help them apply these Disney gift cards to their vacation.  There is a special APP that lets you type in your Disney gift cards so they are all organized and ready to be used and applied to your Disney World vacation balance.  This is much better than having us apply the Disney gift cards one by one.  If something happens and you need to cancel, having the gift cards in your APP is going to make it easier to get the money back onto them.  Next we are going to look at savings accounts.
Disney Savings Account.
You can save money in your Disney savings account for your trip.  You could also book a Disney Vacation Package with a Pixie here at Pixie Vacations and they can make payments for you until your trip is paid off.  Our Mouse Chatters here are Pixies and can book your vacation for you.
Put away spare change from your everyday purchase.
This is the old coffee can idea of saving for your vacation.  Just place your change in the jar and only spend $5 bills and larger if you really want the vacation fund to build up quickly.  Lisa did this in her family when she was growing up and they used a coffee can back in the day as their Disney World vacation fund.
Make sure you book a Disney World Vacation Discount or Disney World Vacation Package.
We are happy to help you book this and we don't charge for our services.  We keep track of all the latest Disney Vacation offers and will help you plan the perfect Disney vacation for you.  A Mouse Chatter here can help or contact any of our Pixies at Pixie Vacations.
---
Free at Walt Disney World
Get our list of things you can get for free.
We have a long list of Disney World freebees. These are tips and free extras that we have gathered from our years of Disney World experience. And the list also Free and we will rush it to your in box!
---
Join us on Facebook, Twitter, YouTube, and Instagram.
Join our Mouse Chat Facebook
Mouse Chat Instagram
Mouse Chat Twitter
Watch Videos – Mouse Chat YouTube
We would love to hear from you. Is there something you want to know about Mouse Chat? Please leave a comment.
Please join us by listening to our show at MouseChat.net or by downloading and subscribing to Mouse Chat on
iTunes. If you subscribe to our Disney Podcast on iTunes you can schedule it to update your player so you will never miss a show.