Lee Cockerell, a personal look at Walt Disney World
We had the pleasure to talk with Lee Cockerell yesterday and wanted to share his insight and many great tips and business career advice with you.  If you don't know who Lee Cockerell is; Lee Cockerell is the former Executive Vice President of Operations for the Walt Disney World® Resort. "As the Senior Operating Executive for ten years Lee led a team of 40,000 Cast Members and was responsible for the operations of 20 resort hotels, 4 theme parks, 2 water parks, a shopping & entertainment village and the ESPN sports and recreation complex in addition to the ancillary operations which supported the number one vacation destination in the world."
Lee implemented the programs at Walt Disney World that have lead to the amazing service we are all familiar with at Walt Disney World.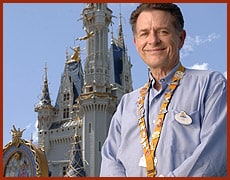 This interview really hit home for many of us here at Mouse Chat.  We of course love Disney World and Lisa and Steve both worked at Disney World as Castmembers in the 1990's.  The famous Disney World training programs (Disney Traditions) we have personally taken and the Disney College Program we also have experienced first hand.  Talking with Lee about these amazing programs and how Disney World empowers their cast members offers amazing advice for us as individuals as well as any business owner out there.
If you are struggling in your career, looking for a new job, or just love learning about new ways to look at business, this interview with Lee Cockerell is filled with priceless business advice.
Listen to our full Mouse Chat show here for the an amazing talk with Lee Cockerell.
Podcast: Play in new window | Download
Subscribe: RSS
Lee also has a website, blog and podcast with loads of free information.  Lee also has several books available that Sharpie has read and recommends and that we will also be adding to our Disney reading list.  You can find all of this at Lee Cockerell's website:  http://www.leecockerell.com.
Follow us and meet other Mouse Chatters
Join us on Facebook, Twitter and Instagram.
Mouse Chat Facebook
Mouse Chat Instagram
Mouse Chat Twitter
We would love to hear from you. Is there something you want to know about Mouse Chat? Please leave a comment.
Get Free Mouse Chat Swag
We would love to send all Mouse Chatters some Mouse Chat swag but we only have so much to go around. Please post a comment, tip, review, or just join in the conversation below in the Comments section at the bottom of this podcast page. We will pick one comment a week and announce it on Mouse Chat and send you some cool Mouse Chat swag sure to impress your friends.
How to contact us at Mouse Chat:
You can post questions and comments to the show below in the show comments or on our Mouse Chat Facebook page.
Media and Press can also contact us at Comments@MouseChat.net
If you like our show, please let your friends know about us.
Please join us by listening to our show at MouseChat.net or by downloading and subscribing to Mouse Chat on
iTunes. If you subscribe to our Disney Podcast on iTunes you can schedule it to update your player so you will never miss a show.