Universal Studios Loews Portofino Bay Hotel, Royal Pacific Hotel, Hard Rock Hotel Review
Lowes Portofino Bay Resort Review –
We stayed at Universal Studios Orlando and also toured all the different rooms with our friends at Pixie Vacations.  In Short, the Universal Hotels are wonderful.  I will get into each hotel in this article but also please listen to our Mouse Chat show here or on iTunes for our full review of the Universal Studios Orlando FL resorts before booking your Universal Studios Vacation.
We spent several nights at the Lowes Portofino Bay Resort and also at the Hard Rock Hotel.
All of these Loews hotels are Four Diamond rated by AAA.  We also toured Universal Studios new Value resort – Cabana Bay which has a 1950's – 60's theme.
I would say the top of the line resort at Universal Studios is the Loews Portofino Bay Hotel.  Now it's not to say it's any better than the Hard Rock Hotel or the tropical themed Royal Pacific Hotel.  But it does have that little extra special feeling you get when you walk into the lobby or look outside your room at the harbor.  This is also the perfect Universal Studios Hotel for a convention event or group event.  The grounds have so many perfect places to hold a special event.  there are private courtyards, the harbor area, and of course convention space.
The rooms at Lowes Portofino Bay Resort are large and very elegant.  The beds and pillows are so nice that after two stays at the resort we were able to get the name of the manufacture of the pillows and ordered two for ourselves.  They are not cheap which is a statement to the quality of the soft goods and the overall rooms.  If you have kids you can also get a Dispictable Me Suite.  You know those lovable Minions.  You can have the kids stay in their Bomb themed beds from the movie and you are in your luxury suite room just a connecting door away.
Podcast: Play in new window | Download
Subscribe: Apple Podcasts | RSS
Loews Portofino Bay Hotel
Take a look at our Photo Tour of Loews Portofino Bay Hotel
Thanks Pixie Vacations for these great photos.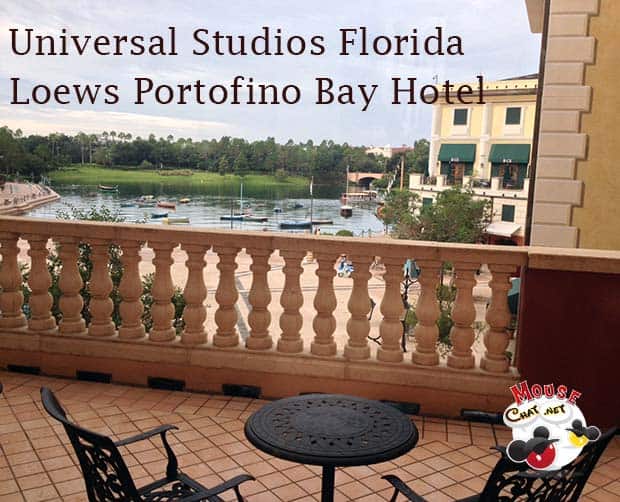 Loews Portofino Bay Hotel at Universal Studios Orlando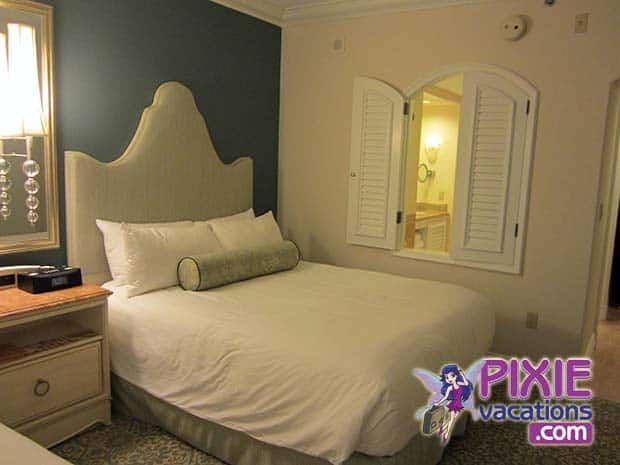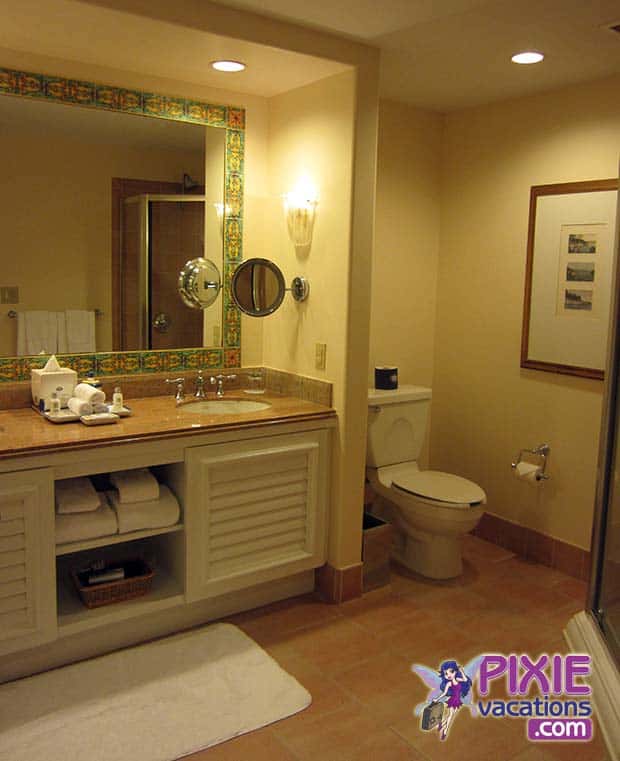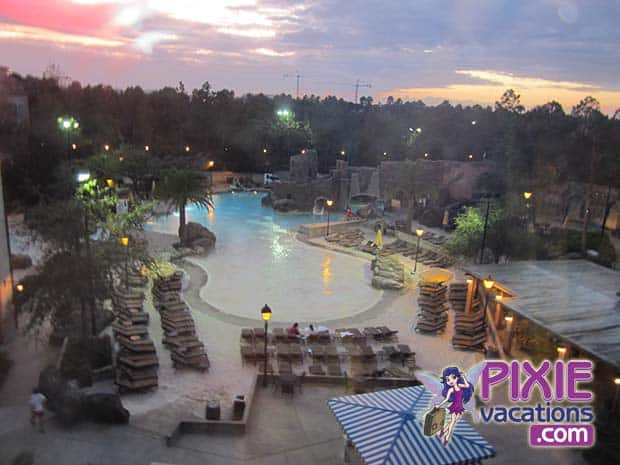 If you plan a day to head over from your Disney World resort it's very expensive for a one day ticket to Universal Studios and you will not be able to see everything in just one day. You need at least two days and you need to see both parks at Universal Studios. Also Universal has something called the Express Pass. This gets you to the front of the line on almost all attractions. the Universal Express Pass comes for FREE with your Universal Studios onsite resort stay at Universal Studios – Loews Portofino Bay Hotel, Loews Royal Pacific Hotel, and The Hard Rock Hotel.
 Hard Rock Hotel Review
Now the Hard Rock Hotel we also have stayed at several times and also toured.  It has a little more going on in the lobby and pool area than the other hotels at Universal Studios Orlando and the music is pumping.  There are even concerts on the third Thursday of each month that are in the hotels lobby (velvet sessions).  Want to learn to play the guitar?  Well you can get one sent to your room with headphones to jam out but to also make sure your neighbors get a good nights sleep, and yes the guitar rental is free.  The Hard Rock Hotel Pool had a big screen movie playing one night when we where there and also has music playing underwater.  There of course are some top rated restaurants and the rooms are just finishing up a complete renovation that should be complete hotel wide now.
So if you are looking for a hotel at Universal Studios with some action going on, some music to rock too and something different, this hotel is worth checking out.
Hard Rock Hotel at Universal Studios Orlando Photo Tour:
Royal Pacific Hotel Review
Everyone in our group of ten loved the Loews Royal Pacific Resort at Universal Studios Florida.  The Polynesian laid back theme is a hit!  If you are looking for something tropical, close to Universal Studios and with that island vacation feel, this is the resort for you.  There are some amazing restaurants here to and also so many places to explore and relax around the resort.  We will be booking our next Universal Studios Family Vacation here for sure and will report back on Emerald restaurant and also the Hawaiian Luau. This Loews Universal Resort is also available to book as part of the Universal Vacation specials that you can get from Pixie Vacations here:  Universal Studios Orlando vacation.
Royal Pacific Hotel Photo Tour: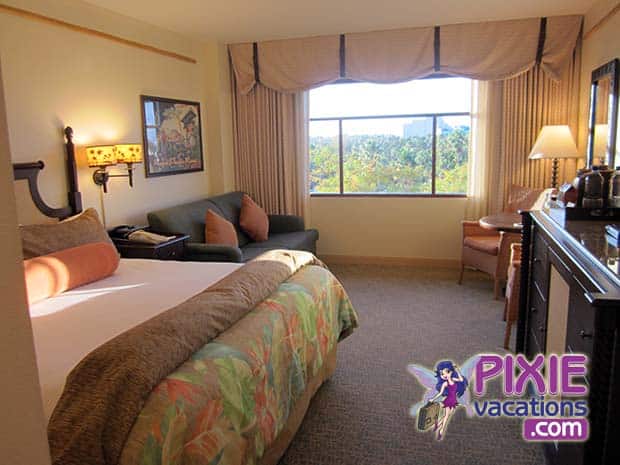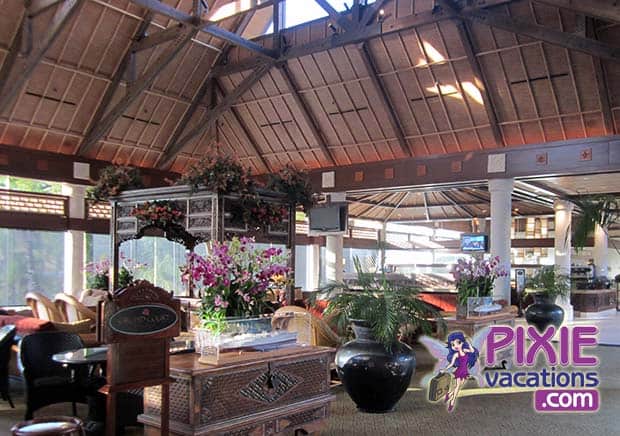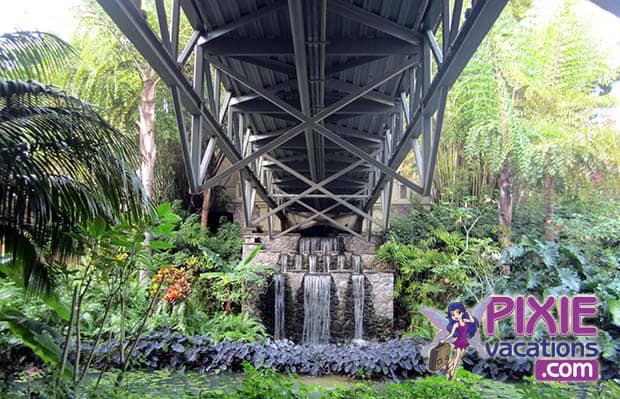 Universal Studios Orlando Hotel Review
These are all Four Diamond rated Resorts! By staying here you get an express pass for each person in your party. That's almost a $100 value per person. If you were to buy the express pass for a family of four for two days at the park gate that would be almost $800 in addition to the cost of your park tickets. So the Express Pass alone pays for your room. You also get early entry to Diagon Ally. So you get in an hour before everyone else as a Universal Studios resort guest. That also is priceless. Plus all three resorts (Loews Portofino Bay Hotel, Loews Royal Pacific Hotel, and The Hard Rock Hotel) are wonderful. We have stayed and have toured them several times.
I highly recommend staying three days two nights at Universal Studios to try it out and stay at one of these three Universal Resorts – Loews Portofino Bay Hotel, Loews Royal Pacific Hotel, and The Hard Rock Hotel. When you do this you can also walk to the parks or take the free water taxis that run constantly. Everything from CityWalk for nighttime entertainment, popular restaurants and shows are right there as well as the entrance to both parks. It's all very convenient.
If you are looking to stay at Universal Studios Orlando at one of their resort, please contact our friends at Pixie Vacations. They can book your Universal Studios Vacation Package and save you time and money on your Universal Studios Orlando vacation.  You can also call Pixie Vacations at 678-815-1584.
If you have stayed or want to stay at Universal Studios on property at one of these Universal Studios Resorts, please leave a comment below.  We would love to hear about your past resort stay or future Universal Studios vacation.
---
---
How to contact us at Mouse Chat:
You can email questions and comments to the show at: Comments@MouseChat.net
Media and Press can also contact us at Comments@MouseChat.net
If you like our show, please let your friends know about us.
Please join us by listening to our show at MouseChat.net or by downloading and subscribing to Mouse Chat on
iTunes. If you subscribe to our Disney Podcast on iTunes you can schedule it to update your player so you will never miss a show.