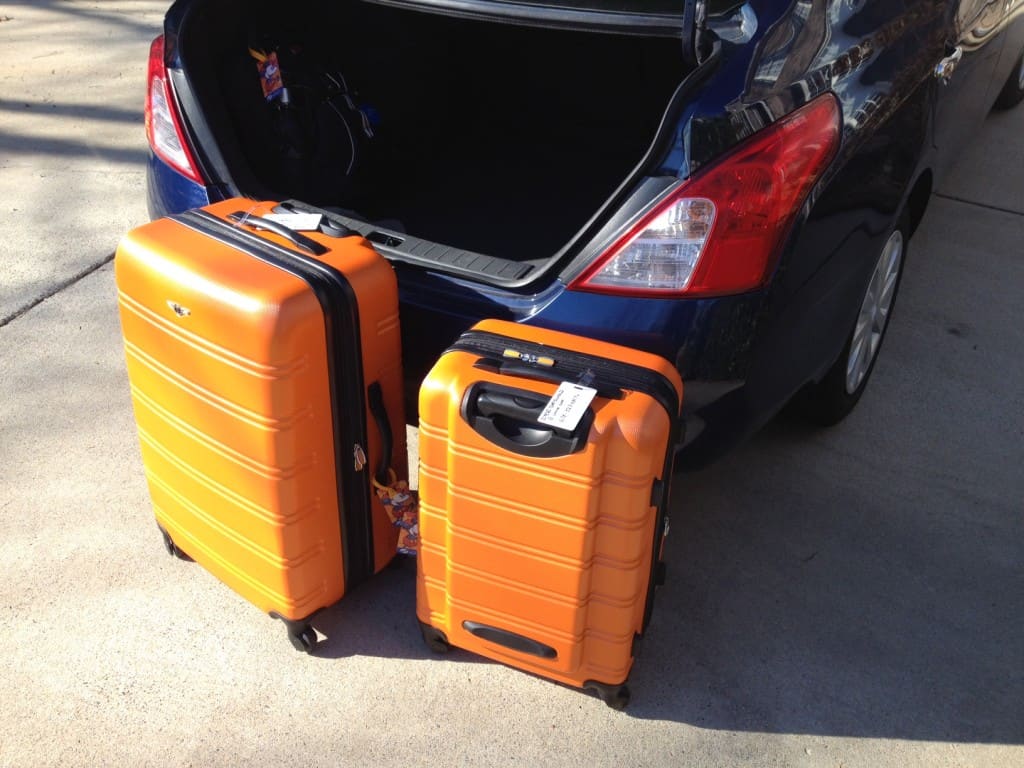 Podcast: Play in new window | Download
Subscribe: Apple Podcasts | RSS
Mouse Chat Disney Radio –
Lost Luggage?
So I am in Melbourne Australia with just the shirt on my back.
The airline put another persons luggage tags on all my bags, so I arrived in Melbourne Australia with no bags.
So here are some luggage travel tips I learned the hard way.
How to Avoid Lost Luggage and what to do if it happens to you:
1. Take a photo of your bags before you get on your flight.  I did this so I had a photo on my phone to show the luggage desk.
2. Inventory your items and take photos.  Who does this?  Not me but I will start taking just a few photos of the contents going forward.
3. When you check your bags at the airport look at the luggage tags they give you.  If they don't have YOUR name on them, you have a problem.
4. Know the address of your hotel(s) so when you luggage is lost you can tell the lost baggage desk where to send it.  I had the address in my backpack so that was helpful.
5. Don't pack anything you can't afford to lose.  I spent 10 days in Australia with pretty much nothing and now know how to travel with very little.  I also learned a good lesson, never pack anything you can't live without or expensive items in your checked baggage.  I hate carrying all my gear so I packed some camera gear in my luggage and that could have been an expensive lesson.
6. Start a Claim at the airport when you have lost luggage and don't loose it.  Take a photo of the important numbers, you ticket, and your baggage tags.
7. If you can track down your bags on your own, do it!  The airline in my instance didn't try to locate my bags at all.  I called, emailed and check the status for 8 days and they had no leads.  So then I contacted the airport myself that was on my bag tags and low in behold my luggage was there and had been sitting there for 8 days.  The airport told me nobody had contacted them in those 8 days.  So I had to take the hunt for my bags into my own hands and had to get them on a flight, then I had to contact the airline baggage claim department to let them know I had found my bags and was having them sent over on these flight numbers.  This is not easy when you are traveling abroad and have to coordinate all this on your own, but if you want your bags back you probably need to do some detective work on your own.
8. Get Travel Insurance.  I had travel insurance and also insurance with my credit card company.  It's a process to make a claim and it might only get you a percentage of your money back for all your stuff.  I filled out the lost luggage claim forms and it takes a long time to complete them, then I cancelled the claim when I found my bags.  Now I am in the process of filing the Delayed Baggage Claim.  That will get me $125 towards the $550 I paid to get some clothes and basics to keep me going for 10 days.  Also submit your expenses to the airline with copies of the receipts for everything you bought.
Have you had any travel mishaps with your baggage?  Leave a comment I would love to hear how you got it resolved.
---
How to contact us at Mouse Chat:
You can email questions and comments to the show at: Comments@MouseChat.net
Media and Press can also contact us at Comments@MouseChat.net
If you like our show, please let your friends know about us.
Please join us by listening to our show at MouseChat.net or by downloading and subscribing to Mouse Chat on
iTunes. If you subscribe to our Disney Podcast on iTunes you can schedule it to update