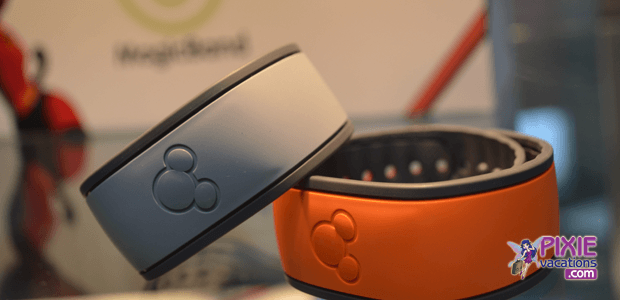 Disney Magic Bands
My Magic+ Reviewed live from the Disney World Parks.
We are at Walt Disney World doing a full 11 days of testing of everything Magic Bands.
Listen to our full Disney Magic Band Review Show. Click Play.
Podcast: Play in new window | Download
Subscribe: RSS
We have a large group so we are doing extensive Disney Magic Band testing. We are testing everything from checking into multiple Disney resorts, Your Disney Experience website setup, Adding multiple credit cards to a single Disney resort room, Using an Annual Pass, or Disneyland / WDW Multi-Annual pass (Premier Pass). We tried to test every scenario with the new Magic Bands and My Magic+ so we know the ins and outs and can share them with you.
Be sure to listen to our Mouse Chat Podcast at the top of this page also for our reviews.
Disney Magic Bands Basics:
What is the Disney Magic Band?
The Magic Band is an RF ID bracelet that goes on your wrist. When you book a Disney World Resort Package (stay onsite at a Walt Disney World Resort), you will get your magic bands in the mail before your vacation. You can log on before your vacation and pick your Magic Band Colors and names for each Magic Band.  The presentation of these bands is very well done.  They come in a nice presentation box with your name displayed on the packaging by each band.  It is very well done.  I  can't see Disney mailing these like this in the long run, but for a roll out it is a nice touch.
Oh and the names you select will be printed on the inside on each Magic Band. Everything is secure. There is no credit card number or information, other than your printed name on the band.
DISNEY MAGIC BAND TIP: Wear your Magic Band on your flight to Orlando.  Do not pack them in your luggage.  You will need your Magic Band to check in at Magical Express and then you jump right on your bus to Disney World.  Otherwise your bands are stuck in your luggage and you are not able to get into the park etc.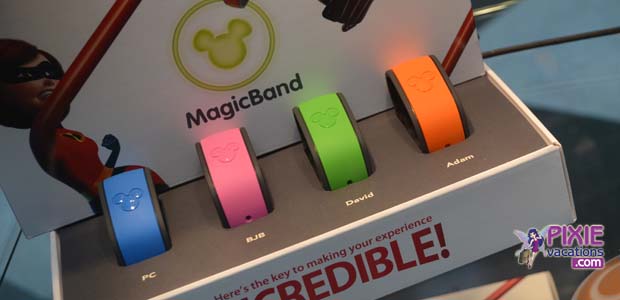 What size and what color do the Magic Bands come in?
The Disney Magic Bands are one size fits all and they are truly an ingenious design. The band fit our 3 year old and every shape and size in our party. They can be re-sized for kids by pulling apart the band to create a smaller size. They are also very secure. They snap on and off with two snaps. They are water proof, and we left one in the Griswold Family Truckster in Orlando FL heat on the dash. My Mickey Ear Hat ears got deformed but my Magic Band still worked flawlessly and did not melt or deform. The bands come is several colors if you select your bands before you go. If you do not order the band online before your vacation, you will get one at the front desk and those come in a grey color. The most popular color is Pink before purple came out later.  Purple is currently the most popular Disney Magic Band color.
The bands are comfortable but we did find them a little sweaty in the FL heat in the middle of summer.
How do the Magic Bands work?
The Magic Band is your key to everything! It is your room key. So you tap and open the door. You have to touch the mickey icon on your door precisely. So Mickey to Mickey to get the door to unlock. Same thing to get to a concierge floor with the elevator, just touch the Mickey on the elevator and the Concierge level floor button will light up. The only thing is, it can be tricky getting the band to line up exactly and we found ourselves contorting our wrists to get the door to open or the elevator to light up.
You also use your magic band to charge. So you can buy food and merchandise at the resorts and parks and it will go on your room account and the credit card you have on that account. We also tested having a non-family member in several rooms. So two guests sharing a room that both want their own credit cards on account. You CAN do this, but during our testing we had issues getting pin codes and two credit cards to work with two different magic bands. We tested this with 6 different people and all three groups had issues with credit cards not being billed correctly and also in all three rooms one persons Magic Band would not work for charging at all. So this is a bug that Disney still needs to fix.
You can also use Magic Bands for the Disney Dining Plan to use your dining plan credits.
Do you want to use Photo Pass or Photo Pass+? You can scan your magic band instead of getting all those photopass plus cards. Event the interactive games like the Pirate adventure game at the Magic Kingdom you can play using your Magic Band and that worked well.
Again with charging at the parks. It can be discouraging when your band pin was not setup correctly at check in and you find yourself not being able to charge at the parks. Also you have to touch your band to the credit card terminal Mickey to Mickey which is not very smooth and keying in your 4 digit pin code with the very small buttons can cause you to fat finger in the wrong pin code. But these are minor issues.  The convenience is well worth it. And going to a Disney water park will be 100 time easier to pay now.
Park Admission with your Disney Magic Band:
Gone are the turnstiles and barriers to the most magical place on earth. Now you just walk up and touch your band, scan your finger and walk in. There are several touch points to enter the park all setup in V shapes so your entire family can get in at one time. This will make enter the park much faster and easier. Of course there are still issues being worked out. My tickets were not attached to my magic band so I could not get into the Magic Kingdom and the rest of my party could. Being in testing it took about two hours to get the situation corrected and a walk back to my hotel and again back to the park to finally get the ticket issue resolved. But I was with a conference and the only way to get my special tickets added to my band was back at the hotel. Normally you would just walk over to Guest Services at that park and they would fix the issue.
I did see someone actually touch their bare wrist to the Mickey post that did not have a Magic Band and the Cast Member was trying to explain to them that they needed a park ticket to enter.
One disadvantage is figuring out what park tickets you have left. You have to go to Guest Services to figure that out. And also the My Disney Experience App on your smart phone can be confusing as to if you have tickets on your magic band or not.
Disney FastPass+:
So one cool feature to the Magic Bands is the new Fast pass Plus system that allows you and your group to select and schedule, in advance, your rides and attractions. Right now you can pick 4 rides / attractions for the Magic Kingdom and 3 at the other parks. So for example we picked the day time parade for 3 PM, Space Mountain, a character meet and greet, and one other ride. You can pick the times on your iPhone or Android device. The parade allowed us to access a special areas in the hub close to the castle, so we did not have to wait and find a good viewing location. The ride fastpasses are just that, fast passes so you get to take the shorter line to those attractions.
One cool feature is you can change your fastpasses (based on availability of course). So if you are running late or want to change them, just pull out your phone and go into the App and update them.
Bonus Magic Band Fast Passes – You can add an additional Fast Pass to your MagicBand once your 3 fastpasses have been used up.  This means if you plan your fastpass reservations you can set them up to finish your 3rd fastpass earlier in the day and then pick a 4th fastpass.

What you currently can not do with FastPass+:
This worked well and was the highlight of the Magic Bands. So you no longer have to get to Disney Hollywood Studios and run to Toy Story Midway Mania. You just schedule your ride time on your App, or at a kiosk in the parks.

Our testing results for Fast Pass+:
We love this feature. It worked well on our Annual passes, Premier Pass, and 4 day park hopper tickets tied to our Magic Bands. It also worked well with our hard tickets when tested. The only problem was we always had one person in our party that the fast passes would not work on their band. The touch point mickey would flash Blue instead of Green. This happened for 10 days and we tried to have it corrected at least five times with a total of at least 6 hours of effort by different cast members.
So this bug hopefully will be fixed soon. This did not however exclude that one person from riding with us. The cast members at all attractions understood that they should have the fastpass and let them join us on all of the rides.

My Disney Experience App:
The My Disney Experience App really is required to make My Magic Plus and your Magic Bands, Fast Pass+ etc all work. You must have an iOS device or Android Device. You also should setup your account and play around with the application BEFORE your vacation. Book your dining reservations, FastPasses, etc. Also a good Authorized Disney Vacation Planner Travel Agency can help you with all this for no cost, and we recommend Pixie Vacations.  Pixie Vacations will sort all this out for you and their prices are the same as or could even be lower than booking directly with Disney.  If you have already booked your Disney Vacation, you can still contact them.  They maybe able to add their agency name to your Disney reservation so that they can help you with your My Disney Experience and other Disney vacation questions.  Again it costs you nothing to use their service and if a better Disney Vacation offer becomes available they will even move you to the lower price.
The App in itself is an entire article, but the highlights are you can see all your fastpasses and your groups fastpasses. Your reservations for dining, dining plan, park hours, maps etc.
If you do not have an iOS or Android device there are kiosk at the parks, however we never did locate one during our 11 days at Disney World and heard that more will be rolled out soon.
WIFI – There is WIFI at all Disney Parks and resorts now to allow you to use My Disney Experience, Disney Wifi is now working very well. Our earlier testing showed that you can connect to the Disney WIFI but getting any applications to work like Facebook, Instagram, Twitter, etc.  But now WiFi works very well in all Disney World Parks.
Overall Disney Magic Bands / My Magic Plus Review:
There are definitely several bugs as we discussed, but those we feel will be worked out or were because of the extreme reservations at multiple resorts we had.  The Magic Bands make charging, park admission and definitely Fast Pass access much easier.  Also we are sure more cool features will roll out and be integrated into attractions.  Maybe Cinderella will know your little ones names next time they come to see her.  We would give Magic Bands during testing a B rating, but within 3-6 months this could easily get an A+.
For more information about our testing of My Magic+ and the Disney MagicBands please contact:
Media Contact:
Steve Griswold
Mouse Chat
678-815-1584
Email: Steve@MouseChat.net
My Magic+ Magic Bands UPDATE:
Here are the Disney World Resorts that are testing My Magic+
Disney World My Magic+ Magic Bands Testing Schedule by Resort
My Magic+ MagicBands UPDATE 2:
There are several new updates I want to share.
1. Resort guest can now get 3 fastpass reservations per day.
2. EPCOT and Disney Hollywood Studios have a tiered FastPass+ system.  So you can only pre-book one what I will call E Ticket attraction and then two more A-D Ticket attractions.
You pick one ride from group A and two rides from group B.
3. Here is a list of all the rides, parades, shows and attractions that you can pick a Fast Pass for.  FastPass Ride List
4. Day Guests (staying off property) can now book FastPasses on the day they arrive in the park at a FastPass Kiosk Location.  Here are the Fastpass Kiosk stations
5. Resort guests can now go to a FastPass Kiosk to get two more Fastpasses once they use their pre-book FastPasses, or you can get the additional fastpass using your phone with the App.
6. Annual Passholders can now book their Fastpasses online in advance at My Disney Experience.
My Magic+ MagicBands for Daytime Guest:

As with Annual Passholders, the offsite day guests using regular single day or multi-day tickets are able to make FastPass+ reservation up to 30 days before their park visit. MagicBands will be available to purchase, although are not required to use FastPass+. The RFID enabled ticket media can serve as the entry to FastPass+ attractions in place of the MagicBand.
The day guests will also have access to the 'My Disney Experience' apps and website, and will no longer be restricted to using in-park kiosks, although some kiosks will remain available for anyone who does not have access to an iPhone or similar device.
To begin using advance FastPass+, guests will need to link their ticket in 'My Disney Experience' before any FastPass+ reservations can be made.
This rollout to offsite guests largely completes the first phase of FastPass+ with most categories of guests now being able to make FastPass+ reservations in advance using 'My Disney Experience.' Walt Disney World resort hotel guests still maintain an advantage by being able to make reservations 60 days out.
Also there are reports the MagicBands will be available for purchase for day guests if they want a band for under $15.00
Twitter: @MouseChat
Mouse Chat on Facebook
Join in and make new friends, ask and get answers to your Disney Vacation Questions, post Disney Park photos, and just say Hi. Join our Mouse Chat Facebook Page.
---
How to contact us at Mouse Chat:
You can email questions and comments to the show at: Comments@MouseChat.net
Media and Press can also contact us at Comments@MouseChat.net
If you like our show, please let your friends know about us.
Please join us by listening to our show at MouseChat.net or by downloading and subscribing to Mouse Chat on
iTunes. If you subscribe to our Disney Podcast on iTunes you can schedule it to update your player so you will never miss a show.