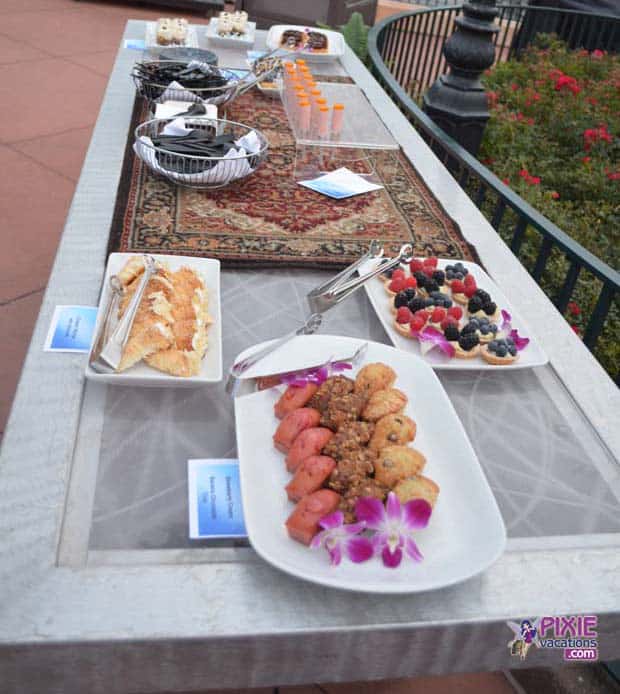 Podcast: Play in new window | Download
Subscribe: Apple Podcasts | RSS
Mouse Chat Disney Radio –
Disney World Groups and Special Events for your next event at Walt Disney World
There are several new group and special event offerings at Walt Disney World.  If you want to do something different on your next family vacation to Disney World, or if you have a corporate event, these extra special events could be a perfect fit.  There are other private parties and special events you can also plan if you have a family reunion or business trip / corporate event at Disney World.  For pricing and to schedule these please contact Pixie Vacations.
EPCOT Dessert Party
EPCOT Dessert Parties are available on select nights.  These are $50 per person for the Dessert Party and includes a nice viewing area to see Illuminations, the night time fireworks at EPCOT.
We have not tried this new party, so our comments are split.  Some of us think $50 a person is a bit pricey, but others think just getting a spot to see Illuminations and not having to stand for an hour to hold a place is worth the $50 alone.
You could buy a bunch of dessert for $50, so we will have to wait and see and try the EPCOT Dessert Party on a future trip.
We have setup the Disney Group Event Dessert Parties for Groups.  These Group Events are definitely worth it.  You can pick your parties location
Disney Cruise Line – Remy Dessert Experience

This is a Dessert experience on the Disney Fantasy.  It is $50 per person and includes one adult beverage.  We have eaten at Remy and if you love to try new foods, it is worth going.  If you are not adventurous you might want to look at the Remy menu before going or try this dessert experience instead of dinner.  This might be fun for a special occasion.

Star Wars Weekends VIP Tour
Star Wars Weekends Package – Disney has a new Star Wars Weekend Package that you can purchase.  It is a VIP tour package that includes private parade viewing area, shopping time at Darth Malls, FastPasses, Guided part of the tour comes with breakfast and continues throughout the day.  It also includes the fireworks dessert party, and also includes a nice lunch.  The VIP tour is a bargain at this price, IF you compare this to just a standard VIP tour that comes in at over $355 an hour.  This Star Wars VIP tour is $499 a person and you also need park admission.  So it's a great deal at $499 again when compared to other Disney VIP tours, but $499 a person is too rich for my blood.  But I can see how this can be a perfect tour for a Star Wars fan that wants that extra special access and these nice perks.  If you don't want to spend the money on this tour you can still enjoy most of these things by just booking them early on your own and planning out your Disney vacation.
These parties and tours are all new unique things you can do on your Disney Vacation or if you have a corporate group taking a business trip to Disney World.
EPCOT – April 17 – Sept 15 Epcot After Hours Wind Down
After Hours access to 4 different lounges in World Showcase.  This is between 9 PM – 11 PM $35.00 per person, include a flight of drinks and food samplings and you can also still order off the menu.
We have already signed up to do this, so listen to Mouse Chat to hear our review.  We are excited to try this.  EPCOT after hours is beautiful.  I love walking around World Showcase after the fireworks.
We are going to Try Epcot after Hours in Mexico for the first time.
If you are looking for some alone time, relaxing, some drinks and food, give this a try.
---
How to contact us at Mouse Chat:
You can email questions and comments to the show at: Comments@MouseChat.net
Media and Press can also contact us at Comments@MouseChat.net
If you like our show, please let your friends know about us.
Please join us by listening to our show at MouseChat.net or by downloading and subscribing to Mouse Chat on
iTunes. If you subscribe to our Disney Podcast on iTunes you can schedule it to update your player so you will never miss a show.