Pixar Fest, Pixar Pier, and Pixar fun at Disneyland
It's a Pixar themed Summer at Disneyland.  We have the full Pixar Fest review for you just in time for your Disneyland vacation.

Disneyland is celebrating everything Pixar now until Sept.3 2018 and it's pretty impressive.  The Pixar films lend themselves to creative foods, rides, shows and merch.  We spend several full days from before sun up to late in the evening experiencing everything Pixar Fest has to offer.
Please listen to our full 1 hour Mouse Chat Podcast on Pixar Fest.
Getting to Disneyland on the Disneyland Express
Let's start with how to get to Disneyland.  We took the Grayline Disneyland Express.  It is VERY important that you get on the motor coach and NOT the VAN that says Disneyland Express.  Why Disney allows these fake Disneyland Express vans to go around the airport to trick guests into paying again for a different shuttle I don't know.  So be sure to get on the large motor coach and not the van.
Loads of Pixar Fest Food
Angry Dogs is not only the cutest Pixar food location, you can get an actual Angry Dog or a Slightly Annoyed Dog.  These hot dogs are really good and we tried the Angry Dog.  This hot dog defiantly has some heat to it.  There are also 5 levels of angry sauce that you can put on your hot dog.  Cute and tasty.  We tried all the Pixar Fest / Pixar Pier food and you can hear about every Pixar Treat on our Mouse Chat Podcast at the bottom of this post.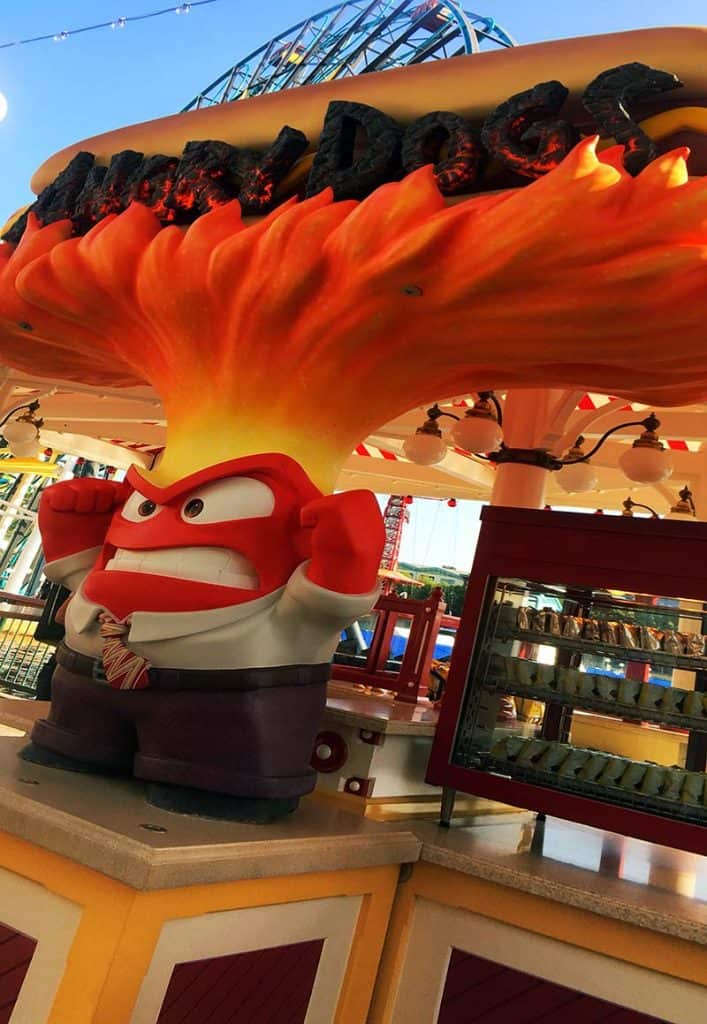 Pixar Fest on Pixar Pier
Once at Disneyland Pixar fest is in full swing.  There are Pixar decorations in the parks, on the monorails, in the shops, Pixar themed food is all over Pixar Pier, Pixar music plays as you walk into the parks.  There is a night time fireworks show, Together Forever, at Disneyland.  There is also a Pixar Play Parade at Disneyland in the afternoon.  Not to be missed is Paint the Night at Disney's California Adventure.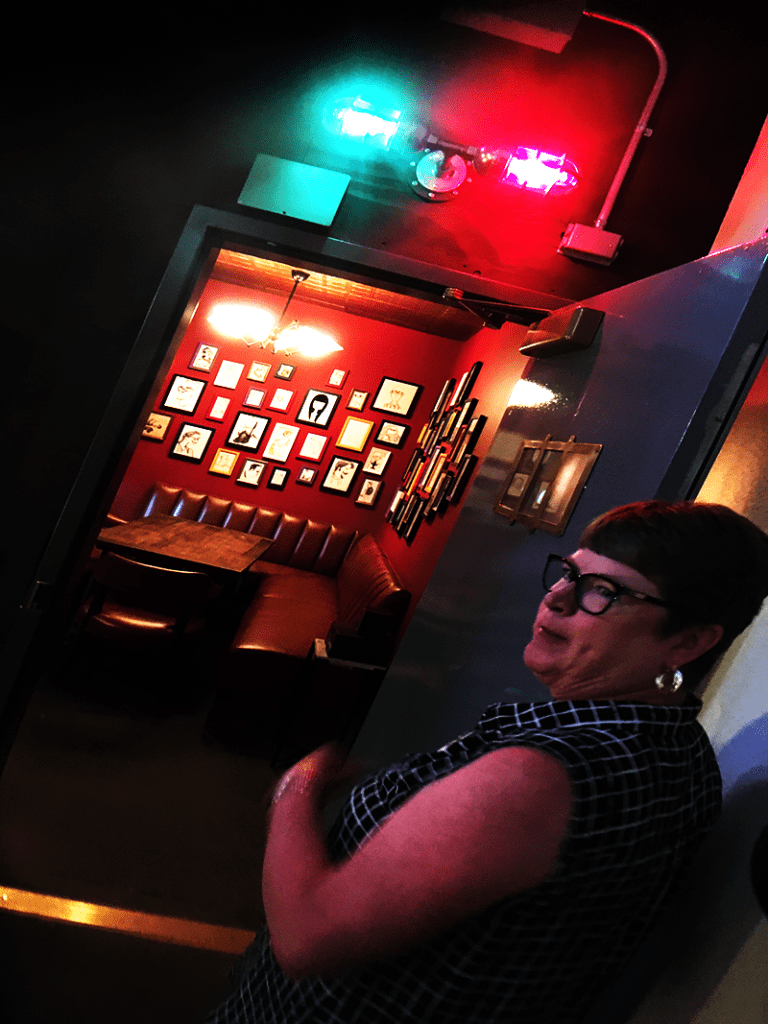 If you really want to experience Pixar Fest I recommend the food.  Book a reservation at Lamp Light Lounge, have some lobster nachos or piggy wings, or both and while you are sitting there, book some fast passes using Max Pass so you can get a fast pass for the Incredicoaster.
Lamp Light Lounge Tip:  There is a secret room at the Lamp Light Lounge called The Office.  This room seats 8, although the sign says 13 inside the room.  Right now you can not book The Office.  It's a surprise for guests and luck of the draw at the moment.  The vault door to enter is the highlight.  Turning the crank unlocks some special Pixar magic.  Once inside the Office you will see the Pixar animator Self-portraits on the walls.  There are classic board games available and also a small patio outside.  If you are not one of the lucky few to dine in The Office, don't fret.  The Lamp Light Louge has confortrable seating, cool Pixar artifacts, and great food and drinks.
You need a reservation for Lamp Light Lounge.  The standby line starts outside the second the park opens and even before Lamp Light Lounge opens for business.  So book your Lamp Light Lough reservation now, before your Disneyland vacation.
Pixar Pier at California Adventure is a great way to get your Pixar on.  Start with a frosted treat at the Adorable Snowman.  The line can be long, but any day now you will be able to order using your Disneyland App.  I would order using your App to avoid the line.  The lemon cone is refreshing and tart.  It's perfect for a Summer day at Disneyland.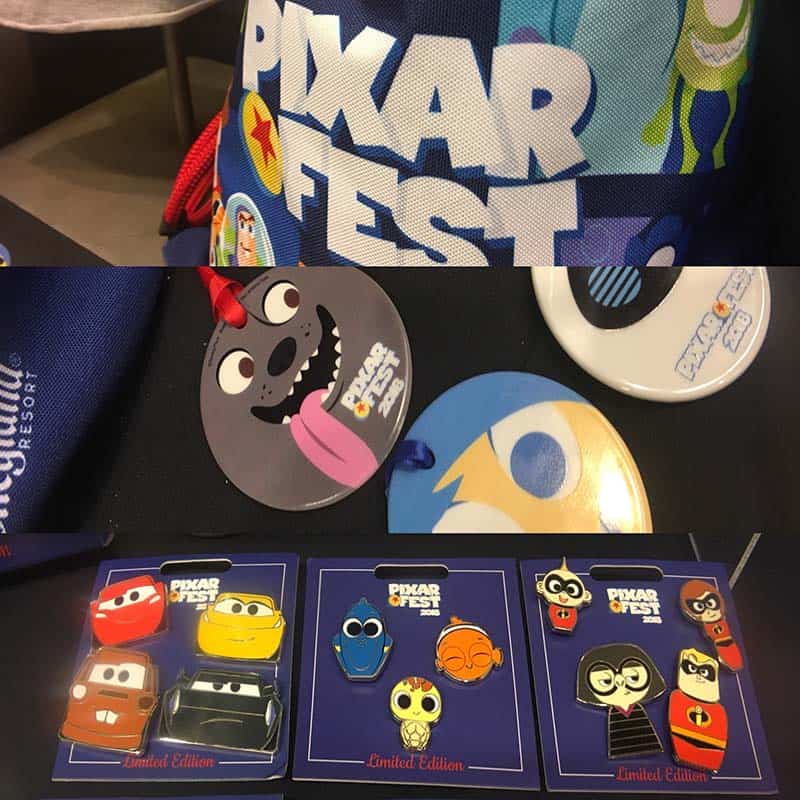 Pixar Merchandise
If you love Pixar movies you are going to love all the Pixar merchandise that is available on Pixar Pier.  There is so much Pixar Merch to choose from.  Shirts, hats, pins, etc.  The above phone just shows a few Pixar Fest / Pixar Pier merchandise items.  There is also limited Pixar merchandise and Annual Pass-holder Pixar merchandise.  If you are looking for something that is limited, I would grab it on the first day it is released as these items sell out quickly.
Pixar Fest ends Sept 3 at Disneyland and there is still time to plan that Disneyland vacation with our friends at Pixie Vacations.  Please contact a Pixie at 678-815-1584, or fill out a Disneyland quick quote form today!
Please listen to our Pixar Fest Disneyland podcast here:

---
Join us on Facebook, Twitter, YouTube, and Instagram.
Join Mouse Chat Facebook
Mouse Chat Instagram
Mouse Chat Twitter
Watch Mouse Chat YouTube
We would love to hear from you. Is there something you want to know about Mouse Chat? Please leave a comment.
Please join us by listening to our show at MouseChat.net or by downloading and subscribing to Mouse Chat on
iTunes. If you subscribe to our Disney Podcast on iTunes you can schedule it to update your player.