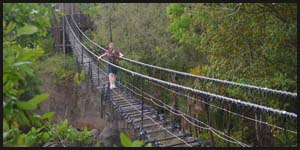 Podcast: Play in new window | Download
Subscribe: Apple Podcasts | RSS
Mouse Chat Disney podcast –
We headed over to Animal Kingdom to try a new kind of exclusive tour they have call the Wild Africa Trek.
This is a tour of the savanna at the Disney Animal Kingdom park.
This was my first kind of behind the scenes tour at the Animal Kingdom and it really made me feel special.
First of all the tour size is limited to a maximum of 12 people, so you are in a small group and get personalized attention. There are two tour guides and sometime even additional specialist that interact with during this tour. So you really get to learn about the animals and can ask questions. You also get very close to the animals as you literally trek tough the woods.
At one point in the adventure you cross two rope bridges. These are over over a river filled with 10 foot+ crocodiles. Everyone made it across, even the people in our group with an extreme fear of heights, but yeah it can be a little intimidating.
There are many great photo opportunities on the Wild Africa Trek and your guides take photos the entire time, so you can leave your camera at home, or in the locker they provide at your base camp. We each received a CD FULL of spectacular photos about 3-4 weeks after the trek.
There is a light snack / lunch provided at a private viewing African hut on the savanna too. I'll let you listen to our review and enjoy these photos.
[nggallery id=4]
Related Posts:
Disney's Wild Africa Trek Tour
You can email questions and comments to the show at: Comments@MouseChat.net
Media and Press can also contact us at Comments@MouseChat.net
If you like our show, please let your friends know about us.
Please join us by listening to our show at MouseChat.net or by downloading and subscribing to Mouse Chat on
iTunes. If you subscribe to our Disney Podcast on iTunes you can schedule it to update your player so you will never miss a show.