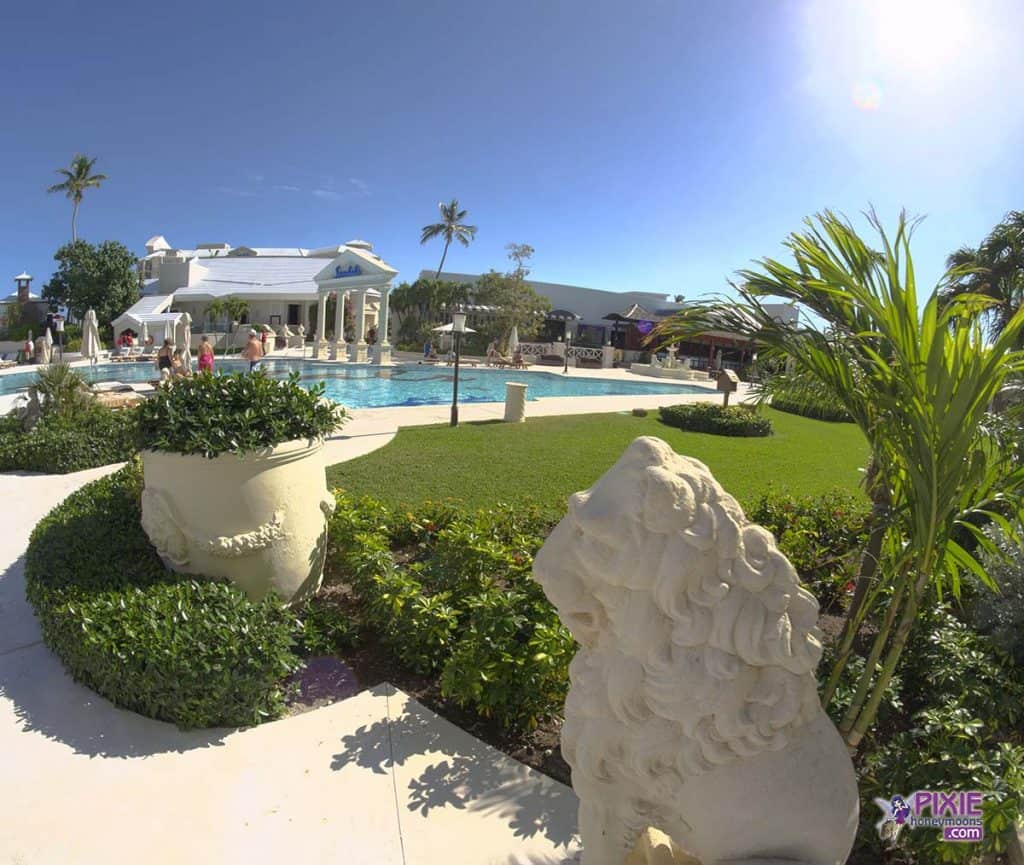 Sandals Royal Bahamian Resort Full Review
Mouse Chat heads to the Bahamas to Sandals Royal Bahamian.

Sandals has all-inclusive resorts in the Caribbean, and we got to spend 4 days in Nassau at Sandals Royal Bahamian in January.  What a great way to take a break from winter.
Lisa, Steve and Chris all went to Sandals and we took several travel agents from Pixie Vacations.  There are over 29 room categories at Sandals Royal Bahamian and we are happy to help you pick the perfect room just for you.  We stayed in several different room categories and can give you details on the different accommodations.
Sandals Royal Bahamian is very easy to get to with being about 30 minutes from Miami or an hour and a half from Atlanta.  Access to and from Nassau is very easy and makes for a nice extended weekend for a couple that wants to get away.  The Sandals resort is just 15 minutes from the airport making this a very easy tropical getaway for two.

If you are not familiar with Sandals Resorts, the resorts are all-inclusive.  Your food, drinks, activities like snorkeling, paddle boards, sailing, are included.  Sandals has night time entertainment, and the resorts are located on beautiful beaches.  You can even book a butler suite and have butler service for your stay.  We stayed Club Level so our rooms came stocked with a full bar and concierge available to help book dining reservations, etc.
We also enjoyed the Red Line Spa at Sandals.  I had a hot stone massage and Lisa had a massage too.  The spa at Sandals was excellent and well worth the price.  I would book a spa appointment again for a special occasion.
We loved all the food at Sandals and we had ten people with us and every enjoyed what they had.  From seafood to steak, hibachi, the pub, desserts and snacks.  We are not big drinkers but we did find some wines, beer and pina colada and other specialty drinks we enjoyed.    This resort is perfect for relaxing.  There is a beach, two very large pools with swim up bars, plus quite pools, hot tubs, games, fire pits for night time lounging.  Also there is a private island that is 1/2 a mile away and Sandals runs boats every 60 minutes to and from the island.  The Sandals private island has a pool, swim up bar, hot tub, restraunt, and lots of places to relax.  There are hammocks over the water and a beach on both sides of the island.  You can also have dinner on the private island and schedule a massage out in a cabana on the island.  Please contact us at Pixie Honeymoons and we will get you a quick quote for your all-inclusive vacation, honeymoon, or destination wedding.
Please listen to our full Mouse chat podcast to hear all of our insider tips for Sandals Royal Bahamian.  You can listen to Mouse Chat on iTunes or right here by clicking below.
---
Join us on Facebook, Twitter, YouTube, and Instagram.
Mouse Chat Facebook
Mouse Chat Instagram
Mouse Chat Twitter
Mouse Chat YouTube
We would love to hear from you. Is there something you want to know about Mouse Chat? Please leave a comment.
Please join us by listening to our show at MouseChat.net or by downloading and subscribing to Mouse Chat on
iTunes. If you subscribe to our Disney Podcast on iTunes you can schedule it to update your player so you will never miss a show.
We also have Mouse Chat Radio if you would like to listen to our Internet Radio station. We stream our current and last three episodes on Mouse Chat Radio.
Have limited Data? You can listen to Mouse Chat at Mouse Chat Radio. You can listen to Mouse Chat Radio on ZenoRadio.
Anyone can listen by calling: (701) 719-2539
Mouse Chat Radio is also broadcasting 24/7 at all of your favorite internet stations (iTunes Radio, TuneIn, etc.)