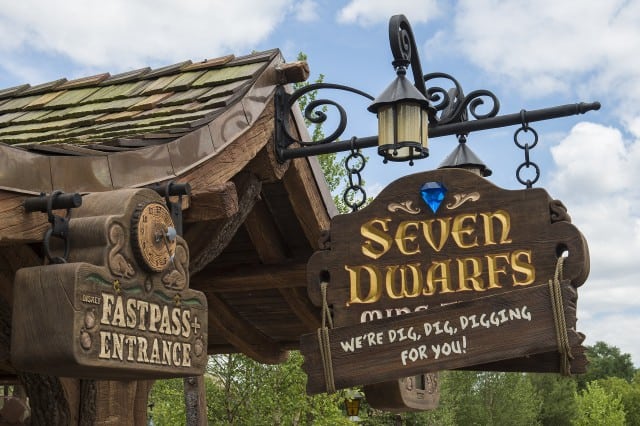 Seven Dwarf's Mine Train Completes Fantasyland
It's almost here.  The Seven Dwarf's Mine Train is set to open May 28 and FastPasses are now available on My Disney Experience.  We flew down to Orlando FL to see the attraction this weekend in hopes that it would be open to the public but it was only open to media for a Disney media event.  Check out our other posts this week, here and our upcoming Mouse Chat podcast about the Mine Train Coaster.
We can not wait to ride the attraction and report back to everyone about it when it opens.
LAKE BUENA VISTA, Fla. (May 2, 2014) – Seven Dwarfs Mine Train, the crowning jewel of New Fantasyland in the Magic Kingdom, will officially open to Walt Disney World guests on May 28, Walt Disney Parks and Resorts Chairman Tom Staggs announced today at a media preview of the attraction.
Staggs made the announcement during a dedication of the attraction, which completes New Fantasyland, the largest expansion in the history of the Magic Kingdom.
"Seven Dwarfs Mine Train is both literally and figuratively the centerpiece of New Fantasyland, so we knew it had to be something special," Staggs said. "The attraction appeals to everyone in the family and provides just the right blend of heart, humor, and thrill while keeping with the charm of this special land."
Seven Dwarfs Mine Train is a rocking, rollicking family-style coaster that will immerse Magic Kingdom guests in the lovable world of Sleepy, Doc, Grumpy, Bashful, Sneezy, Happy and Dopey. Inspired by the Disney animated film classic "Snow White and the Seven Dwarfs," the attraction will send riders on a playful musical adventure into the mine "where a million diamonds shine."
The attraction features an innovative new ride system that allows cars to pivot back and forth during the twists, turns, hills and drops of the ride. Riders pass through magical mountain scenery studded with red poppies and live oak, cedar and birch trees. At the midpoint of the attraction, guests enter a mine aglow with gems and scenes of the Dwarfs and frolicking forest creatures. Music from the film classic accompanies the journey. At ride's end, the cottage of the Dwarfs, replicated from the film to exacting detail by Walt Disney Imagineers, comes into view with a dancing Snow White visible through a window.
Staggs was joined at Friday's dedication by Snow White and all Seven Dwarfs who proudly brought their freshly-mined gems: buckets of glowing diamonds and jewels and wheelbarrows stacked with oversized rubies, emeralds and sapphires.
"It's my honor to dedicate the Seven Dwarfs Mine Train, which we think will become an instant classic in New Fantasyland," said Staggs.